Back to selection
A Rising Tide?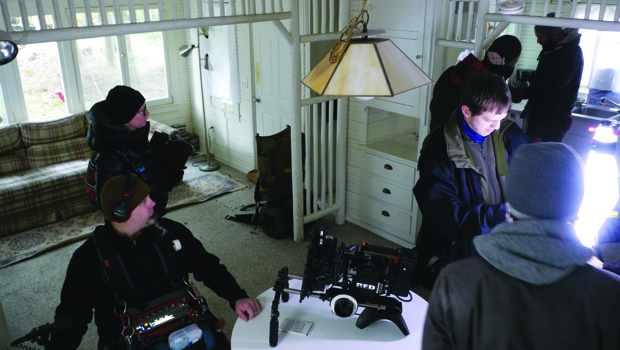 On the set of Koinonia (Photo by John Silva)
In a sure sign that the U.S. economy is improving, Wal-Mart employees and union actors in low-budget movies received an approximate 25 percent wage hike earlier this year. Across the country, companies like McDonald's and many U.S. states are also raising workers' pay. Such positive economic indicators should be cause for celebration, but for low-budget filmmakers, they signal a more expensive world in which to do business. As prolific producer Jay Van Hoy (The Witch) says, "It's inflation, you know."
While inflationary expenses won't severely impact medium-budgeted independent films, rising costs could imperil the vast number of micro-budget productions, which are already budgeted close to the bone. In Seattle, for instance, which now has one of the highest minimum wages for small employers in the country — at $11 an hour — a p.a. will see an increase of $35 per day. "On a $500,000 or higher shoot, that probably won't break your budget," says Seattle-based Lacey Leavitt, a co-producer on Laggies. "On ultra-low budget films, you'll feel it more." What's more, as the economy improves, the minimum wage is set to increase in other states. California, Connecticut and New York all have increases scheduled, and Seattle's minimum wage will climb further, to $15, in 2017. With overtime on a 14-hour day, that would make a p.a.'s day rate $255 — more than many crew members make today on an independent feature.
Washington filmmaker Andrew Finnigan (Koinonia) says the wage increases are already weighing heavily on his financially strapped productions. Under the new law, he estimates budget increases of $600 to $1,000 per day, forcing him to reduce crew, push crew to take on multiple roles or forgo hiring some crew altogether. "Obviously, the film could suffer, but it's the bind we're in," he says. "It's an unfortunate byproduct of the hike because we want to involve as many trusted people working with us. But we're self-funded and have a cap on how much we can spend."
The new SAG-AFTRA rate increases for working actors are also presenting a challenge to low-budget productions. This summer an actor's day rate will rise from $504 to $630 per day for a film budgeted under $2.5 million. "I love and respect actors and their work," Leavitt says, "but if you're wondering which wage increase is going to impact independent film budgets more, it's definitely [the SAG] increase." (For films budgeted under $200,000, the rate is also going up by 25 percent, from $100 to $125.)
Sophia Lin, a producer on Z for Zachariah and Take Shelter, who also works as a production manager for studio and television projects, says the rising economy has helped create a production glut in New York, which makes crew members harder to find and more expensive to hire. "There's definitely incredible demand, and so rates are becoming more competitive," she says. "As a result, you get people who are less experienced who want a lot more."
Wages aren't the only outlays going up along with the global stock market. Last year, the Writers Guild upped its script publication fee from $5,000 to $10,000. Rising real estate costs are driving up rental rates for production offices and locations. Parking fees and vehicle rentals are also climbing (at one New York auto company, the weekly rate for a 15-person passenger van jumped more than 11 percent). Falling gas prices are providing only partial budgetary relief.
But isn't a robust economy and production market good for everybody? Some producers aren't so sure that economic growth offsets the challenges that come with rising costs. "It's a tough call," says Adam Piotrowicz, producer of Alex Ross Perry's Queen of Earth. "The buyers are going to pay more because there are more outlets paying for these films. But it's still a gamble to justify spending more, because you're always in this unknown situation of 'Who is going to buy my film and how much are they going to buy it for?'"
Van Hoy offers a similar gambling analogy. "I think you can make the case that if you want to roll the dice, you could come back a bigger winner than five years ago," he says.
But even if North American acquisition prices were up at this year's Sundance, independent financing remains tough because producers are still hedging against international sales and estimates, which "if anything," argues, Van Hoy, "have gotten harder." A film may be budgeted at $1.5 million, according to Van Hoy, but the acquisition market "is saying that it can be only budgeted for $1.1 million." He asks, "So now what do you do? Everything gets squeezed."
Thus, even in these boom times, the indie film world may be the same as it ever was, with producers chiseling budgets while looking for new sources of private equity. As producer Alicia Van Couvering (Digging for Fire) says, "I feel like you can always figure it out. There's always a new vendor in town willing to work for cheap for new clients; there are thousands of kids graduating from film school every day that need experience working on set."
"Artists," she adds, "will always find a way."