Back to selection
Six Questions for David Wain About Wet Hot American Summer and They Came Together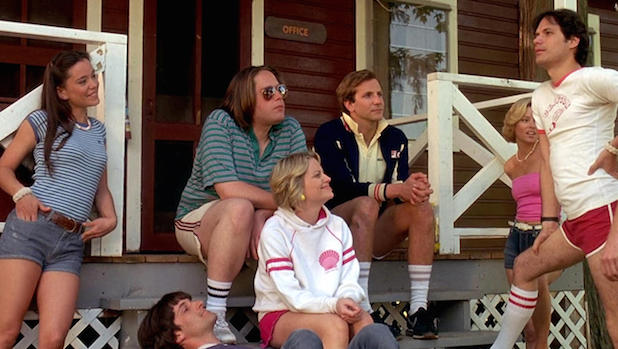 Wet Hot American Summer: First Day of Summer
Moving with shark-like restlessness between webseries, TV and film, the prolifically talented David Wain has been on a particular roll of late. For his next project after last year's tragically underseen/dumped romcom parody They Came Together, Wain has come back strong with Wet Hot American Summer: First Day of Camp, a Netflix miniseries prequel to his most widely/cultishly beloved film to date. Wain will be in conversation with his longtime collaborator Michael Ian Black at IFP's Film Week on Sunday, September 20 (details and tickets here), and agreed to answer a few questions by email beforehand.
Filmmaker: Like a lot of people who enjoyed They Came Together, I wondered why it received such a small release. At the time of its release, you wrote on your blog that "this movie has NO commercials, billboards, or advertisements of any kind.  It's 100% word of mouth." In addition to asking for street team help, you also set up a few Tugg screenings. When did you become aware that you wouldn't be receiving marketing help, and what was the reasoning behind that?
Wain: ​The studio simply wasn't behind the movie.  They were very candid with me about it.  The first test screening was disastrous — it really seemed like no one got it at all.  After that, we conceived and shot the device of the two couples telling the story in past tense. The next test screening went way better, but by that time I think it was too late. Truthfully, our movie was part of an experimental "micro budget" effort the studio was trying out, but they gave up on it some time during our post-production.
Filmmaker: I read that you shot Wet Hot American Summer out of order with the help of well-planned crossboarding. How long did that organizational process take in pre-production once the episodes were written, and how involved were you in the planning?
Wain: ​We had a very short prep (and shoot) period due to both budget and release date, so my first A.D. (M. Ryan Traylor) and I worked very closely to map out how to get ​it all done as quickly as possible. It was not something I could entirely leave to his department because we were constantly changing the script in small and large ways to accommodate the realities of scheduling. It was a real team effort between production and the writers room.
Filmmaker: Both They Came Together and the new Wet Hot American Summer came from scripts you had been working on for years. Did you take any particular lessons from the former when starting to rework the latter?
Wain: ​Definitely. It was also the 2nd project in a row in partnership with Michael Showalter. It's hard for me to pinpoint specifics, but I think with Wet Hot, which was done at similar shooting pace, we learned how to minimize the amount we'd eventually want to throw out.  I guess on every project I'm learning more and more how to teleport myself to the edit room and predict what will work on the day.
Filmmaker: What's your division of labor like with your DP when it comes to deciding upon lenses, camera used, lighting and framing? Has your collaborative approach changed over the years?
Wain: When returning to the world of Wet Hot, I remembered a lot about the feature film shoot (my first) in the spring of 2000. In that shoot we used prime lenses, and only one 35mm camera, and had to pick like 3 days to get a Steadicam guy​. So I used a viewfinder constantly and often suggested a lens size to the DP. We also spent a lot of time working out shots on the location the night before. The new Wet Hot series was 2 (sometimes 3) cameras, digital, and usually with zoom lenses, Steadicam every day. But I would say my style of working with the DP has not changed wholesale. I'm just more confident in what I'm doing overall. I look to the DP for ideas and suggestions constantly, but I also always have my own first idea of what we're gonna do.  I shot list every scene, and storyboard occasionally.  Lighting is the art that remains the most mysterious to me and which I lean the most on the DP for.
Fiilmmaker: As a director, you've regularly moved between TV, movies and web series. Do you see yourself continuing to move back and forth between platforms or are you, like quite a few directors, drifting more towards TV series?
Wain: Interesting question. I really don't know. I still think the feature film is a uniquely involving medium and it pains me slightly that no one will see the new Wet Hot in a theater. But of course it does seem like the trend is that more and more of the quality exciting work is happening on TV. ​
Filmmaker: Because of the complicated schedule required to accommodate your different actors' availability, did you find it difficult to keep comic momentum going? Logistically, this seems like it might have been your most unwieldy project.
Wain: Actually the ​tight schedule serves the momentum.  Shooting wildly out of order — and incredibly fast — is, for better or worse, my comfort zone — e.g. it's very much how we have done Childrens Hospital for seven seasons. I find that I (as well as actors and crew) can feed off the momentum of having to just keep going, going.  There are of course big compromises that come too, and I'd love to have more resources if we do it again.  The actors schedules was sometimes a nightmare in the scheduling, but once we were on set we just dealt with it and it really was never the bummer I was fearing.