Back to selection
NYFF '15: Laura Poitras, AJ Schnack and Charlotte Cook Talk Field of Vision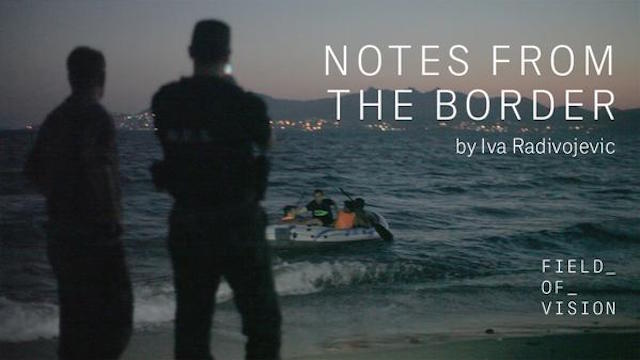 Ahead of the official launch of Field of Vision at 1 pm today, co-creators Laura Poitras, AJ Schnack and Charlotte Cook gave an NYFF free talk last night on the brand new documentary unit of The Intercept. The trio spoke at length about their aims within the realm of episodic and short form nonfiction, and how the filmmaker-driven platform will function at the nexus of journalism and documentary. Below are a few highlights.
Poitras was inspired to create Field of Vision after working with both The New York Times and Julian Assange. 
While working on the feature films that constitute her post-9/11 trilogy, Poitras ran a handful of short form work on the Times' Op-Doc channel, including "The Program" and "Death of a Prisoner." Galvanized by the significantly faster turn around, Poitras felt the initial seeds of Field of Vision click into place during the edit of CITIZENFOUR, when she discovered that her reporting on Julian Assange and WikiLeaks was best suited to another project, perhaps one that was told episodically. She soon approached Schnack and Cook about the possibility of relating Asylum in this serial format.
For Poitras, short form exists outside the three act structure.
When we think of feature length films, Poitras noted, we typically think in terms of, "situation, conflict, and resolution." Field of Vision aims to combat this traditional structure by asking, "What's the best way to capture the moment?" "Maybe it's a film with just three shots," Poitras offered. Field of Vision looks to diverge from the expectations of video journalism by encouraging formal experimentation of a topical subject matter. In discussing the different cadences of episodic filmmaking, Schnack offered that, "We're trying to put a period or at least a really strong comma at the end [of each film]."
The filmmaker-driven unit operates with assignments and pitches. 
Cook stressed the importance of the fact that Schnack and Poitras are both filmmakers, and aim to equip the storytellers with creative control. The filmmakers are charged with bringing on their own crews, and allocating their budgets, while one member of the Field of Vision team will function as the point person during production. Once the film is in post, a rough cut will be submitted to Cook, Schnack and Poitras and returned with notes. Sometimes, the film evolves from the initial assignment. Schnack said that Iva Radivojevic's Notes From The Border concentrated on another subject entirely before the filmmaker expressed her desire to explore the migrant crisis. The turn around time from assignment to shoot has been as short as one week, but Schnack thinks they can collapse that timeline even further now that "the scaffolding is up."
For three of their first batch of films, the Field of Vision team approached particular filmmakers and asked them to explore topics, but they are more than open to pitches. "We just ask that you explain how is it going to be told visually," said Poitras. Also, no feature-length blueprints or work in progress, unless you are using a current event to draw out a bigger picture issue. Poitras cited "Death of a Prisoner" as an instance of pairing recent footage with work she had filmed in Yemen in 2007 to fill in the gaps of a story of a dead prisoner being returned to his homeland from GTMO.
Field of Vision pairs filmmakers and journalists to create holistic reporting. 
In diving deep into any given subject, the Field of Vision team looks to pair with journalists on any given project. Poitras discussed her collaboration with the journalist Peter Maass on a film about the Espionage Act, given the latter's access to the persecuted Stephen Kim. One of Field of Vision's first films, Birdie, came from a story idea by the Rio de Janeiro-based Glenn Greenwald, who wanted to write on the relationship between dogs and the homeless in Brazil. Field of Vision then assigned the idea to Brazilian cinematographer Heloísa Passos (Send a Bullet), who made Birdie. Moving forward, the trio are planning to partner with other media outlets to distribute their films and improve their audience reach.