Back to selection
Building a Christmas Tree Stand to Make a Movie: Charles Poekel on Christmas, Again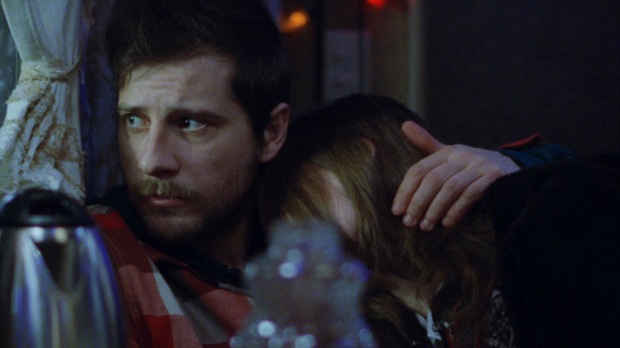 Christmas Again
From day one there wasn't much about the making of Christmas, Again that you could describe as "traditional."  So, when it came to releasing the film, it only felt natural to explore the less "traditional" routes. I use "traditional" in quotes because in 2015 I can safely say that non-"traditional" strategies are the new norm, if not the only viable option for any film, big or small (we've seen quite a few high-profile, big-budget "traditional" releases tank this year). So moving forward, I'll refer to our strategy as "individualized," which I think is a more accurate way of describing this norm.
Our Individualized Production
In order to research for the script, have a (fully-controlled) location to shoot at, and help fund the film, I opened up my own Christmas tree stand in 2010. For three years I ran the tree stand as a side project, slowly sculpting my experiences into the script and mastering the business-side of selling trees.
When we shot the film in 2013 we were a fully functioning tree stand — meaning that we would often have to stop shooting to assist customers, and by the time shooting wrapped nearly everyone in our cast and crew had sold a tree. We even incorporated several customers into the film in smaller roles.
We also partially funded the film through crowdfunding (Kickstarter) and participated in IFP's Narrative Completion Lab, both outstanding tools for micro-budget films and up-and-coming filmmakers.
The point of all this being that in making the film, we never followed a rubric of any sort. To quote an often-used cliché: our only rule was there are no rules. You don't need to open your own business to make a film, you don't have to cast non-actors either. But what you do need to do is bring an open mind to the process and ask yourself, "What can I do to facilitate my vision?" regardless of what's common or, gasp, "normal." The same applies to distribution.
Individualized Distribution
Before making Christmas, Again I worked at a documentary film company in NYC: 4th Row Films. The owner/producer/director there, Douglas Tirola, was the first person that exposed me to individualized release strategies. 4th Row has had great success working with established distributors (Magnolia, Cinema Guild, First Run) but in the case of two of their films (All In: The Poker Movie and Hey Bartender) they decided to self-distribute the theatrical side of the release. Douglas and his team collaborated with the poker and bartending communities, respectively, in cultivating interest, and connected directly with the theaters themselves. Hey Bartender played in over a 100 cities nationwide and following their theatrical releases both films were picked up by Showtime and Netflix. What I learned from this was that nobody will care as much about your film as you do, and that releasing a film successfully is often more dependent on creativity and passion than following industry norms.
When Christmas, Again went through the IFP labs in June of 2014 I got another taste of the new distribution landscape. The program spends significant time exploring projects with successful individualized approaches. It became clear that getting into Sundance or Berlin or SXSW wasn't enough to get your film distributed. (IFP has since partnered in opening its own theater in NYC, the Made in NY Media Center, as a way of showcasing films with more digitally dependent strategies.)
Digital distribution isn't just the Future; It's the Present.
For general audiences, micro-budget indies are risky theatrical options. Most people don't want to schlep over to a theater and drop a good chunk of money (and time) on a film they end up hating. Consuming indie content from the comfort of your home is a far less risky option. If you end up hating the film, turn it off and all you lost was four or five bucks and thirty minutes of your time. You didn't even have to get a babysitter. Larger theatrical distributors know all this, and will rarely put in the money and effort for smaller movies to reach general audiences.
Thankfully, if you can't physically reach a general audience, you can at least digitally reach them. For the millions of Americans who don't live in major metropolitan areas, you can read about a wonderful new film online and access it within minutes.
The best of both worlds.
We were fortunate enough to be acquired by Factory 25, a small NY-based art-house distributor whose catalog could act as a biography for the American indie scene in the new millennium. Factory 25 is releasing the film theatrically day-and-date (alongside a partnership with Fandor), targeting 15-20 cities, and the digital outlets are releasing through #ArtistServices' Quiver partnership. We've hired Adam Kersh at Brigade Marketing (It Follows, Short Term 12, Tangerine, and Tiny Furniture) to handle press for our theatrical and digital release. This allows art-house fans that do live in major cities to see the film on the big screen, with the hope that the accompanying local press and word-of-mouth will help drive our digital sales.
Getting the word out.
I'm going to be operating the tree stand for one last season. What inspired me to make this film in the first place was the unique connection tree stands have with their communities here in New York City. I've had customers buying trees for me for five years now and to simply say these people have a relationship with the film wouldn't be doing them justice. I'll be using the stand to help promote the film with signage and discount download codes to people buying trees. I'll be doing Skype Q&A's from the camper and even bringing our lead actor, Kentucker Audley, back to the stand for a day to sell trees.
Aside from the tree stand itself playing a part, we'll be doing a variety of holiday related promotions. We'll be creating ornaments by re-purposing the wooden discs that get sawed off the trees we sell, as well as creating "Charlie Brown trees" using the discs and some discarded branches. We'll also be giving out tea-flowers (a hero prop in the film) at screenings and other events, most notably our NY theatrical premiere — a week-long run at the MoMA. Additionally, we're working to do a few one-off screenings near where the film was shot in which we'll bring along the camper, a few trees, and some props from the film. We'll also be creating small pop-up stands around the city in line with the release.
A severely under-utilized tool for NY-based filmmakers is the Made in NY Marketing Credit that the Mayor's Office of Film and Television offers. As long as at least 75% of your film was shot in NY, the office offers a free co-branded advertising campaign. So for us we'll be advertising the film with 250 subway cards, 20 bus shelters, and a thirty-second ad on Taxi-TV. I was able to have a friend design the ads as a favor, and we'll most likely be re-purposing them in the future either as postcards or printed advertisements.
No two films are the same, and no two release strategies should be either. Treat your release with the same creative fervor that you treated your film. Keep an open mind and remember that it doesn't matter how good a film you make if you can't find a way for people to see it. Sundance #ArtistServices, among the many unique and forward-thinking tools we utilized, has been the final icing on a cake years in the making.