Back to selection
Remembering Setsuko Hara, 1920 – 2015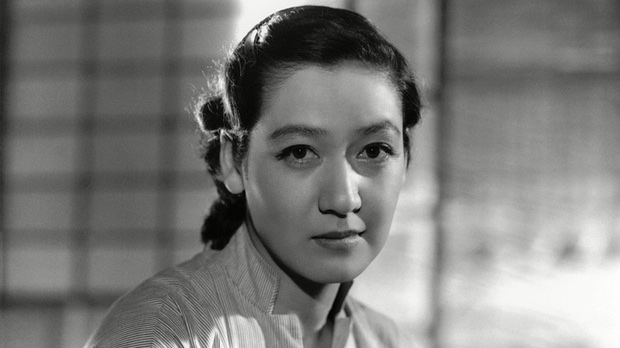 Setsuko Hara in Tokyo Story
I once lived with a woman for two years because her face and her energy reminded me of Setsuko Hara. There was the promise of beautiful dignity. The potential of sensual morality. And then of course the Setsuko illusion shattered when the woman threw a plate at my head.
I'm not alone in falling for the great Japanese actress who passed recently at 95. There aren't many movie stars that one wants for a wife and to grow old with. For instance, no one sees By The Sea, and says, "Geez, I gotta go find me an Angelina to propose to." No one saw Barbara Stanwyck and said, "Yeah, that looks like a person to buy a cottage with." And even Audrey Hepburn, that level of cute might very well become a high-maintenance situation. But Setsuko Hara was a different kind of movie star. She was fiber, she was nutrition, and she was never exhausting.
Some have called Hara the Japanese Garbo because of how she retired young and completely disappeared, but if there is any comparison, to me it would be Ingrid Bergman. While Setsuko was sometimes classified as a vestal virgin, her performances are much more adult and complex than that. She was a woman. Like Ingrid Bergman, there was a rare mixture of intelligence and warmth and some worldly wariness too. This was not a femme fatale, nor was it a Doris Day. This was something like a real person. The shyness in her performances. The sadness, the pain, the smile. Who could ever forget the scene in Tokyo Story when she is asked, "Isn't life disappointing?" And she quietly replies, "Yes, it is," with a smile and nod. I saw that scene and I wanted to go hug her. Because it was so vulnerable. But then, she also seemed so strong, I knew she'd probably be the one who ended up taking care of me.
You can see why a director like Ozu would keep coming back to her. She brought an inherent mystery to ordinary activity. She might just be pouring some tea, but when she poured tea, you realized pouring tea is not just pouring tea. And also, conversely, simultaneously, that pouring tea is singularly and simply and only — pouring tea.
Sometimes her characters had backstories. She was widowed, or stranded or needed her parents' approval for some guy, and so that's why she was where she was. But a backstory for Setsuko Hara was almost unnecessary. No matter what it was that had happened, she was here now. Wounded, kind, enigmatic, and gracefully carrying everything that had happened to her in just a glance. No matter who she was working with, be it Kurosowa or Mikio Naruse, she filled her scenes with her strange and subtle fortitude. She's a daughter or a wife or a mother, but you get the sense that she's also as deep and huge as the ocean. She's kneeling by the table and also, somehow flying above it, and dropping down under it, underneath the floor, underneath the ground, dropping down down down…
In real life, Setsuko Hara never married. She was reclusive in Kamakura. No photos, no interviews. She stopped acting right when Ozu died. And she never looked back. Japan demonized her for turning her back on the spotlight. But she held firm and never went back to acting. Her real name was Masae Aida. The stage name was dropped permanently.
I mention these personal details only because it's funny how a person who inspires you to fantasize about a life of partnership and matrimony ends up being someone whose activity encourages you most of all, to be yourself. She didn't bend under the pressures of what society wanted her to do. It was "weird" of her to disappear, and it was "weird" of her to not get married. But like a Yasujiro Ozu film, she had a stubborn persistence to be true to herself. Her life, like her acting, invites speculation, projection, fantasy. And then it pushes us to go beyond all that, into reality. Maybe this is what we are always left with by a life lived without compromise. It challenges us. It doesn't just go along with the crowd. When Setsuko Hara's face flashes in my mind, I feel this sentiment: Don't kid yourself, kid. And I think of that Antonio Machado poem that goes:
Forget your profile
All that is outer stuff
But pay attention to
the one who walks beside you
Who tends to be
who you are not