Back to selection
Where the Cinematographer is in First Position: The 2015 Camerimage Festival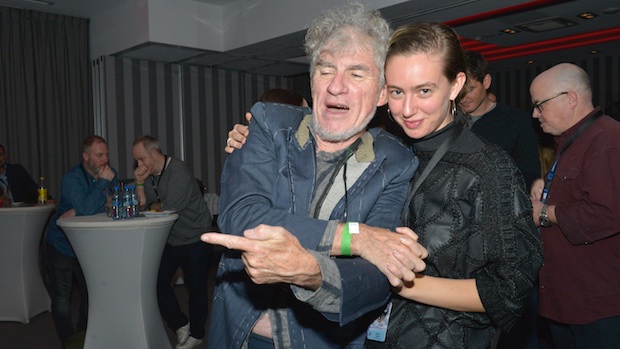 Chris Doyle and Whitney Mallett (Photo supplied by Cameraimage)
IMDb buries the cinematographer credit. It's way below a film's director, writers, producers, and stars, somewhere underneath the entire cast. And this diminished placement doesn't just occur on the Internet Movie Database. Besides casting directors, cinematographers might be the most under-sung crew members in the movie business relative to how large a role they play in a film's success or failure. But at Camerimage, a festival in Poland devoted to the art of cinematography, it's the DP's name that's in the biggest, boldest font, and at a film's end, it's the cinematographer credit that gets the loudest applause.
Programming a festival based around the craft of cinematography is a strange proposition in many ways. The best-shot movies are not always the best movies, and the best cinematographers are often sought after for the biggest-budget films. At the opera house in Bydgoszcz, the small Polish city where the festival has relocated to in recent years, Steven Spielberg's pro-American Cold War film Bridge of Spies opened the week's events because it was shot by the hometown hero, Polish cinematographer Janusz Kamiński. And Majid Majidi's exhaustive religious epic Muhammad (or at least the first third of it) screened prominently later in the week because it was shot by the living legend Vittorio Storaro. Good lighting can't save either film from its ideological project. But, my conceptual criticism and I aren't really the intended audience of any of this. Camerimage is flooded each year with film students and young cinematographers who flock to Bydgoszcz to spend a week immersed in learning what lens and which lights in workshops and post-film Q&As.
At the opening night afterparty, one of the organizers warned me Christopher Doyle's workshop was going to be popular. Years ago, they scheduled one last minute at three in the morning. This was pre-Twitter and the festival was worried no one would find out about it. Hundreds of people showed up. And so the next evening, I was prepared for the mob of twenty-somethings for whom Doyle, the man who shot most of Wong Kar-wai's films, is a cult figure.
For the lecture, I found one of the last seats in the front row next to a man in a worn-in black hat I soon discovered to be Ed Lachman. "Oh you shot Far From Heaven, right?" I managed to recall. Yes, Far From Heaven and about a million other movies including Ulrich Seidl's Paradise trilogy (which contains one of my favorite films), Sofia Coppola's Virgin Suicides, David Byrne's True Stories, and some Werner Herzog titles, just to name a few. Camerimage provoked a bewildering realization regarding how little cinematographer trivia I possess. It's partially IMDb's fault. But it's more pervasive than that. We've made a film canon without thinking much about the cinematographers whose creative choices have in many ways decided what's worth remembering.
Lachman, who at the week's end walked away with the festival's top prize, the Golden Frog, for his masterful work on Todd Hayne's latest, Carol, shot on Super 16, and Chris Menges, who the festival honored with a retrospective and lifetime achievement award, were some of the best examples of these canon-building cinematographers. Doyle, the Australian ex-pat who's spent his years in Hong Kong and known mostly for his work with a single director, however has had a unique career trajectory. He was also a breath of fresh air at Camerimage even if his breath usually stinks like stale booze. While the booths hocking camera and lighting gear and the post-film questions about what lens and which format might have you think cinematography is first and foremost a technical job, Doyle was a welcome reminder of the instinct and emotion that go into the craft as well.
During his presentation, Doyle sang and danced along to a series of audio-visual clips DJ'd by collaborator Jenny Suen from the side of the stage. He balanced quotes from Alan Watts on the impossibility of teaching creativity and an excerpt from Derek Jarman's Blue about the doors of perception with dirty jokes and obscenity-filled banter. Part motivational speech ("If I can do it, anyone can do it"), part stand-up routine with swipes made at Youtube and Harry Potter movies, and part spiritual philosophizing ("the journey is about removing ourselves from the process"), the result was wholly life-affirming.
The next night, following the screening of the documentary Doyle shot and directed and Suen produced, Hong Kong Trilogy, Doyle raised the urgent issue of the gender imbalance in cinematography. "We need to get more women behind the camera!" he goaded before asking the translator the Polish word for pussy. Doyle operates in paradoxes, embodying the trope of the wise fool. "Listen to me, I know," he implores before, seconds later, insisting he knows nothing. Similarly, he drives an important feminist issue before turning around and making a sexist joke. Still, his comments about gender inequality were pertinent at a festival where it was painfully clear men still dominate the industry. The only women to win Frogs weren't even cinematographers but production designer Eve Stewart and costume designer Sandy Powell. Even the music video category, which spotlights emerging cinematographers, featured zero videos shot by women. (Three of the 20 were at least directed by women).
There were perhaps some signs things might be changing. Chris Menges's daughter, Oona, who has recently made the transition from camerawoman to cinematographer, attended the festival with her father. Following a workshop on lighting exteriors by British cinematographer Oliver Stapleton (Cider House Rules, Casanova), a young woman and aspiring cinematographer came up to to thank him for being honest about his self-doubt. She found it really affirming to hear that people like him also doubt themselves.
While the week was full of practical information for aspiring cinematographers (what gels to use, how to light snow, how to light for an interior car scene, etc), arguably more importantly the week was rife with a spirit of generosity and camaraderie that aims to inspire young cinematographers, hopefully both men and women alike, to pursue careers in the field despite obstacles both internal and external.