Back to selection
Watch: Todd Haynes, Helen Mirren, Robert Redford and Steve Golin at the Gothams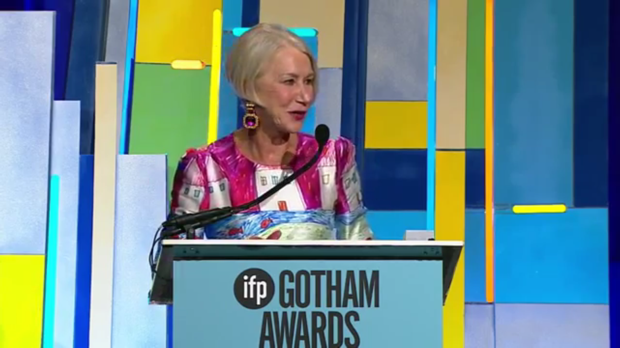 Helen Mirren at the Gotham Independent Film Awards
Last night's Gotham Independent Film Awards were highlighted by a series of tributes to luminaries of the film world. We've posted both the intros and acceptance speeches. Let's start with Robert De Niro's tribute to Helen Mirren:
And the wonderful Helen Mirren, taking De Niro's lusty testimonial in stride:
Next up we have Dan Rather, who quotes Archibald MacLeish (!) while paying tribute to Robert Redford…
But not until this part of the ceremony, which includes Redford's speech, a probing look back at his career.
Julianne Moore understandably gushed when introducing Todd Haynes:
And Haynes followed up with a speech paying tribute to his longtime producer Christine Vachon and film critics (!, again), among others:
Last up: Alejandro González Iñárritu introduces Anonymous Content CEO/founder Steve Golin
And Golin, back at him: