Back to selection
"Observation of the Natural Behavior of Light": By the Sea Cinematographer Christian Berger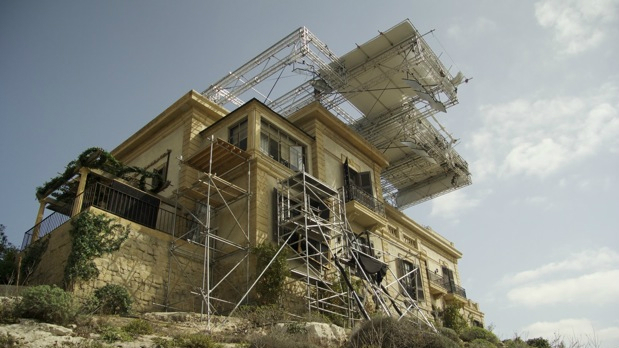 The Cine Reflect Lighting System on the set of By the Sea
Damaged by a personal tragedy and bludgeoned by 10 years of marriage, a blocked, alcoholic writer and his former dancer wife wallow in ennui at a remote seaside hotel in France circa 1970. It's relatively heavy fare for movie stars the wattage of Brad Pitt and Angelina Jolie-Pitt, who also wrote and directed. But for By the Sea's cinematographer Christian Berger, it's practically a lighthearted romp compared to the subject matter of his many collaborations with director Michael Haneke, including Benny's Video, Cache, and Berger's Oscar-nominated work on The White Ribbon.
There are certain perks that come with the Pitts' pull – such as backing from Universal Pictures and a budget allowing for an entire hotel and café to be built on location. Berger talked to Filmmaker about working with Jolie-Pitt, his first camera, and using his Cine Reflect Lighting System, which enlists reflectors to redirect one lighting source to serve multiple functions.
Filmmaker: I've read that you started making 8mm films when you were 13. How did you come by your first camera?
Berger: My father gave it to me. He was a painter and he loved to make photos and films. But more important to me was that I was always with him when he painted. Well, not always, but when I look back now it feels like it was always. That influenced me a great deal.
Filmmaker: What drew you to By the Sea?
Berger: I liked the script very much. Angelina was very courageous and she took a big risk with this story.
Filmmaker: By the Sea, like much of your work in the last 15 years, was lit by a system you invented called the Cine Reflect Lighting System. What was your inspiration for developing the system?
Berger: I first used it in 2001 on (The Piano Teacher) with Michael Haneke. It came out of frustration with the conventions of the film industry. I think the industry is very conventional. We worry about pixel count and that kind of thing and that's nonsense. Light is always the same, but how we work with it and how we handle it can be very different.
I wanted to create light that never felt like it came from a (film lamp). During the day our light often comes from one source – sunlight. That's the principal behind the system and it comes from an observation of the natural behavior of light. Using reflectors allows you to control the quantity and quality of light and then you don't have to move the lamp anymore. It's only a source. You move the reflectors and if you use the angle of the reflector correctly, you can perfectly steer the light and distribute it where you want. You don't need any flags or fingers, (meaning) you don't need stands or sandbags for those things, and that makes life quite easier on set.
Filmmaker: Does that mean you can typically shoot 360 degrees on your sets?
Berger: I can shoot 360 and the actors are free to move around. (Angelina and Brad) were very impressed by that. I love to liberate the actors. I don't want to tell the actors, "You have to move here." For me, directing and acting have priority and they should not compromise for the camera.
Filmmaker: You shot with an Alexa XT and Zeiss Master Primes. Are there specific cameras and lenses that you feel handle your system of reflected light better?
Berger: I usually prefer Cookes, but on this I used Master Primes, which are maybe a little harder or sharper. With digital filmmaking, I think my lighting system is even better. With digital, it's more important to be careful with the intensity and distribution of the light and that's much easier with my system.
Filmmaker: Is it difficult to train grip and electric crews how to use the system?
Berger: The biggest problem is that you have to forget the conventions of lighting. So the youngsters have no problem, but experienced crew members sometimes have a problem because they think, "Was everything wrong that I've done up until now?"
Filmmaker: Though set in France, you shot By the Sea on a remote seaside bay in Malta. Was there some special quality to the light there at that time of year that attracted you?
Berger: When I came on board they had already location scouted in France, Italy, Croatia, Turkey, and Greece, which were closer to the setting in the script. But (the Pitts) only had time to shoot the movie in September and October and in those locations it would've been a really late autumn or early winter. Malta is warmer that time of year and the script is really written to take place during a long summer.
Filmmaker: Were the hotel and café existing locations?
Berger: No. There were a few old huts already there, but besides them the bay was empty. The sets that were built were a mixture between studio conditions and (real) locations. That was important to Angelina (to shoot the interiors on location), because she wanted to link the hotel room and the landscape outside the window.
Filmmaker: Did you and Angelina discuss visual references from the era By the Sea is set in?
Berger: We spoke a bit about the Nouvelle Vague, but it was more about capturing the feeling of life from that time. We didn't want to imitate Godard or Truffaut.
Filmmaker: The catalyst for the characters emerging from their malaise is the arrival of a young newlywed couple in the room next door, which they watch from a hole in the wall. How did you achieve those point of view shots?
Berger:  We did a lot of tests for how to see through that hole. I think we (ultimately) used a 27mm lens. It was quite wide. We taped out (the perimeter of what was in frame) so the actors knew exactly when they were in and out of frame. (Jolie Pitt) carefully planned what you see and what you don't see (from the point of view of the hole). That's the secret of why those scenes aren't boring – because of what you don't see.
Matt Mulcahey writes about film on his blog Deep Fried Movies.