Back to selection
Park City Critic's Notebook: Suicide Watch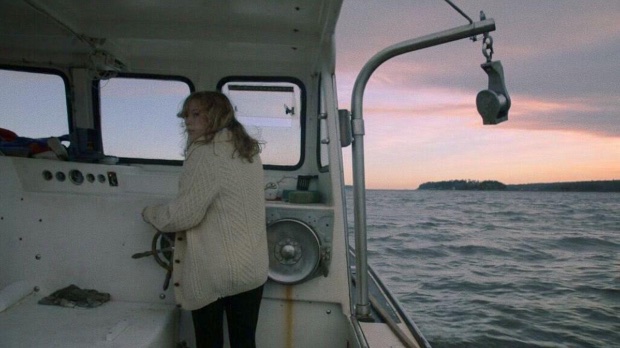 Neptune
Sundance went into a frenzy over the weekend over flatulent corpses and new corporate money. While the rash of walkouts that greeted the world premiere of Swiss Army Man, in which the remains of Harry Potter pass gas and gets a boner for a significant amount of the running time, was the festival's peak viral moment thus far, on the business end of things Amazon Studios and Netflix are proving to be the most muscular and hungry distributors at the festival. Amazon acquired well received new films from indie film veterans Kenneth Lonergan (Manchester By the Sea, of which early notices have made an instant awards season contender), Whit Stillman (Love & Friendship) and Joshua Marston (Complete Unknown) and didn't pinch pennies in the process; the Manchester at the Sea deal is reported to be for $10 million. Netflix has countered with a trio of acquisitions of their own, sweeping up the Ellen Page-starrer Tallulah, the Paul Rudd dramedy Fundamentals of Caring and Under the Shadow, an Iranian horror picture. While films like Weiner (IFC), Morris From America (A24) and The Fits (Oscilloscope) have found homes, reports of buyer malaise at the lack of commercial titles has already surfaced on social media and in The New York Times.
One of the complaints has been the darkness of so many films. A couple of Sundance titles unfurled over the weekend that consider the short and mysterious life of Christine Chubbuck, the Sarasota, Florida news anchor who, at twenty-nine years of age, took her own life while live on air in 1974. These are exactly what these types of industry complainers are likely referring to when they are aghast at flatulent corpses.
Although Chubbuck's death reverberated through popular culture a bit, proving to be an inspiration for legendary screenwriter Paddy Chayefsky (he wrote Network after hearing of the episode) and perhaps for R. Budd Dwyer, her more-or-less forgotten death has now proven fodder for two Sundance titles in the same year. On Saturday Antonio Campos received a strong critical reception following the premiere of Christine, the director's third feature, which stars Rebecca Hall as Chubbuck. It deals with the suicidal young anchor's life through the guise of a narrative biopic that is from all accounts far from traditional, but more accessible than Campos' previous incendiary output.
In Robert Greene's doc competition entry Kate Plays Christine, however, the University of Missouri professor, Actress director and doc/fiction hybrid proselytizer, casts Kate Lyn Sheil as Chubbuck and then proceeds to follow her around as she travels from New York to Sarasota and prepares to play Chubbuck in what we're told will be a '70s-soap-opera version of her tale. Dominated by a juxtaposition of roving long-lensed close-ups and staged mediums that give the piece an aesthetic rigor most documentaries lack, the movie is handsomely made, and Sheil, a gifted and elusive actress who often finds herself as the most mysterious but intriguing persona in lackluster films (her TV work has been far better), has finally been given something interesting to do on screen. Her hypnotic, matter-of-fact voice as she reads articles about Chubbuck's death or discusses her own similarities to the deceased keeps us focused on her journey and, indeed, Kate Plays Christine is more about its star than Chubbuck perhaps; the film provides Sheil her best and most revealing role yet.
The actress speaks early in the film about why she became an performer (childhood shyness, a sense that she wasn't seen) and why it's become an addiction she can't get away from. In more traditional documentary passages Greene establishes her as a persona before the films finds a lyrical investigatory mode that is mostly committed to depicts of loneliness, both Sheil's and, by extension, Chubbuck's. Much of the middle of the film finds Sheil ruminating upon Chubbuck, talking to people who knew her, interacting with cops as "Christine," and rehearsing scenes between Chubbuck, co-workers and prospective lovers. One gets the sense, watching the juxtaposition of fly-on-the-wall observation, background interviews conducted by Sheil and obviously staged scenes of "rehearsal" (complete with bratty on set dissent), that similar insecurities motivate and terrify both news anchors and actresses.
Greene guides us through the painful process his actress takes to inhabit someone so troubled, drawing a lot of ennui from Sean Price Williams's deft handheld camera work which often serves to isolate Sheil in claustrophobicframes. As we watch Sheil attempt to physically transform her, going to tanning beds and trying on dark wigs to emulate her dark featured character's appearance, the film's tone grows increasingly elusive and mildly haunting. The clearly absurd-looking reenactments seem to yield less emotional truth about Chubbuck then hanging out with Sheil, perhaps an unintended consequence of the intentionally chintzy quality they are rendered in. As she tries to burrow her way into her character's head while contemplating the dread that must have consumed her, Greene and Sheil, despite their inability to find an ending that brings their meditation on Chubbuck to a satisfying conclusion, are able to unpack the artificiality of filmmaking and meditate on the difficulties of two women with aplomb.
Over at Slamdance, the narrative competition unleashed some real clunkers, such as the stultifying and foolhardy Australian romantic jealousy adventure The Tail Job and the hiking comedy Honey Buddies, which plays like a poor man's tenth anniversary version of Old Joy without any of the patience or stinging nuance. While the beguiling Chemical Cut, about the travails of a young female model in L.A. who falls under the sway of a mysterious performance artist, has some good interesting editorial choices and an intriguing lead, the first feature from former America's Top Model contestant Marjorie Conrad, who also wrote and stars, feels less than the sum of its parts. Good buzz has built up around Last Summer, with Rinko Kikuchi (Kumiko, The Treasure Hunter) as a mother who, having lost custody of her six-year-old son, gets to spend four last days with him on her rich ex-husband's yacht. But nothing seems quite on par with Derek Kimball's Neptune, an '80s coming-of-age story set in coastal Maine that is likely to take the mantle of Slamdance critical breakout in the way films like Mark Jackson's Without and Conor Horgan's One Hundred Mornings have in years past.
Fourteen-year-old Hannah Newcombe, played by the remarkable seventeen-year-old actress Jane Ackermann, is an orphan who is being raised by an impoverished Presbyterian clergyman in a small seaside town. She lives in a gable-roofed shack near the sanctuary and spends the summer preparing to enter a religious high school nearby, one that her guardian, an emotionally abusive and controlling man of God, can't afford to pay for. One day she witnesses a couple of boys playing near a cliff alongside the ocean and soon after she is at the funeral of one of them, a service that is interrupted by her indelicate guardian's desire, at its end, to raise money for her education. In an attempt to make good with the offended family of the deceased, Hannah offers her services on the fishing boat of the boy's father (a terrific William McDonaugh), whose response to grief is different but no less painful as his wife, who openly shuns the young girl. As a rivalry grows between the fisherman and the preacher over who will most shape the direction that Hannah takes as she begins to enter her teenage years, she is haunted by visions of the young deceased boy and playfully threatened by one of his friends, an aggressive kid with a sadistic side.
Richly photographed on what was clearly a shoestring, the film is powered by the sumptuous aesthetic vision of quiet, blue-tinged oceanside unease that Kimball and his cinematographers, Jayson Lobozzo and Dean Merrill, who use natural light and a willingness to plumb the depths of night exteriors, are able to mine for great effect. But it's Ackermann, whose light blue eyes and marvelously expressive face do so much while seeming to do so little, who carries the film. She is clearly one to watch. Which begs the question, will anyone see her in this film? Given that Neptune was relegated to a 10:00 AM Sunday morning slot (likely due to its premiere status; it mysteriously first screened at the Milwaukee Film Festival last year for some reason), and has the distinct disadvantage of being at the "other" festival in Park City, it's an uphill battle most certainly. Here's hoping.