Back to selection
Breakthroughs in Storytelling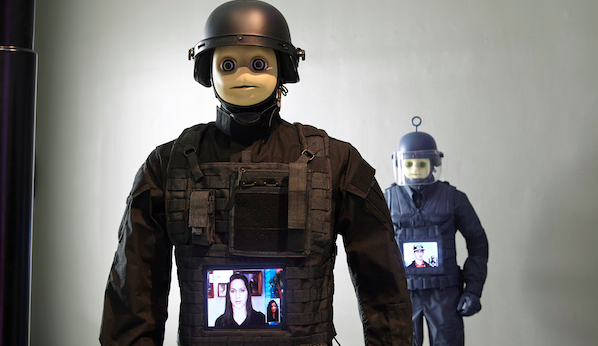 Columbia University's "Digital Dozen: Breakthroughs in Storytelling" celebrates the year's most creative examples of digitally enabled storytelling as judged by the Columbia Digital Storytelling Lab. The works honored for 2015 include an ad campaign; a video game; an art installation; an experimental opera; an online community whose leaders have been targeted by murderous fundamentalists; and two journalism reports, one employing nonlinear narrative and the other virtual reality. Together they show the extraordinary range of narrative technologies in use today, from simple blogging platforms to virtual reality to face-substitution software.
The Digital Storytelling Lab explores new forms and functions of storytelling that are arising as digital technology makes possible the mass democratization of creative tools and blurs the distinction between creator and audience, content and marketing, story and game, fiction and reality. In citing the accomplishments below, the Lab hopes to encourage creativity and innovation while furthering digital media's potential to break free of rigid, industrial-age classifications and evolve in ways that analog media could not.
Absolut Silverpoint, created by the digital agency Somethin' Else (Paul Bennun, chief creative officer) and the immersive theater company Punchdrunk (Felix Barrett, aritistic director) for Pernod Ricard UK.
Most advertisers seem to want to take over your screen. Not this one: As Brand Republic put it, "Absolut's Silverpoint app has taken over our lives." Developed to promote Absolut's association with Andy Warhol, which began with the 1985 "Absolut Warhol" campaign and sparked subsequent collaborations with such artists as Keith Haring and Damien Hirst, Silverpoint was an iPhone game that turned into a story about a missing woman named Chloe and ultimately into a live theatrical experience by Punchdrunk, the company behind the long-running New York production Sleep No More. Players in London, where the Silverpoint story was centered, found themselves being led to pubs where, on being identified by Apple's iBeacon technology, they were given a free drink. Those most committed to solving the mystery of Chloe's disappearance ended up in the sub-basement of a Victorian shopping arcade in Islington with 15 or 20 others, one of whom would be hurled into a pit. (In truth the victim was a mannequin.)
Like much of the best digitally enabled storytelling, Absolut Silverpoint blurred long-established lines—between story and game, marketing and entertainment, digital and real. It was also remarkably successful. According to Somethin' Else, more than 25,000 people downloaded the app; more than half of them played for at least five hours, and some 2,500 took part in one of the live events. The two-week campaign reached nearly three-quarters of London's 25-to-34-year-olds, the dominant age group in the capital.
See the rest of the Columbia DSL's Digital Dozen: Breakthroughs in Storytelling 2015