Back to selection
"Let Me Work it Out": Four Takeaways from Veep Writer Alexis Wilkinson on She Does Podcast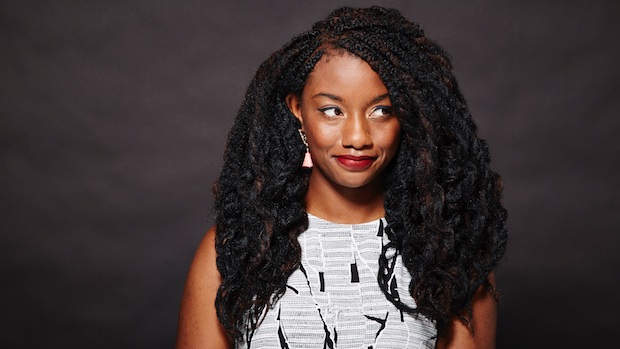 Alexis Wilkinson. (Photo: Joel Benjamin for Boston.com)
Alexis Wilkinson went from being the first black woman President of Harvard's acclaimed humor publication, The Lampoon, to writing for HBO's hit comedy series, Veep. She's become an outspoken public figure and writer–with work featured in Slate, Opening Ceremony and TIME–but as we know, big victories such as these don't come without a lot of work, a few disruptions and some twists and turns in the road. In this episode of She Does podcast, Alexis recalls her experiences of "comping" or trying out for The Lampoon multiple times, finding her place in the middle of an elitist institution, losing her best friend and working to create media that represents this diverse world as it actually is. Her response to naysayers? Laughter. And this is why she chose comedy. Music in this episode is by Chargaux.
Four Takeaways from Alexis Wilkinson
Approaching issues with a bit of humor can get you further.
The more we can get people to deal with really hard issues that come from racism, sexism, violence, difficult emotions and situations that are unexpected, and sometimes really unpleasant, the more you can put two of them together and be like, "That's ridiculous," or, "Look at how funny this is," instead of getting angry about it. Because if you get angry, you won't talk about it. So, that's why I like comedy so much, and I think that's why I want to keep doing it.
Why Alexis values her economics degree, among other information outside of writing.
I still subscribe to "The Economist" and am interested in that stuff. As a comedy writer, it's really nice to know about something in a real way. That's probably the reason I never studied English because you need to know about other stuff to write. I think you see it in media when people are just telling stories about writers, it's because they don't know about anything else. There's so much more to the world than writers and literature. That's a great part of it and it's important to know, but there's science, math, visual arts, all these other things you can write about. There's such a meaty part of life that you can reflect if you know something about it.
Alexis brings real experience, perspective, and her own style of humor to Veep.
Dave Mandel (EP of Veep and Director of Curb Your Enthusiasm) said, part of the reason I got the job is because I was president of something, and as a woman, I know what that's like. I also worked for the Institute of Politics at Harvard and helped do research on a book. I know some stuff about the emotional core, at the very least, of what President Meyer is trying to do on a small level. I do identify a lot with her character because all I like to do is yell at underlings and scream and neglect the people I love. I think generally my style of humor, if you ask people on The Lampoon, they'd be like, "Yeah, it's weird sex stuff about sperm flavors," and they're right. I like writing about sex, politics, religion. I like talking about controversial stuff but the nuance of it because for me, that's where all the real gold nuggets of humor are.
The importance of having and being a resource.
I try to make sure that I'm telling stories in an accurate way. I try to make sure that I am being a resource to people that are younger than me, who are looking to do these sort of things. When someone comes to me for advice or wants to talk about whatever, I really try hard to just be helpful because the few people who did that when I was growing up, and now are mentor figures, are huge. They were the ones that made it seem like I wasn't crazy. Especially coming from a math-y science background and being like, "I'm going to be a comedy writer." What even is that? Where do you do that at? That's not a thing. When I was growing up, I knew nobody who wrote, in any capacity. And so it's the people who are close enough to you but who also have experience in that world and say, "No, it's a thing. People do it and here's how I do it and did it. Here's advice this way or the other." Especially the women and people of color in my life who I can come to for advice about that stuff, have been so, so, so important. So I think you just gotta do it, one step at a time. And for me, as I come up, I make sure I'm talking to other people and trying to bring other people up with me.