Back to selection
"A Little Like Borat but Without the Punchlines": Five Questions for Rainbow Time Writer/Director Linas Phillips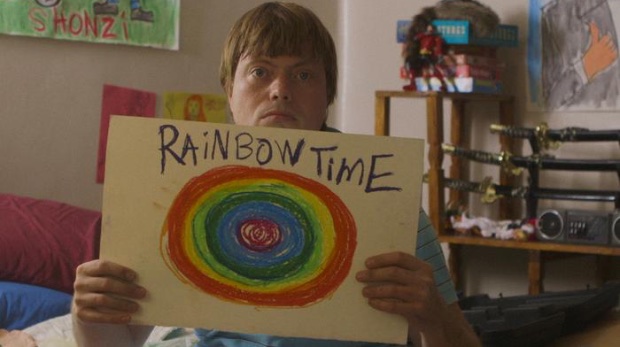 Rainbow Time
Back in 2005, young filmmaker Linas Phillips paid homage to a cinematic hero by recording a cross-country pedestrian journey in Walking to Werner — the "Werner" being, of course, Werner Herzog. At the time, he told Filmmaker, "I remember Werner saying if there is a big decision in your life, it should be done on foot." Over a decade later, Phillips' career has ambled through a number of interesting digressions, including acting in Manson Family Vacation and this latest, a narrative feature about the strange relationship between two brothers, one mentally challenged. It's premiering at SXSW, and below Phillips updates us on his last decade, working with the Duplass Brothers and whether independent film is a "career."
Filmmaker: Back in 2006, Filmmaker selected you for our 25 New Faces list, and in Peter Bowen's write-up he references a "sweet-hearted reality show called Rainbow Time" that fed into what became your first feature, the documentary Walking to Werner. What was that earlier Rainbow Time, and what's it's connection to this film you are premiering at SXSW?
Phillips: That reality show didn't have much to do with Rainbow Time. I guess part of my process when writing is to make lo-fi videos or sketches that eventually work into bigger projects. I had created this developmentally challenged character years ago named Shonzi (he actually used to be called Rimas), and I would have my friend pretend that she was my caretaker and help me convince people to let me interview them in character. I would then ask them really simple questions like what their favorite color of the rainbow was, etc. I was doing it as sort of a prank but also as a sort of social experiment. It was really beautiful to see people's patience getting tried but still trying to make time for me (or I mean the character). A little like Borat but without the punch lines. I don't remember too much about that except there were a lot of awkward long hugs.
Filmmaker: In our profile you also mentioned working with special needs kids. Your new film deals with a developmentally challenged adult. What's been your experience working with the developmentally challenged in real life, and how has that shaped the way you have worked with these actors on film?
Phillips: When I graduated from college my first job was babysitting developmentally delayed kids. I was also a teacher assistant for a couple years. Working with these kids had a profound effect on me, and somewhere in the back of my mind these experiences were leading me to creating Shonzi. This one boy I babysat had a younger brother who wasn't developmentally delayed and they would fight a lot. it was so moving to see how the younger brother had to act like the older one to keep things from getting out of control. I think that was the seed for what I wanted to show between Shonzi and his younger brother Todd. I also have two brothers so there was a lot to draw from there. My older brother was hyper active and would harass me by throwing footballs too hard at me when I just wanted to sit and play with my GI Joe dolls.
Filmmaker: You've worked throughout your career as a director in ultra-low budgets, and now you have teamed up with the Duplasses and their production company, who have their own distinct ultra-low-budget sensibility. What was their influence on this project and your filmmaking?
Phillips: Jay and Mark have had a huge influence on me just because of their enthusiasm for filmmaking and supporting their fellow filmmakers. I met Mark on a movie around 2008 and he helped me get Bass Ackwards going. And then I became close with Jay while making Manson Family Vacation. We shared a similar value for character and story and we just hit it off on a personal level. Making that movie with him and writer/director J. Davis gave me the confidence to get back to Rainbow Time. He gave me some thoughts as I told him the story and I sent him a draft about six months later. As I rambled about different scenes he'd throw out zingers like, "Can you make those two characters into one character?" Great suggestions to make the story simpler and stronger and easier to make while also focusing it for the greatest emotional impact. A lot of people think Mark and Jay are the improv-y guys but their main allegiance is to story. They're scary good at figuring out what is wrong with a scene story-wise and how to make it better. And they're always working to push those elements and will stop to figure things out even when in the middle of shooting if necessary. During Manson Family Vacation Jay would be suggesting changes in the middle of a scene: "Why would I even stand here and listen to this?" "It'd be better for story if Sunshine wasn't with Blackbird so it makes it harder for Nick to leave Connie." Stuff like that, constantly; it was exhilarating and sometimes annoying as hell. A great reminder to stay on your toes and not just shoot what you wrote.
Filmmaker: Tell me about working with Melanie Lynskey. What was her role in helping develop her character?
Phillips: Melanie is so sweet and so powerful, a real woman of character and depth. She's the queen of listening. Jay Deubey (who works with Mark and Jay) said that when a scene isn't working while editing they could always make it better simply by cutting to her reaction shots. And that was also true with this. There wasn't a long development phase, but after meeting her and talking I rewrote the role with her in mind. Unfortunately on set she's really annoying — she mostly just brags about all the cool directors she's worked with. (Just kidding of course.) She's hilarious too. There's a lot of me in her character. I can be too critical with people and want to endlessly talk things out when in a relationship and I think a lot of that comes from fear of past mistakes. We talked a lot about our personal relationships, which helped us get on the same page.
Filmmaker: A decade after your inclusion on the 25, what are your thoughts about your identity as an independent filmmaker? What's surprised you about how your career has progressed?
Phillips: Ha — career. Not to sound defeatist but I'm not sure thats the right word. I think about giving up at times like anyone who struggles without much financial stability, but I'm excited to keep cranking stuff out. I really didn't know much about filmmaking ten years ago. I was young and lucked out having my first feature get attention and festival play but I had to do a lot of back engineering to be able to finally make films that say something very personal but also work on a bigger level. I took time the last few years working on becoming a better writer. I feel like I'm a more mature filmmaker now (this coming from a guy who has a scene where I cut a fake penis off someone). I wanted to make a movie that's funny in a way that Step Brothers is but also a little like The Elephant Man. Even though it's nowhere near that dark. I just like things that are real and heartbreaking but also really funny and I'm gonna keep trying to do that.