Back to selection
"Start Budgeting for Everything You Can't Do": Five Questions for Donald Cried Director Kris Avedisian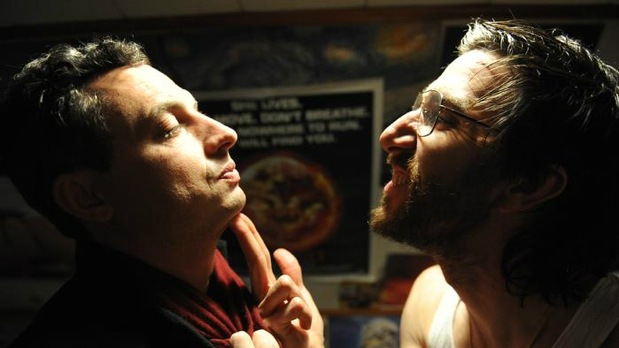 Donald Cried
An acclaimed short that developed into the filmmaker's first feature, Donald Cried, a buddy comedy set in director Kris Avedisian's home state of Rhode Island, had its world premiere last weekend in the Narrative Feature Competition section of SXSW. Jesse Wakeman and Avedisian (as the title character) reprise their leading roles as the odd couple pairing, friends reunited in their hometown thanks to the death of a grandmother. Taking John Hughes' Planes, Trains & Automobiles as its road trip, structural inspiration, the film finds the two men sharing a van as tensions from their past arise. Donald Cried will next screen in the Film Society of Lincoln Center and Museum of Modern Art's New Directors/New Films series later this month. Below, Avedisian discusses starring in his own work and developing a camaraderie with his cast.
Filmmaker: Donald Cried was first a short you made to critical acclaim a few years ago. What was it about the short that seemed ideal to expand upon for your first feature?
Avedisian: The fact that Jesse and I could play the leads, and that people believed us and found our dynamic funny, was a huge jumping off point. From a logistical standpoint we had our cast, but it was really the audience's reaction to the more dramatic parts of the short that insured there was a longer story.
Filmmaker: How did you meet your co-star Jesse Wakeman and what made him the perfect fit for the role of Peter?
Avedisian: I met Jesse in California through our mutual friend and collaborator Kyle Espeleta. We love giving Jesse a hard time, to a fault sometimes. He'll never get mad (even though you can see it's right there) and he never really loses it. He just makes these funny dismissive comments. Very rarely will he get physical. We knew he could play the "simmering pot" role with just enough strange and comedic tone.
Filmmaker: Was it always your intention to star in the film? How does directing one's own performance affect how you work with fellow cast and crew members?
Avedisian: I was always going to play the role, even though it ended up being a double edged sword. Since so much of the movie is Jesse and I, it made for a real short hand betweens us. Even working with the other cast was nice because you're in the scene [with them], and so you can kind of feel the flow with everyone. Maybe they would have a different answer. The hardest part was popping in and out of character, making sure to give enough attention to everything else happening outside of the acting. That was tough.
Filmmaker: Your film has been described in several programming notes as being a unique descendent of Planes, Trains and Automobiles. Do you invite that comparison? Were they any specific cinematic influences you had while embarking on Donald Cried?
Avedisian: Of course. We looked at that movie more from a structural standpoint; the history between the characters are very different. There are similarities though, for sure. Whether or not it can be seen, I'm always inspired/influenced by the way Paul Thomas Anderson writes his characters and dialogue, his tone.
Filmmaker: You recently oversaw a Kickstarter campaign to help with the finishing funds on the film. What advice would you give to filmmakers when it comes to budgeting out the less sexy post-production necessities, such as deliverables, color correction, and the like?
Avedisian: Different projects have different needs, of course. I think it's important to figure out very early on what your expectations are for your film. How important is production value to you, where would you like the film to show etc. Do some research and make a long extensive list of everything you think your film will need. Be honest with yourself and figure out exactly what you personally can and cannot do on that list. Then just start budgeting for everything you can't do.