Back to selection
Investing in Change: The Ghetto Film School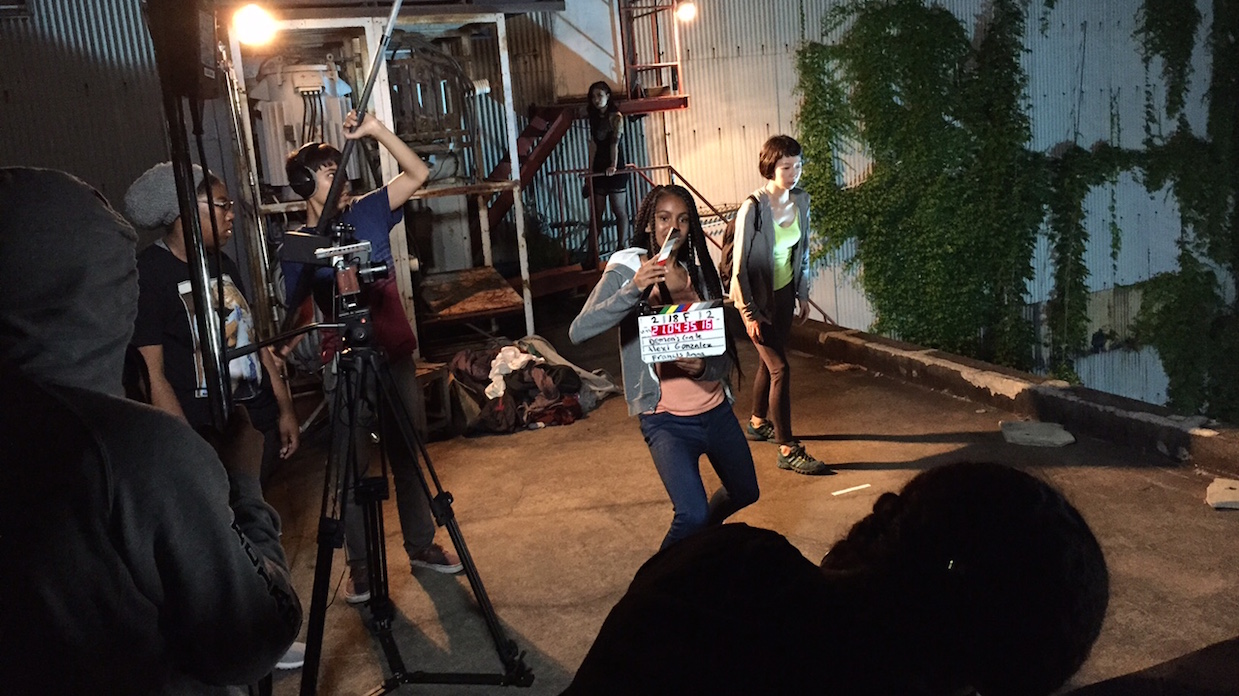 Students on set at Ghetto Film School (Photo courtesy of Ghetto Film School)
Just after the Oscar nominations in 2015, Derrick Cameron wrote a guest column in The Hollywood Reporter titled "How to Fix the Oscars: Take a Cue from the Sports World and Fix the Talent Pool" in which he argued that "we have not invested in developing new voices in American cinema, particularly from communities that reflect our various cultures." In contrast, Cameron and a team of other passionate educators have worked for more than a decade to make precisely that investment. They are the team responsible for Ghetto Film School.
Founded in 2000 by Joe Hall in the South Bronx, Ghetto Film School was designed to create opportunities in the film industry for inner-city youth. Following almost a decade teaching after-school workshops, GFS, in concert with the New York City Department of Education, created The Cinema School in 2009, described as "the nation's first and only film high school." The school's curriculum combines a liberal arts education with an emphasis on creative expression generally, and filmmaking specifically. "Our students take film classes every day at the school," explains Cameron, who is currently the artistic director for GFS, overseeing relationships with other partners and organizations. He goes on to add, "We purposely didn't want it to be a vocational school. We wanted our students reading James Joyce, studying world religions and learning about biology. We also didn't want film merging into all of the other disciplines. We wanted to honor film for itself."
Five years later, 21st Century Fox took notice and asked why there wasn't a film school like GFS in Los Angeles and offered funding to research the idea. Based on a review of other local organizations and educational opportunities, a program was established in MacArthur Park that provided a free 30-month curriculum dedicated to film production and storytelling for students between the ages of 14 and 18. Like the students in New York, the L.A. GFS students start with a nine-week summer intensive that meets five days a week. "They learn filmmaking from soup to nuts," says Cameron, who adds that the participants each make a six-minute short. "Those films go on to premiere at LACMA [Los Angeles County Museum of Art]." In New York, student films are presented at Lincoln Center. In the fall, the program takes place on Saturdays. "In this segment, they create commercials and ads for corporate clients, so they get to work with someone else's vision. In the spring, their thesis semester, they go to a foreign country; this year, the students both in L.A. and New York are going to London. Last year, the L.A. students went to Tokyo."
The students also enjoy the benefits of relationships established by GFS in each respective city. In L.A., for example, GFS has a relationship with Loyola Marymount University, with the university offering a residential TV writing summer workshop that involves creating webisodes. In New York, students can learn about art in a collaborative program with the Frick Collection.
While many of the tools of filmmaking are changing, Cameron emphasizes that GFS is dedicated to the craft of storytelling. He goes on to explain the organization's emphasis on narrative in particular. "When we started the film school, we saw that there were a lot of youth media organizations delving into documentary, so we knew we could carve out a niche by emphasizing narrative filmmaking." He adds that, more importantly, narrative filmmaking is more proactive. "With documentary filmmaking you need to spend a lot of time with your subjects, and you need to shoot a lot of footage, and then you sit for a long time with the material. With narrative filmmaking, you need to plan ahead, create a script, secure locations, tell the crew where to be, plan for lighting. There's a whole level of proactive learning for 15- and 16-year-olds that we think is really great.
"The pendulum is swinging toward creative education," continues Cameron. "This kind of education creates a whole person. Any CEO worth his salt will say that the traits innate to filmmaking are innate to leading a Fortune 500 company: collaboration, problem-solving, public speaking. All of this is woven in to film education."
The program has not only been successful for students — its statistics for attendance, graduation and college applications are stellar — but it has garnered the attention of high-profile filmmakers and industry executives. David O. Russell has been a GFS board member since 2004, for example, and he and 20th Century Fox CEO Jim Gianopulos hosted the premiere of student work at the Hammer Museum last October. Other artists involved in past GFS activities include Lee Daniels, Olivia Wilde, Jim Jarmusch, Edward Burns and Spike Jonze.
Last July, Cameron followed his Hollywood Reporter essay with one in the Huffington Post, making an appeal to university film programs. "Cheaper tuition to film schools for those from less privileged backgrounds might go a long way to helping diversify America's young filmmakers," he wrote, and indeed his essays have presaged the furor that erupted once again this year over the Oscar nominations. However, Cameron realizes that college tuition is just part of the solution for increasing diversity in the film industry; GFS takes its function in the larger equation very seriously. "Our role is to create this pool of diverse students who will apply to these schools. We need to let our students know that these opportunities are out there. If you are talking about real diversity and real change in an industry, you have to start young, at age 13 or 14, working with students, parents and the community to show how there are careers in this industry."
GFS is doing just that.