Back to selection
The Refugee Crisis: How to Help With a $9,000 Budget, a Canon 5-D Mark III and One Woman's Incredible Story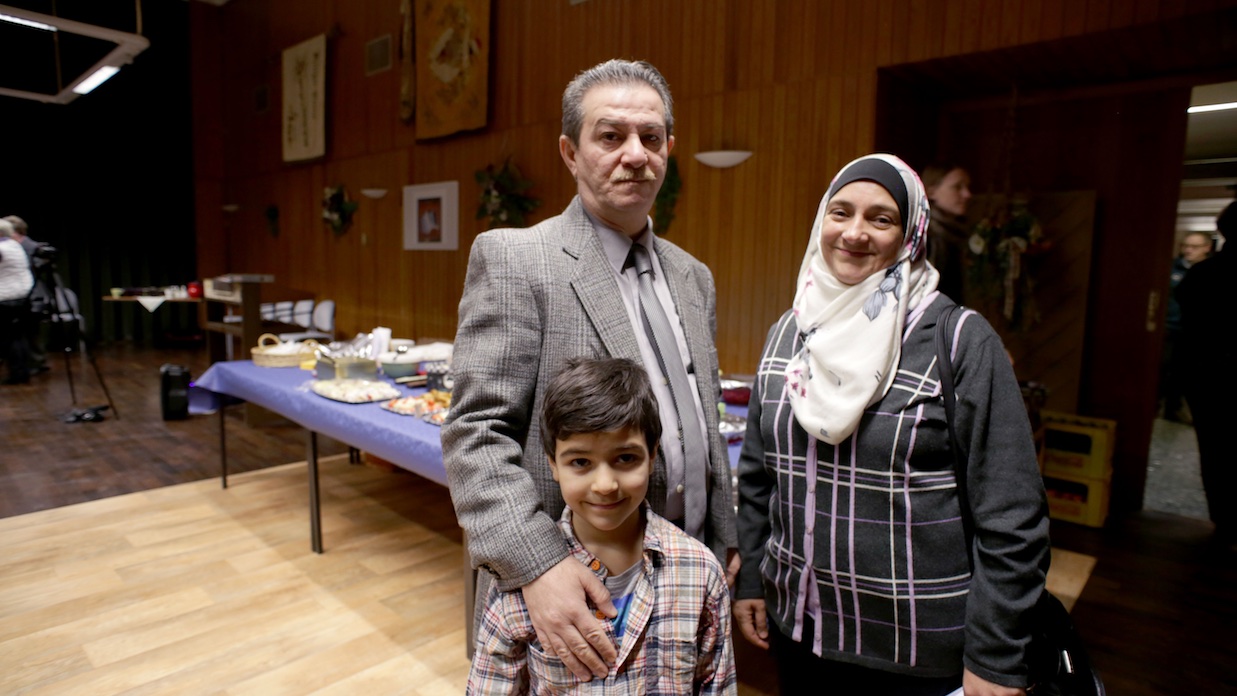 Hamsa, a short film on the Syrian refugee crisis by first-time documentary filmmakers Caroline Spearpoint and Miriam Thom, is the focus of an event next Monday, May 2 at the IFP's Made in New York Media Center. Hamsa: A Documentary and Educational Platform features the two filmmakers along with Benjamin Lowe (US Senior Campaigner at Change.Org), Rebecca Heller (Director at the International Refugee Assistance Project) and will focus on not only the making of the film but the collaboration with IRAP and Change.org as well as the use of film in social impact campaigns.
In the guest post below, Spearpoint and Thom discuss the bumpy road of filmmaking with a tiny budget, as-soon-as-possible deadlines and their highly intimate and biased approach to the people they were filming.
In September 2015 the BBC recorded an interview with Hamsa, a Syrian mother and refugee, as she neared the end of a desperate four-year journey with her family from Homs to Germany. Her determination and spirit caught the attention of thousands of people around the world, including ours. Our team contacted Hamsa and she granted us permission to tell her story.
Our goal: to globally reach the maximum number of people and reframe mainstream discourse and opinion around the resettlement of refugees. We planned to design a website where the film would live for free with educational materials and ways to take action. The turnaround time we set ourselves for the entire project was four months. Rising numbers in refugees and anti-refugee public feeling meant that we felt a pressure to release the film as soon as possible. To meet this deadline, we knew we had to approach the film in a very efficient, simple way. We gathered our combined skills (video production, design, website building) and outlined what would become a social impact campaign timeline.
Before travelling the 17-hour journey from New York to Hamsa's new home in rural Germany, we had only communicated with her a couple of times on WhatsApp. We didn't want her to say anything before we started recording, and we wanted the experience to unfold organically. This was a questionable decision as during the shoot Hamsa would casually announce, "Tomorrow there will be a big party in the village with locals and refugees meeting for the first time, (we scrambled to print out releases in German, and figure out the audio set-up) or, "My daughter Hala is having her wedding party tonight!"
A funny anecdote: Upon arrival in Germany, an hour or so before meeting Hamsa and her family for the first time, we were nervously gathering our equipment and checking batteries and cards for the upteenth time. The time had come to message Hamsa to tell her we were on our way over. She left us three voice messages. "Hello! I've got –" And then, "Hello! I've got some news," and finally, "Hello! I've got some news. We are on our way back to Syria! (muffled sound) Give us a call." We couldn't believe it. Had there been a terrible misunderstanding? Did she not know she was the main subject of our film? Had something awful happened? We sat there in disbelief, imagining explaining this to everyone back home. We called her back, desperate for an explanation. "Ha! In Syria we love to joke! Of course we are not allowed to go back there. Looking forward to seeing you soon!" A practical joke! It set the tone for what was to be an amazing weeks shoot full of laughter, tears, hugs, as well as anger and a painful recollection of the four-year journey they had just been on.
We stayed in Hamsa's house, breaking down the boundaries almost immediately. Caroline directed and recorded sound, and Miriam shot the film. Hamsa was mic'd up and being recorded from the moment we saw her in the morning to when she went to bed at night. We recorded 60 hours of footage that week and left feeling an enormous sense of responsibility to tell their story well.
The editing process was more intense than we had anticipated. We both lost the plot (luckily at different points in the process). A very helpful exercise was getting feedback from 20 people of different ages, genders and views on the topic. This was a eye-opening experience for us. The main takeaways: men and women gave very different feedback (men wanting less crying, emotion, "unnecessary plot lines," and women responding to the more emotional parts). Our English audience were happy not to focus on the crisis itself, whereas the American audience were not as up to speed on the history. Everyone wanted it shorter, but also suggested adding facts, description, revealing other characters. In the end, we had to have a balance between taking advice and staying true to our personal style as two emotionally driven female filmmakers and what we felt we needed to tell their story.
Hamsa is now finished and available to view here. The film sheds light on what that first few weeks are like as a refugee family resettled in rural Germany. You will get to know Syrian refugees who were successful and happy before the war in Syria and hope one day to go back. For now, they need people to welcome them and ensure their safety. The audience will witness them going to school, meeting their new German neighbours, trying German food, learning a new language, singing, dancing, crying and laughing.
After watching the documentary viewers are prompted to take action and learn more. You can take action by signing our petition, volunteering and donating, and the "Learn More" section of the site covers history, geography, definitions, celebrated fefugees and includes graphics illustrating refugee groups particularly at risk (LGBTI, Women, Children). It is an accessible educational resource on the Syrian refugee crisis; hosting lesson plans, activities and videos to be watched in classrooms or by individuals seeking a better understanding. In the last few weeks universities, schools, prisons, local village groups, families are getting together around the world to watch it and start a dialogue about how they can help.
We are looking forward to sharing the film and website in the upcoming months and seeing how far it's reach can go.
FoxWolf Productions produced Hamsa in partnership with International Refugee Assistance Project and Change.Org. Register for the IFP Media Center Event May 2nd to hear about that partnership and how to use documentary to inspire action.
Equipment Used:
Canon 5D Mark III
Canon 7D
Nikon 21mm 1.8, (manual)
Olympus 50mm 1.4 (manual)
Canon 24-70 2.8
Sennheiser EW100 G2 Wireless Lavalier Microphone System (Transmitter & Receiver)
Rode VideoPro Compact Directional On-Camera
Rode NTG4 Condenser Microphone
Hamsa Trailer | Documentary + Educational Mission from FoxWolf Productions on Vimeo.