Back to selection
Cannes Dispatch #2: Paterson, Happy Times Will Come Soon, Harmonium, Personal Shopper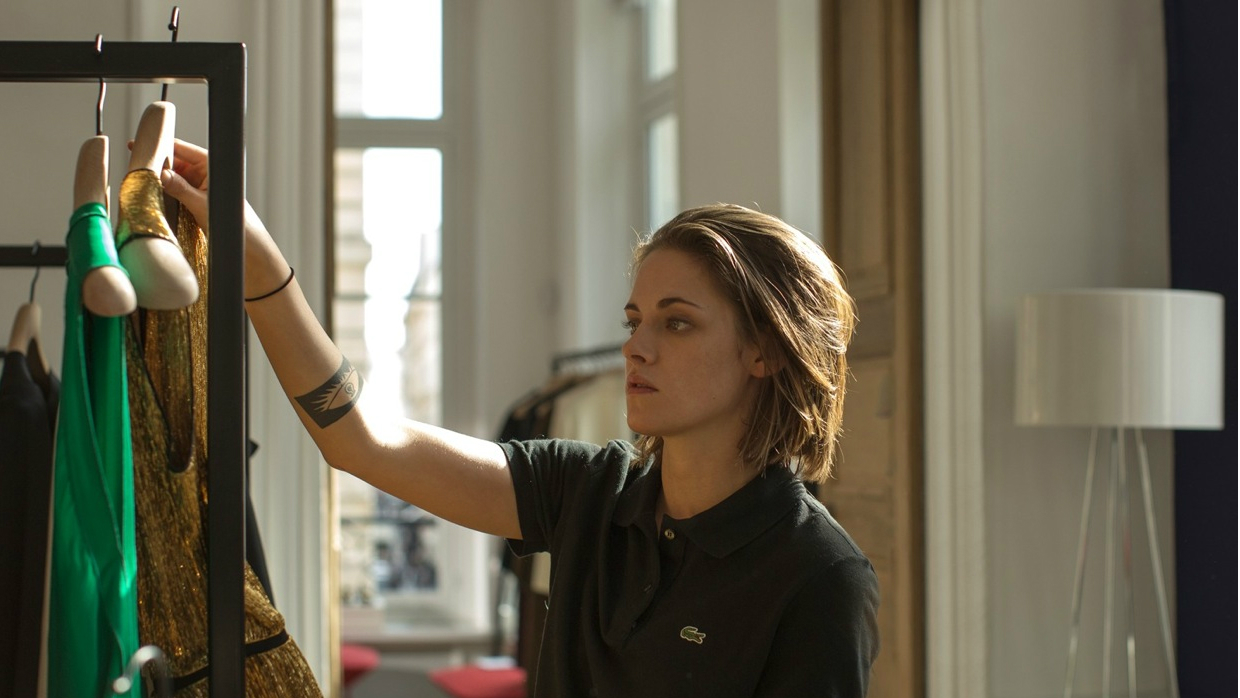 Kristen Stewart in Personal Shopper
I really ought to have more faith in Jim Jarmusch. Here's an artist who, despite routinely delivering cinematic UFOs time and again, is still capable of surprising me with works that feel sui generis not only with regard to world cinema, but to his own filmography as well. Paterson, which is not even close to the "slight" or "minor" effort early reports claimed were threatening to land it in a sidebar (low key, sure, but so what?), manages to restate a number of Jarmusch's pet motifs and themes in a tenor I'd not yet experienced in his work—at least not to the extent that they are here. The movie, literally lyrical, sways to the everyday rhythms of a bus driver named Paterson (Adam Driver) living in Paterson, New Jersey (remember, this is a Jarmusch picture) who writes poetry in his spare time. The poems themselves (actually penned by American poet Ron Padgett) echo the verse of modernist New Jerseyan William Carlos Williams, a model for Paterson's endearingly quaint efforts, presented as both voiceover and onscreen scribbles overlaying crossfading montage of superimposed waterfalls and urban mundanity bathed in shells of sunlight— too sincere (and beautiful) to achieve the level of kitsch that description might suggest.
Other details that, on paper, would no doubt raise red flags for Jarmusch skeptics (and perhaps even the converted) include a bartender often deflated by the fact that he just can't seem to beat himself at chess; a boss ignorant of the social protocol for answering a "How are you?" greeting with a "Good, you?" and instead lists out all of his new disappointments; and an absurdist over-reliance on dog reaction shots to punctuate all of the film's many domestic scenes. It's a remarkably free form film —so affable and comfortable in its skin —that my registration of time ("the fourth dimension"; "Hmm") dropped away for much of the first hour; I would have been perfectly satisfied to see it continue, devoid of drama or narrative, for approximately eternity. Consequence inevitably enters the frame, and the improbably seductive mood takes a back seat to unnecessary foreshadowings and the confirmation that certain details (e.g. a dream of twins, and the subsequent barrage of synchronicities this prompts in the real world) have simpler, metaphorical relevance closed the film off for me. The pleasures, for this reason, haven't much extended into my post-screening contemplation, but the in-the-moment ebullience of just sitting and taking it in is a rare enough gift.
It's a likewise present-tense enchantment that I got over in the Critics' Week sidebar, from Alessandro Comodin's sopohomore film, Happy Times Will Come Soon. Comodin made an auspicious arrival in 2011 with his lax evocation of an aestival daze in Summer of Giacomo, and he again demonstrates a penchant for atmospherics (this time of the 16mm, academy-ratio variety), albeit in a more consciously artful package this time (there are notes of Lisandro Alonso, Miguel Gomes, and even Apichatpong Weerasethakul dusted up in here). The film itself is a shapeshifter, opening with an extended passage following two teenage boys who, after exuviating their prison uniforms, bolt into a Northern Italian forest to seek refuge from the police (or some malevolent being). An abrupt end to their journey shoots the film into a new register (and perhaps a new timeline) which allows the film to re-present itself as an ethno-doc — a string of interviews with area locals directs our attention to an invisible nuisance that's been killing off the town's sheep — before it leaps back to a place somewhere in between. It may or may not be a werewolf picture, and Comodin may or may not have had any destination in mind when he was making it. But Happy Times is more concerned with the film as a map itself than a route (it certainly couldn't care less about the destination). A final line speaks about leading an existence despite being "from nowhere," delivered right after the Irish prison ballad "The Auld Triangle" plays non-diegetically in its entirety — completing its assortment of directions we might be curious to follow. 
In Official Selection's primary sidebar, Un Certain Regard, Kôji Fukada's Harmonium made for a modest but impressive unveiling. Much disappointment greeted the revelation that Kiyoshi Kurosawa's second 2016 picture (the other being the excellent Creepy, which played in Berlin) had been rejected from the festival, but Fukada's film is a more than serviceable alternate. The narrative — centred around a family of three that includes a Toshio, his wife Akie, and their daughter Hotaru — is kickstarted by the arrival of Yasaka, an old friend of Toshio's who's just been released after serving time for murder and starts to work and live with the family. So much of the first act of the film is concerned with understanding Yasaka's past and Hotaru's early interest in learning to play a harmonium that Kurosawa's Tokyo Sonata kept coming to mind. It'd be cruel to reveal where Fukada takes the film from here, but I was consistently taken aback but the audacity of his decisions, both narratively and formally (the classical compositions slathered onto the 1.66:1 frame clash beautifully with the camera's sharp movements and his editing's startling cuts), and I'm now more than a bit interested in visiting his (purportedly Rohmerian!) back catalog.
Back over in the Competition section, Personal Shopper — Olivier Assayas's secondstraight project to utilize the thespian talents of Kristen Stewart — is the kind of movie that invariably gets adjectives like "mess" and "disaster" thrown at it (indeed, it received the booiest Cannes boo I've heard in ages), and I'd be lying if I felt like I have a handle on what the movie is (if it even is one), and why Assayas was compelled to make it. Which isn't to say that the swift dismissals it received at its press premiere were warranted. Rather, the film is neither mess nor disaster at all, so deliberate and organized is its construction that I never felt like Assayas had lost control of where we were headed. He's made films in this mode before (some call it trashy, but it's really just hyper-saturated genre), and they're usually his better ones (Irma Vep [1996], Demonlover [2002], Boarding Gate [2007]). The genre this time is horror — namely the ghost story — and he wastes no time disclosing this direction by opening the movie with Maureen (Stewart) trying to invoke her deceased twin brother, Lewis, in the gothic mansion he died in. Meanwhile, she also works as a shopping assistant in Paris, running around picking up and picking out expensive fashion items for "It Girl" Kyra (Nora von Waldstatten).
The fashion world is essentially window dressing, though, as an amusingly large proportion of Personal Shopper consists of Maureen engaging in a text message conversation with what is implicitly her dead brother's spirit; a mid-film trip to and back home from London is almost entirely elided, not through elliptical editing but by keeping the camera so closely trained on a cell phone screen the whole time. The conversation remains coy ("Can you guess who I am?") and vaguely malevolent, and is mostly compelling, even if it may only amount to a formalist provocation. (That said, it has a Hitchcockian payoff that is absolutely worth it.) Notions of identity crises, fatalism, and heredity permeate the film's thematic territory, and it's all not quite extreme enough, in any regard, to settle the emotional position it wants to occupy. You might say it exists, or longs to exist, in a purgatory, between conception and materiality.