Back to selection
Sundance Institute Launches FilmTwo Initiative to Support Second Features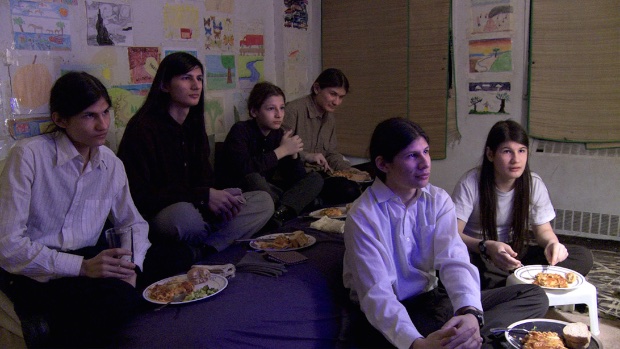 The Wolfpack
While making a first film is notoriously difficult, making a second film can often be even more challenging. To help a talented crop of filmmakers avoid the dreaded "sophomore slump," the Sundance Institute today unveiled the FilmTwo Initiative.
Led by the Institute's Feature Film Program, with support from Founding Partner NBCUniversal, the FilmTwo Initiative will offer 13 directors creative and strategic guidance in navigating the unique challenges of making their second feature films.
The inaugural FilmTwo Fellows are Andrew Ahn (Spa Night), Shaz Bennett (Alaska is a Drag), Bernardo Britto (Jacqueline (Argentine)), Steven Caple Jr. (The Land), Jonas Carpignano (Mediterranea), Marta Cunningham (Valentine Road), Alistair Banks Griffin (Two Gates of Sleep), Siân Heder (Tallulah), Marielle Heller (The Diary of a Teenage Girl), Anna Rose Holmer (The Fits), Crystal Moselle (The Wolfpack), Felix Thompson (King Jack), and Yared Zeleke (Lamb).
"Our FilmTwo Initiative is a holistic response to challenges filmmakers have expressed to us. It builds on our existing work to ensure that the most exciting and diverse filmmakers have the support they need to overcome the hurdles of getting their films made and seen," said Keri Putnam, Executive Director of Sundance Institute, in a statement.
In March, Fellows participated in a day-long Screenwriters Intensive and Industry round-tables, building a support community of second-time filmmakers. The selected filmmakers will receive advice in navigating the industry and have access to customized year-long creative and tactical support. They will also be considered for participation in various FFP Labs, the Feature Film Program Fund, and other activities.
Through the FilmTwo program, four Fellows will be designated as NBCUniversal Fellows and receive development granting and meetings with key Universal Pictures executives.
"Universal is committed to telling stories that resonate with audiences around the world, and growing the field of diverse filmmakers is a key factor in fulfilling that commitment," said Donna Langley, Universal Pictures Chairman. "By partnering with Sundance Institute on the FilmTwo Initiative, we hope to help advance the careers of exciting new voices."
Below are bios of the selected fellows courtesy of Sundance Institute:
Andrew Ahn is a Korean-American filmmaker born and raised in Los Angeles. His first feature film Spa Night premiered at the 2016 Sundance Film Festival in the US Dramatic Competition. The film received a Special Jury Award for Breakthrough Performance for lead actor Joe Seo. Ahn is an alum of the Sundance Institute Screenwriters Lab and Los Angeles Screenwriters Intensive.
Shaz Bennett is a writer, director and storyteller. She recently wrote and directed her debut feature film, Alaska is a Drag and was a writer on episodes of The Glades and UnREAL. She is a graduate of the American Film Institute's Directing Workshop for Women and FOX's inaugural Top 20 Directing Program.
Bernardo Britto was born in Rio de Janeiro, grew up in South Florida, and graduated from NYU's Tisch School of the Arts. He wrote and directed the award-winning animated short films The Places Where We Lived and Yearbook. At the 2016 Sundance Film Festival, he premiered a new animated short called Glove as well as his first feature film Jacqueline (Argentine). Britto is an alum of the Sundance Catalyst Initiative.
Steven Caple Jr. is an award-winning storyteller and filmmaker. In 2013, HBO bought and aired his USC short film A Different Tree, which won the Jury Prize for the Director's Guild of America, the Short Film Competition at the American Black Film Festival and the Audience Choice Award at NBC's Shortcuts. Since then, Caple was selected by HBO to direct a one-act stage comedy in New York during the inaugural HBO Character and Scene Studio. Caple's first feature film The Land premiered at the 2016 Sundance Film Festival.
Jonas Carpignano is a filmmaker who grew up in Italy and the U.S. His work as a director has been shown around the world and has won awards at prestigious festivals including Cannes, Venice and Sundance. His first feature film Mediterranea premiered at the 2015 Cannes Film Festival, earned him the Bingham Ray Breakthrough Director Award at the Gotham Independent Film Awards and was named the best directorial debut of 2015 by the National Board of Review. Carpignano is a Sundance Institute Global Filmmaking Award winner and an alum of the Sundance Institute Screenwriters and Directors Labs as well as the Catalyst Initiative.
Marta Cunningham is an accomplished filmmaker and producer. Her feature length documentary Valentine Road played in the U.S. Documentary Competition at the 2013 Sundance Film Festival, premiered on HBO in October 2013, was nominated for two News and Documentary Emmy Awards and was part of the Institute's 2014 Film Forward Program. Cunningham was a Sundance Institute Women Filmmakers Initiative fellow. She is currently directing episodes for television and digital platforms, including Refinery29, and her production companies, Off The Wall Productions and Sugar Sky Pictures, are currently in pre-production on several features and documentaries.
Alistair Banks Griffin's first feature film Two Gates of Sleep premiered in Directors Fortnight at the 2010 Cannes Film Festival and was produced by Borderline Films and Andrew F. Renzi with support from Cinereach. In 2013, he participated in the second annual Berlin Film Festival Residency and was the winner of the 2013 San Francisco Film Society/Hearst Screenwriting Grant and KRF prize; he was also awarded the Aide Aux Cinemas du Monde from the French CNC. Griffin is a graduate of RISD and lives and works in New York City. He is currently in development on his second feature film The Wolf Hour, which participated in the 2016 Sundance Screenwriters Lab.
Siân Heder writes and produces on the acclaimed Netflix series Orange is the New Black. Her short film Mother received top honors at the Cannes Film Festival, Florida Film Festival and Seattle International Film Festival. Her debut feature film Tallulah, which she wrote and directed, stars Ellen Page and Allison Janney and premiered in competition at the 2016 Sundance Film Festival.
Marielle Heller's debut film The Diary of a Teenage Girl premiered at the 2015 Sundance Film Festival, where it won a special jury prize and went on to win the Grand Prix of the Generation 14plus at the Berlin International Film Festival before it was released in theaters in August 2015. She received a DGA nomination for outstanding directorial achievement of a first-time feature film director, three Gotham Award nominations, won the Best Actress Award for Bel Powley and won the Independent Spirit Award for Best First Feature. Heller is an alum of the Sundance Institute Screenwriters and Directors Labs and the recipient of the Women at Sundance Fellowship and the Sundance Institute Vanguard Award.
Anna Rose Holmer was named one of Filmmaker Magazine's "25 New Faces of Independent Film" in 2015. Her narrative directorial debut The Fits, which screened at the 2015 Venice International Film Festival and the 2016 Sundance Film Festival in the NEXT category, is a selection of the Venice Biennale College-Cinema 2014/2015 and the Sundance Institute Editing Intensive Fellowship. She recently produced Jody Lee Lipes' Ballet 422, which premiered at the 2014 Tribeca Film Festival and was acquired by Magnolia Pictures and Mike Plunkett's Salero (2015 International Documentary Film Festival Amsterdam).
Crystal Moselle is a New York-based director best known for her 2015 Sundance Film Festival Grand Jury Prize-winning documentary The Wolfpack. In the last decade she has worked with short-form storytelling for publications such as Vice, Nowness and The New York Times. She has profiled different artists including Pharrell Williams, Shepard Fairey, and a pack of 14-year-old ballerinas running through New York City.
Felix Thompson: Winner of the 2016 Kiehl's "Someone To Watch" Independent Spirit award, Felix Thompson is a graduate of NYU's Tisch School of the Arts. His previous short films have been in competition at film festivals such as SXSW, Tribeca and The London Film Festival. His first feature film King Jack was selected for Sundance Institute's Creative Producing Initiative and won the Audience Award for Best Narrative Feature at the 2015 Tribeca Film Festival. Thompson received his MA in Screenwriting from the Royal Holloway University of London and currently lives in Los Angeles.
Yared Zeleke has a BA in International Development from Clark University and an MFA in Film Directing from New York University. His first feature film Lamb screened in the Un Certain Regard section at the 2015 Cannes Film Festival. It was the first Ethiopian film to be included in the Official Selection.