Back to selection
Paula Eiselt on Birthing Her Hasidic EMS Documentary 93QUEEN at the IFP Documentary Lab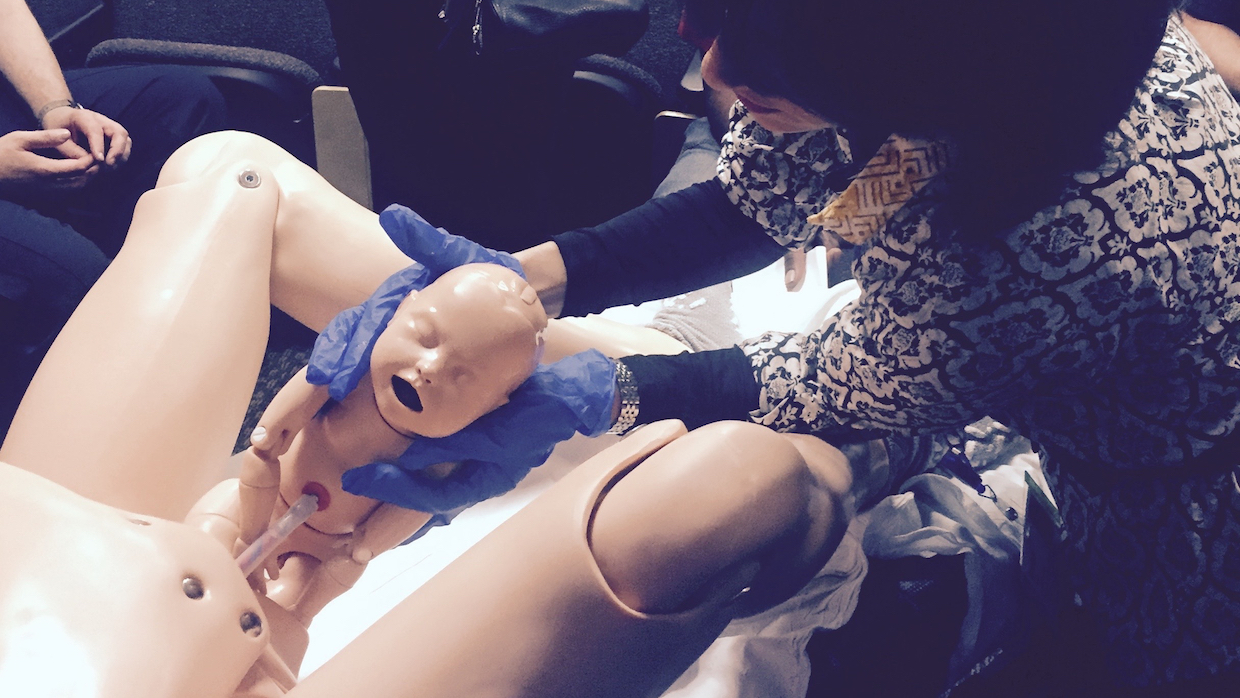 93QUEEN
I came out of hiding on May 9th, literally and figuratively.
After starting production on 93QUEEN three years ago — and giving birth to my third child three months ago — I walked into the IFP Documentary Lab armed with my breast pump and a 10-minute trailer, ready to present both of my "babies."
While Libbie, my actual baby, did stay home, I was finally able to share my project with the film world; my acceptance into the Lab marked a seminal turning point in the life of 93QUEEN and my career.  
93QUEEN follows a group of Hasidic women as they set out to launch the first all-female volunteer ambulance corps in NYC, providing dignified emergency medical services (EMS) to the Hasidic women and girls of Boro Park, Brooklyn. Their efforts are led by real-life-superwoman Rachel "Ruchie" Freier, a Hasidic lawyer and mother of six who doesn't take "no" for answer (kind of like filmmakers!). Ruchie's uphill battle to get this service off the ground also ironically mirrors my process of capturing said story! It's kind of neat when a director and her subject can relate so well.
However, up until a few weeks ago, I have not been able to publicize my film in any way beyond grant and lab applications— and even those submissions were ridden with caveats. Appearing on film is quite controversial in Hasidic culture — some Hasidim believe drawing attention to oneself in media violates modesty edicts, and the women have faced tremendous opposition from the (male) leadership in their Boro Park community. But as we wrap production and the women's determination has proven unwavering, the Lab felt like a safe space to present their story.
Early on in the week, Lab leader Jessica Wolfson compared the process of making a film to the process of giving birth (which happened to be super relatable to me personally). Her reasoning went something like this:
Development (conception)

— Fun and full of promise! But also, uncertainty…is my idea really a film?

Production

(pregnancy) — You have a good story cooking but are not sure what form it will take. What will it look like when all the elements are finally in place? Will you ever stop shooting  . . . because it feels like you've been shooting

forever

.

Post Production

(labor and delivery) — Very painful and arduous. Many tough choices. But in the end you just have to let go and deliver your baby, er, film.

Marketing and Distribution (raising your child)

—  you'll obsess over where your film actually screens/airs and how much control you have over it (unless, of course, you give it up for "adoption," and give up all your rights). Usually, you'll have to compromise and hope for the best reception. But you'll do that knowing that you did your very best.
And then when it's all done, you look around, and you say, "Hey, that wasn't so hard.  Let's do it again…"
I think many of us came to the Lab exhausted from our processes and in need of both guidance and brutal honesty. So, if I had to describe the Lab in one word it would be nurturing (sticking with birth theme here). IFP's Milton and Paola; lab leaders Jessica, Carol Dysinger, and Jon Reiss; the workshop presenters; and my fellow Lab peers genuinely want me to finish my film…and they want it to be a film that I'm proud to have associated with my name.  
In an industry where the answer is very often "no," it's stunning to hear "yes" both early and often during the Lab —  "yes" in the sense that over the course of the Lab you'll learn the tricks of the trade (ie, Fair Use can cast a wide net; aggregators now prefer the term Digital Distributors; and it is slightly possible to apply to Sundance twice with the same film), but you'll also develop a better sense of your totality as a filmmaker — what other parts of you as a person can (and maybe should) inform your storytelling and how that completes your vision. For me, I finally felt okay owning being a mom, an Orthodox Jew and filmmaker. I used to attempt to hide the non-filmmaker parts of myself from the industry —  I didn't think I would be taken seriously and that I would be deemed too niche —  but interacting with both peers and professionals at the Lab allowed me to internalize the universality of my experience. I now have a really productive I-don't-give-a-sh*t attitude :)
By the end of my week at the Lab, I was feeling a mixture of intense validation, inspiring motivation and overwhelming trepidation — that rush of being on the cusp of something really big, but knowing that I still have a ways to go. However, it was the career-sustainability panel that gave me a deep sense of pride. As I listened to storytelling giants candidly discuss their goals, career trajectories, funding challenges, and all the shenanigans that took place behind-the-scenes of their seemingly perfect films, I realized that whether you're a veteran or first-time filmmaker, it truly does take a village to make a film.
Making documentaries is always hard. Getting access doesn't get any easier, funding is far from guaranteed, distribution is constantly changing, and festivals are becoming even more selective. But the one constant force in the documentary community is the filmmakers themselves. A very specific breed of person (I'd argue a species!) chooses to make documentaries—to dedicate years and years of his or her life to exploring what makes humanity tick and then giving voice to that humanity.
Sitting in the Media Center theater surrounded by others who shared in that passion and yearning for connectivity solidified for me why I am both a mother of kids and films: I love being a part of this community. And as Marilyn Ness wisely noted from the podium, "It's the journey, man! It's all we've got!"