Back to selection
Cinema Great Abbas Kiarostami Dies at 76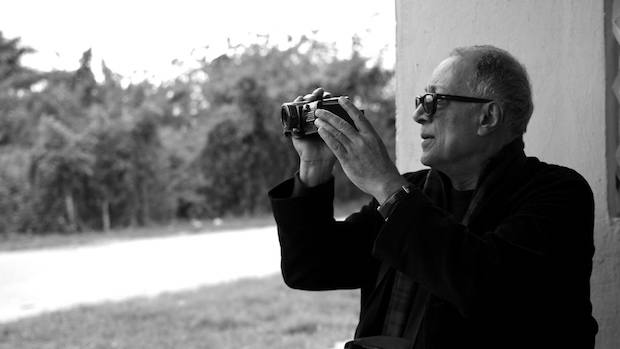 Abbas Kiarostami (Photo by Sholeh Zahraei)
One of cinema's great masters, Abbas Kiarostami, whose pictures could be intimate and human-scaled while also self-reflexive and bracingly political, died today in Paris. The Palme D'Or winner — for Taste of Cherry in 1997 — passed away following treatment for gasto-intestinal cancer.
Speaking to The Guardian, director Asghar Farhadi said, "He wasn't just a film-maker, he was a modern mystic, both in his cinema and his private life. He definitely paved ways for others and influenced a great deal of people. It's not just the world of cinema that has lost a great man; the whole world has lost someone really great."
Filmmaker has covered Kiarostami many times over the years, just most recently in February, when Cameron Bruce Nelson reported on a workshop for young filmmakers he gave at Cuba's EICTV. Here's the report from Australia's Hannah Moore:
I ran into Abbas one night, exhausted and disappointed from my day's filming. He asked how I went. It had been stressful wrangling non-actors. Oftentimes, they'd just disappear never to return. My main actor, who wasn't an actor at all (but an 84-year-old man from the local village) had kept looking to the camera. ʻSo,' Abbas said nonchalantly, ʻthat doesn't matter. Let him look at the camera. Then it just becomes an understanding with the audience.' I smiled and all the rules I had been leaning on crumbled beneath me. It was a thrilling kind of freedom he offered.
Our last interview with Kiarostami was in 2013 on the release of his Like Someone to Love, and it's a very good one. Check out this exchange on life and the writings of Gilles Deleuze:
Abbas Kiarostami: I think being someone in love is so hard to define, so temporary, because retrospectively we often deny the state in which we were in love. The experience of life teaches us that being like someone in love is more real, because everything is uncertain. There are certainties in existence, but love is something much harder to define than light and dark, life and death. I think saying you are "like" someone in love sounds right.

Filmmaker: It reminds me of Deleuze's idea of becoming, the idea of a state of flux or flow in which we are never at rest, perpetually moving through different states. What is it about that kind of becoming that you find interesting?

Kiarostami: I feel very close to Deleuze's view, because I think that in life, being is nothing but an illusion. If we acknowledge that and accept the fact that we are in between states, that we are moving, and this movement is the nature of our lives, and we stop having aspirations for being in a definite state, we know life better and are able to enjoy it better.
Elsewhere on the web, Tina Hassannia interviewed Kiarostami about film, photography and digital in late 2015. David Sterritt did this comprehensive interview in a 2000 edition of Film Comment. And, in 2010, Godfrey Cheshire wrote about my personal favorite Kiarostami film, Close-Up, a picture that is a sort of Ur-text for the whole hybrid doc movement at the moment.
We'll have more on Kiarostami in the days ahead. R.I.P.