Back to selection
TIFF Critic's Notebook 2: Nocturama, A Decent Woman, The Red Turtle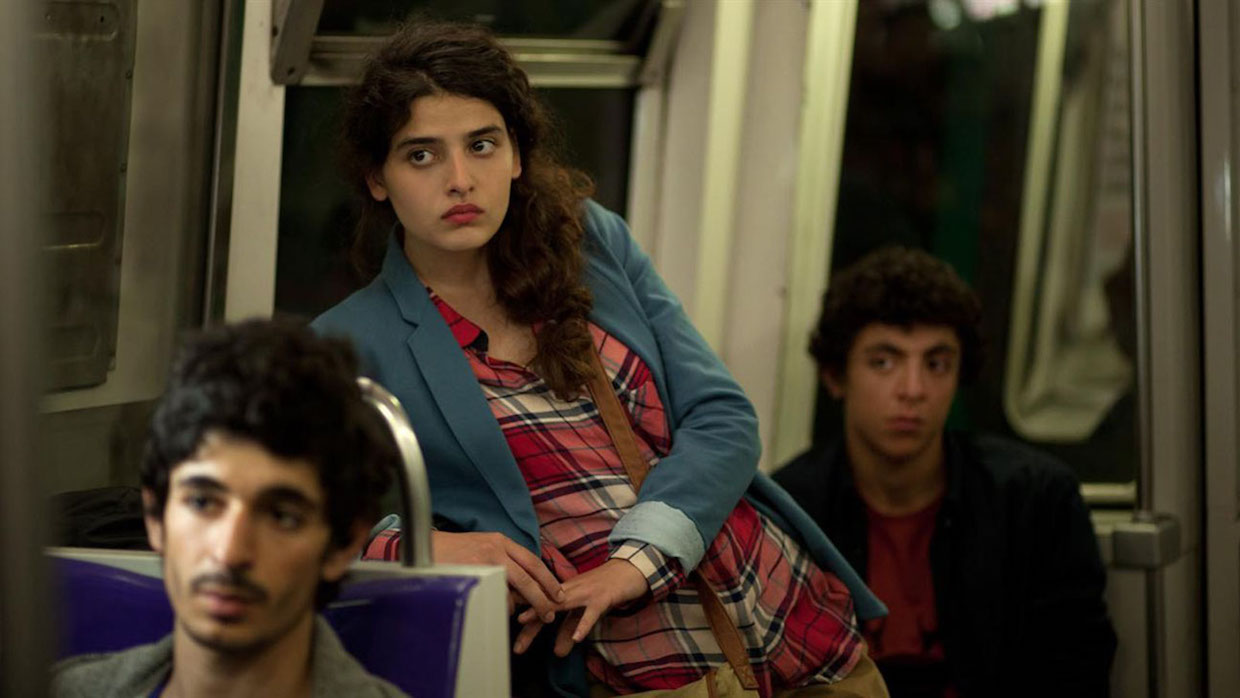 Nocturama
When Bertrand Bonello's Nocturama was conspicuously rejected from Cannes, fest director Thierry Frémaux wouldn't comment on its absence: was he simply currently leery of any images of mass explosions in Paris, or was there something more offensive to the film? Nocturama is to some (arguable) degree a shallow movie with a flippant/trivializing attitude, rejecting the default gravity granted its subject, which means someone will definitely get upset about the film. It's also a highly recommended, original and (this may seem like the wrong word, but it's true) fun work. It's impossible to discuss Nocturama without getting into the split between its first and second half, which shouldn't count as a spoiler unless you want to go in rasa; otherwise, skip down to the next bold-faced title.
An opening helicopter view of Paris is uninflected but, because of the topic, sinister: the longer the city's central expanse is surveilled, the harder it is not to preemptively tense up in anticipation of an explosion. A subsequent moody shot speeding through a dark subway tunnel lowers the tone closer to Bonello's usual comfort zone of moody seduction. Like John Carpenter, Bonello is also his own composer, and his cues are a similarly distinctive signature — tensely/tastefully minimalist electronica for nighttime lurking and sulking. The first half is more or less a silent heist film tracking a group of diverse, predictably photogenic college students trekking across the city, encountering or provoking small moments of violence while planting their detonators. A few flashbacks sketch how this heterogeneous group came together, but their polemical foundations are vague: invocations of Pinochet and the CIA's villainy, philosophical musings on the end of empire and how democracy creates its own demise. ("You can only judge a civilization by its enemies," one declares, not its results.) The targets — including a government building and a skyscraper open for global business — fit with a certain generic left-leaning list of enemies; beyond that, Bonello doesn't really specify.
The first half's efficiency is admirable, but the film doesn't really become characteristically Bonello's until the youthful bombers retreat to a massive department store to hopefully wait out the post-explosion chaos and elude the authorities. At this point, Nocturama unexpectedly morphs into a close relative of Dawn of the Dead: the kids evidently wanted above all to Make A Statement and hoped for minimal casualties, but their revolutionary ambitions don't preclude creature comforts after working hours. Given full run of the luxury shopping space by a security guard comrade, they promptly indulge materialist fantasies: raiding the grocery department for its priciest edibles, lounging in a claw-tub bath while drinking some presumably very expensive booze, grabbing fresh clothes and blasting Willow Smith and Chief Keef from excellent sound systems. Bonello doesn't make hang-out movies per se, but he thrives on social situations where tony lushness encourages self-conscious extroversion: the intense dance-floors of Saint Laurent, the meticulously lit and managed red-light parlors of House of Tolerance. The ability to immediately disconnect from the fatal consequences of ones' actions and plunge into a world of seductive triviality has obvious metaphorical implications (escapism: no longer just for first-world governments trying to ignore the fallout of their foreign policies), but it's also a fun space to hang out in.
This isn't to imply that Nocturama turns into some kind of loose-limbed Hawksian hang session: when the state catches up, the hammer comes down hard and brutal. In a fairly predictable move from an vaguely anti-authoritarian POV, Bonello makes sure to parallel the violence of the terrorists with that of the federal authorities, with the latter shown as far more merciless. The screenplay's smartest move is to conceal how many people, if any, died in the attacks: by severing the act from resulting body count, we're forced to think about the symbolic motivations and uncontrollable energies propelling terrorism rather than its consequences. It's a valid thought exercise to regard mass bombings as irrepressible expression of the national id: as one girls on the street, "It had to happen." I guess this could be considered "irresponsible," but that would really only apply to a film that seemed to actively encourage viewers to go rogue, which this doesn't. Nocturama creates a weird narrative space in which incidents of mass violence and being super plugged-in to your various entertainment feeds occupy the same amount of (running) time and mental energy — oddly and unfortunately, that seems about right.
Lukas Valetta Rinner's A Decent Woman (his sophomore feature; I haven't seen his first, Parabellum) trumpets its international co-production status via unusually punchy opening credits. Rinner is an Austrian who studied and now works in Argentina, and this film was made with funding from the Jeonju Digital Project, so opening credits are in both Spanish and Korean. The background and letters alt-tab between red and blue — the two colors used to polarize glasses for viewing anaglyph 3D — at nearly stroboscopic speed, an immediate indication something more unorthodox than apprentice master-shot festival fare is up.
Maid Belén (Iride Mockert) takes a gig at a sterile house in a gated community on the fringes of Buenos Aires. In the midst of her bush-pruning duties, she discovers a nudist colony on the other side of the perimeter fence; initially appalled, she soon joins in on off-hours. Thematic dichotomies are stark and familiar, with the manicured parodic "nature" of her employer's mini-estate — landscaped lawns, a rock fountain inexplicably capped by a statue of an acorn — contrasted with the untended wild grass and overgrown woods on the other side, an obvious metaphorical parallel for constrained sexuality vs. the unfettered thing. Familiar class divides are also at play here, and there would seem to generally be little room for surprise.
Rinner has the timing and framing instincts of a widescreen cartoon gagman rather than, say, someone over-obsessed with Haneke, managing at least three major surprises at crucial moments. These should remain unspoiled, but an early moment is indicative of his ability to tweak a standard moment into something like a Looney Tune. When Belén, having seen the nudists over the hedge, goes to their gate, it swings open, revealing two unperturbed people in the buff. Belén promptly skulks away at rapid pace, hunched over like a less-confident Wile E. Coyote; it's her gait that makes the scene. Rinner is (mostly) going for laughs throughout, but more than anything he wants to stay ahead of viewers; the finale is unforeseen, socially irresponsible and a total blast. I'm inclined to probably give too much credit to films that manage to actually wrongfoot me, and while A Decent Woman may be more Promising than Fully Realized, it's unponderously accomplished, a breeze to watch and puckishly funny; Rinner should be on high-profile radars going forward.
Briefly, for once: I don't have much on Michaël Dudok de Wit's The Red Turtle, the first Studio Ghibli film made by an outsider/foreigner. de Wit has been working in animation since 1978 (I'm unhelpfully unfamiliar with his work) and is clearly very good at and particular about his craft. The wordless story is a Robinson Crusoe scenario which sometimes viscerally conveys the existential urge for survival better than The Martian managed; eventually, the film morphs into something stranger, complete with titular magical realist reptile. Sound design for the desert island is live-action realistic, the visuals variously distinctive: charcoal gray skies at night and a variety of looks for the day, from the blaringly bright beach to a forest straight out of House of Flying Daggers. Commendably/unusually, this is a child-friendly animated film that acknowledges that carnivorous animals exist, and the ending is understatedly heart-tugging. But even at 80 minutes, this feels attenuated, and Laurent Perez Del Mar's lush score of sentimental cliches isn't an adequate substitute for dialogue or a strong plot. And the film's vision of idyllic (i.e., totally isolated, group bed for life) family life gave me the creeps.