Back to selection
TIFF 2016: Five Questions for Strange Weather Writer/Director Katherine Dieckmann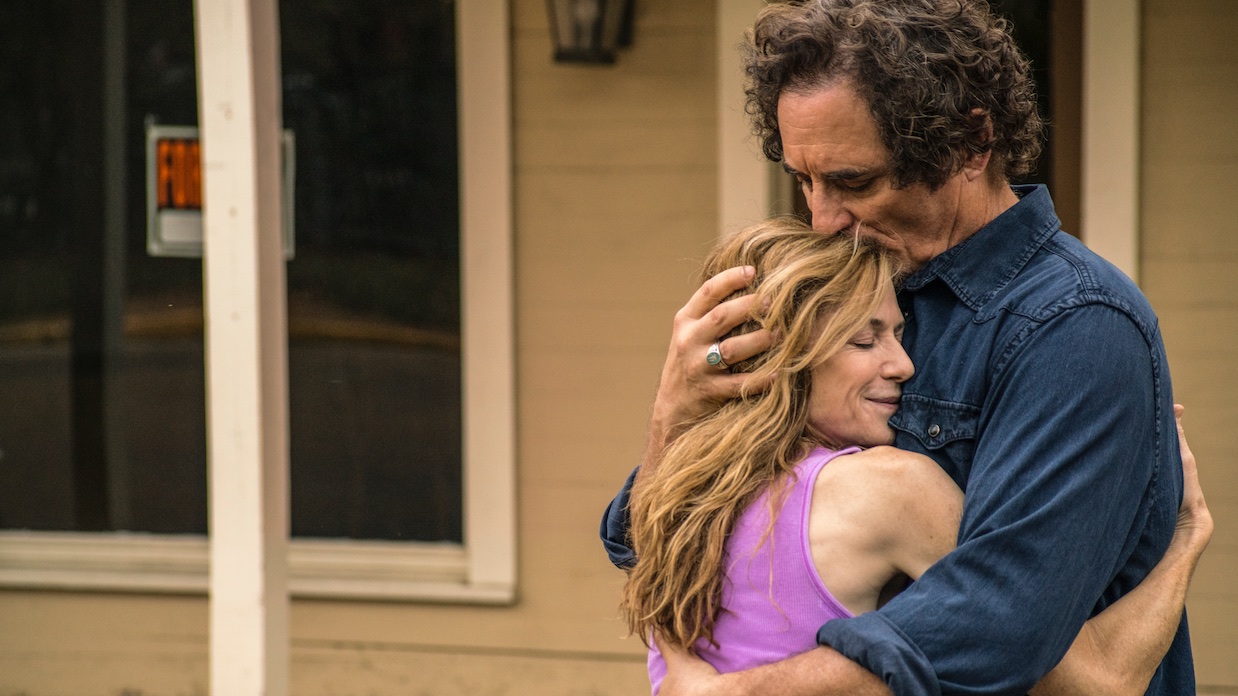 Strange Weather
Receiving its world premiere as a Gala Presentation at the 2016 Toronto International Film Festival, Katherine Dieckmann's fourth feature, Strange Weather, a Southern road trip movie in which the landscape is both physical and psychological. Holly Hunter stars as a fifty-something academic administrator whose job is suddenly in peril due to university budget cuts. Her son committed suicide seven years ago, and when she learns that his best friend is now profiting from a restaurant concept he stole from him, she decides to hit the road and possibly settle an old score.
Before the festival we asked Dieckmann to tell us about this latest film, including the inspiration for her title character, her true feelings about academic administration, and casting and working with Holly Hunter. Strange Weather premieres Tuesday, July 14 at the Toronto International Film Festival.
Filmmaker: First, tell us about the genesis of Strange Weather. What were the impetuses for the story and for the set of themes the movie tackles?
Dieckmann: For a long time I had been thinking about telling a story about a woman in middle-age who had lost her only child, a son, possibly to adoption. I have friends who have dealt with the suicide of their adult child, and as I watched how that event impacted them over many years, I decided to approach the dynamics of that experience with the character of Darcy Baylor, played by Holly Hunter. I was interested in how grief travels through the body and psyche over time, and how you can come to terms with it in some ways and not at all in others — how it is always and forever a murky grey zone and can never truly be "gotten over." I wanted to explore prismatic aspects of loss — anger, vengeance, self-destruction, forgiveness, and the potential for grace in the face of real suffering. I also wanted to tell a story about a strong, unconventional woman in her fifties, a woman who was still figuring out certain aspects of her life and wasn't done evolving, and this narrative provided the perfect opportunity to explore a character like that. Finally, I have a number of very close southern girlfriends whom I've known for decades now, and all of them had a huge impact on how I wrote the women in this film.
Filmmaker: You've been a faculty member at Columbia Film School, and Strange Weather's protagonist, played by Holly Hunter, is an academic administrator. What experiences or opinions have you gleaned from working in academia that shaped her character?
Dieckmann: The protagonist in Strange Weather had her educational dreams interrupted at a young age, and one way to finally get your degree if you're not rich and are disinclined to take on mountains of debt is to take a job within an academic institution and receive the tuition benefit — in fact my daughter is a sophomore at Barnard now thanks to that particular job perk. Also, I happen to be extremely fond of the academic administrators I work with at Columbia, and appreciate them as full and invaluable human beings, so I suppose the choice of job for that character is my own private nod to them. Academia is usually portrayed as a snake pit, and of course it can often be that, but I have to say my experiences at Columbia have been for the most part convivial and communal.
Filmmaker: In the Toronto catalog description, your film is being described as being as much "about the journey as the destination." What moments of discovery did you have as a filmmaker as you undertook this road trip picture?
Dieckmann: If I listed all the moments of discovery I had as a filmmaker making Strange Weather I'd wind up writing my own version of a Russian novel. But some of the main ones include realizing what genuine loyalty looks like from producers who believed in my vision and capabilities; the kismet of finding a whole pack of collaborators who dedicated themselves to supporting my work in a way I've never quite experienced before; the joy of spending extended time in the south (in this case, Mississippi) and being able to really dig into what is both extraordinary and problematic about that part of the country; and experiencing the blissful surprises of watching actors as powerful as the actors I had on this film (especially Holly) bring my words to life with complexities I never could have imagined when I wrote them.
Filmmaker: How did your casting of Holly Hunter come about? Did you write the film with her in mind? And how did she shape the character?
Dieckmann: I wrote this film with no one particular in mind — if anything, the visual image I had in my head wasn't an actor at all, it was the singer-songwriter Lucinda Williams, and her songs inspired aspects of the story as well. But once we decided to offer the part to Holly, literally no other actor made sense to me in the part of Darcy. I mean, anybody else felt illogical. Holly was hugely instrumental in shaping the character — she invests herself in every molecule of the script and prepares with a level of detail and commitment I've never witnessed before and doubt I will ever see again. She is an extraordinarily intelligent woman and relentlessly focused actor, and she brings great questions and ideas to just about every aspect of the process. I view the final incarnation of her character, Darcy, as a collaboration in every sense.
Filmmaker: Finally, in the last decade you've made three feature films, which is pretty great in this climate. And you're both a mother and a teacher. To what do you attribute your ability to steadfastly make features given the changing environment for, particularly, dramatic narratives? Do you have advice for others seeking to make character-based narratives at this moment in time?
Dieckmann: Honestly I find it shocking that I've gotten to make three films I really wanted to make in the past ten years (two of them, I might add, with the same core team of producers). It is as unlikely as it is a major gift. My kids are older now, so it's easier to juggle that aspect of my life, but the short answer is that I'm a half-German Virgo and thus tend to be pretty well-organized, I don't need a whole lot of sleep, I have a supportive spouse, and that I learn as much from my students (and colleagues) as they learn from me, so I view being at Columbia as an asset to my work as a filmmaker. As for steadfastly making features, I am both stubborn and a pragmatist, and have been lucky to have equally stubborn, pragmatic people in my corner. The character-based narrative is of vital importance to me, and infuses how I approach screenwriting both as an artist and as a professor, so I will fight for its importance in film form to the bitter end. (Obviously, television has way more room for that kind of work at the moment, but not every story should be an episodic story.) My answer in terms of others seeking to do this kind of work is to write as rock solid a script as you possibly can, then cast well and keep it cheap, because that makes things possible, and allows you a certain amount of freedom.