Back to selection
TIFF 2016: Five Questions for The Headhunter's Calling Director Mark Williams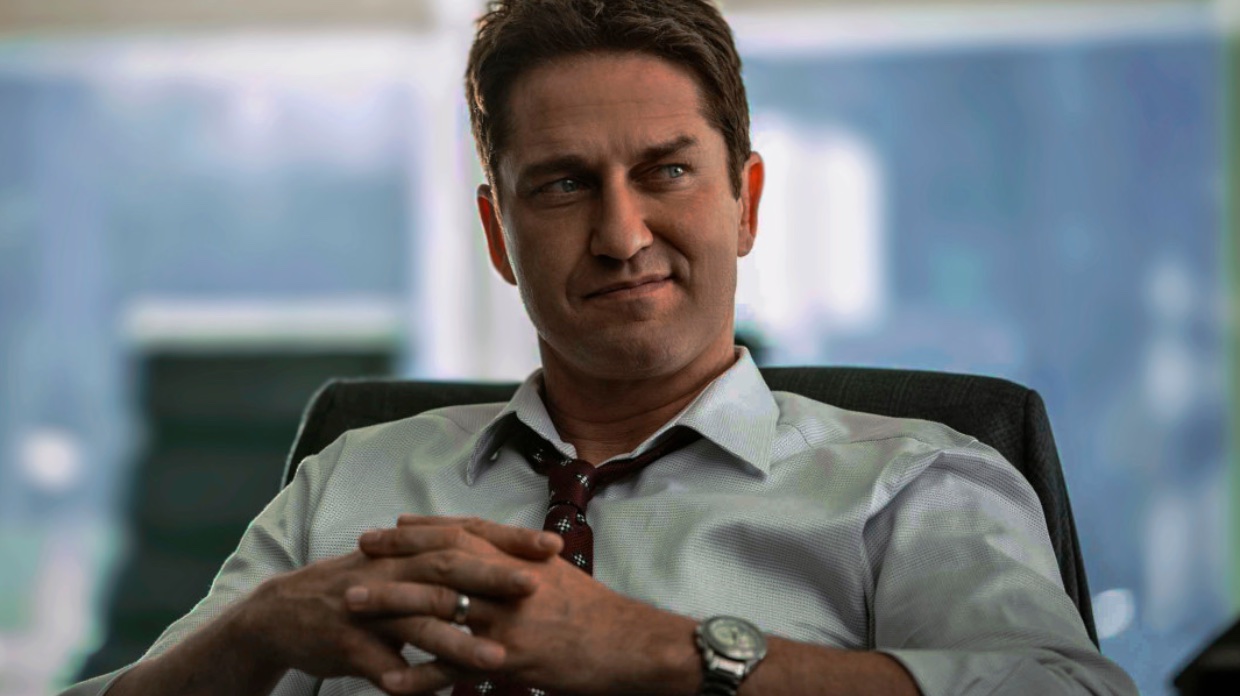 The Headhunter's Calling
Making his feature directing debut at the Toronto International Film Festival with The Headhunter's Calling is producer Mark Williams. Gerard Butler plays Dane Jensen, a hard-nosed corporate headhunter whose ambition to take over his job placement company is put in conflict by a sudden family tragedy. The world of corporate headhunters is a world well known by screenwriter Bill Dubuque (The Judge), and life balance difficulties posed by a demanding profession — headhunting but, one could also say, the entertainment business — are understood by Williams too. That's because he's a founder and partner of Zero Gravity Management, an L.A.-based company representing writers, directors and actors.
Below, Williams, who knows his way around a film set, talks about the surprises he nonetheless faced when he sat in the director's chair for the first time. He also offers some solid advice for first-time screenwriters looking for representation, and, of course, tells us how we wound up deciding to direct his first feature.
The Headhunter's Calling premieres Tuesday, September 13, at the Toronto International Film Festival.
Filmmaker: First, tell us how you got started as a producer and went on to form Zero Gravity Management. And, what then prompted your decision to direct your first feature?
Williams: I actually started my Hollywood journey as a screenwriter, full-time for about five years. I enjoy the creative process, and my first love is storytelling. My goal has always been to make movies, in whatever capacity possible, so to help things along I decided to become a creative producer. During those first few producing years, I was fortunate to work with a group of talented writers who I could relate to not only on a story level, but also as passionate creative people looking for that big break, a produced movie. These collaborative relationships with the writers led to the forming of Zero Gravity Management. A management/production company with the simple concept of launching writers and directors careers by helping produce their movies. The first movie we were involved with was The Cooler, which turned into a Sundance darling.
Directing wasn't really on my agenda. Producing has been keeping me busy, but along the way I had the good fortune of teaming up with a writer, Bill Dubuque, who wrote such great words on the page it re-oriented my creative brain. He wrote a wonderful script, The Headhunter's Calling, which spoke to me, as it dances with themes about what is important in life and the balance most of us face. Something I certainly could relate to. As a creative storytelling producer, directing seemed like the natural progression and this story and these characters offered me a great opportunity to creatively challenge myself.
Filmmaker: What would you say your strengths are as a producer, and how did they carry over to your work directing The Headhunter's Calling? And, conversely, what were aspects of directing that your skill set as a producer did not prepare you for? And how did you adapt to these challenges?
Williams: Strengths, hmmm. Probably a sense of humor. The whirlwind of filmmaking is full of time-sensitive pressures which can be overwhelming. It's better to not get too caught up in that stress, and humor is a decent way to ease the tension. Also, a calmness. I have spent years on set as a producer, like a second home for me. I always try to maintain a calm set, so everyone has the freedom to do their job. Reality is, it's more than just a job; filmmaking is a lifestyle, so everyone is better off if they enjoy the process. I applied these to directing as well.
I was prepared for most things, at least the best I could be. But what surprised me the most, for which it took some adjustment, was the mental and physical stamina that directing requires. There is no turning off, on set or otherwise. You're constantly bombarded with questions, thoughts, things which require decisions. It can be hard on your brain and body. There's no time to catch your breath and just think. During production it took about a week or so before I adjusted to the rhythm and pace.
In general, though, the biggest difference between producing and directing is the relationship with the actors. As a producer the interactions with actors don't tend to be overly creative. But as a director, there is a personal and professional creative bond as we strive for the best performance possible. I very much enjoyed learning each actor's process and working closely with them.
Filmmaker: Tell us about the story itself. What attracted you to themes and storyline of The Headhunter's Calling, and how did you work with your screenwriter on its development?
Williams: The Headhunter's Calling is set against the backdrop of corporate headhunters, while the theme focuses on the balance of work versus personal life. This balance is something many face on a daily basis, which makes the story and characters relatable. Also relatable is the job market. At some point or other, most people have had a job, wanted a job, lost a job, wanted a better job.
Lucky for me, before Bill became a successful screenwriter, he was a headhunter for 15 years. He lived the life that is portrayed in the movie. He was able to bring an authenticity, a truth that comes across loud and clear. When I first read the script, the characters and dialogue leapt off the page, so as we developed it further, our primary goal was to fine tune the structure, the twists and turns, and preserve the depth, heart, humor of the characters.
Filmmaker: Producing and directing at the same time can require a kind of split brain. How did you balance those two callings on set, and were there moments when these split roles were in conflict?
Williams: The majority of filmmaking is management. Managing people, time, money while holding on to a creative vision. And for the most part, that's producing. So, I would say I was producing most of the time. But what I quickly realized, to be a director, I needed to turn that switch off at certain times. First and foremost, when working with actors. Those moments had to be about the characters, the actor's process, the story, the creative world. Second, when the camera is rolling. As much as I was aware of the time, I had to forget we were on a schedule and make sure we got what we needed on screen, even if it meant going into a meal penalty or caused some other production ripple effect. When all is said and done, people only remember the movie, not the gory details of making it, so best to get it right.
Filmmaker: As a partner at Zero Gravity, one of the few management agencies that accepts unsolicited screenplays, what advice do you have to readers attempting to break into the Hollywood system with spec scripts and writing samples? What misconceptions are there among young writers, and what do you advise writers do to differentiate themselves?
Williams: As a screenwriter, I faced the daunting challenge of breaking into Hollywood, and I haven't forgotten. Zero Gravity Management has grown to be a large, successful talent management/production company representing writers, directors, actors, and producing movies and television. I believe that is in part due to our willingness to be open to talent from anywhere in the world. Creativity has no borders.
As for advice to screenwriters, write the most entertaining, interesting, engaging screenplay possible. And when it's finished, ask trusted people to read it, listen to them, then rewrite it. And rewrite it. And rewrite. There is an understandable eagerness to send a screenplay out into the world and get it made into a movie. But the reality is, it's a long road with lots of competition, and the way to give yourself the best opportunity is for the script to be as good as it can be. Easy to say, very hard to do. Don't rush it.