Back to selection
My IFP Film Week Experience, Part 2: The Pitch Perfect(ed)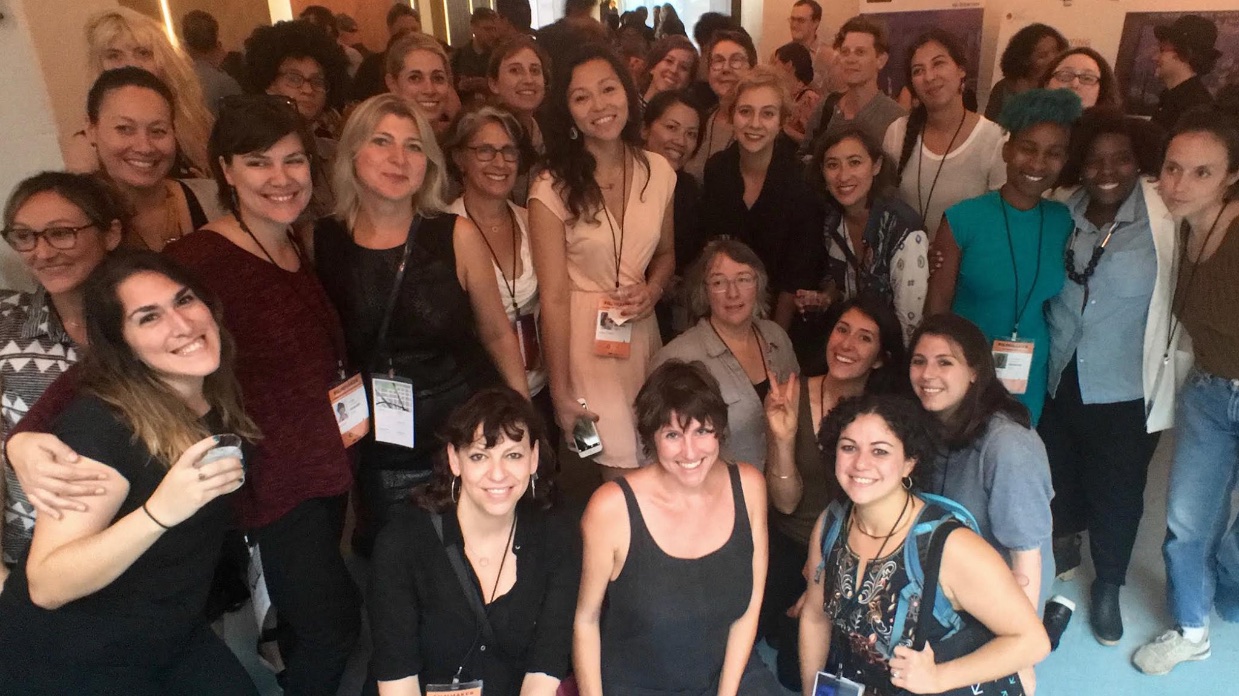 Film Fatales Happy Hour at the IFP Film Week on Sept. 19, 2016
Read Part One of Isabel Sandoval's IFP Film Week Diary, "The Female Gaze, Anyone?", here.
Forget Project Greenlight. If anyone wants to do a reality series based on the No Borders pitch meetings, it would be a more grizzled Swingers meets The Hunger Games — but with lookbooks subbing for bows and arrows. The thing is, I'm sure somebody actually used that logline for their own project.
The proceedings have a jovially survivalist element to them. While my No Borders project Lingua Franca is my third feature, it's my first U.S. production so Film Week doubles as Indie Film Financing 101 to me. My modus operandi: be zen going into a meeting but don't go in blind. Googling the company I'm pitching to and bringing up their films that I admire go a long way at the meeting. My spiel is less about the ask; that's what everyone already does. Instead, I learn more about the agency I'm pitching to and how it fits into my strategy for getting the film made.
The companies in my meeting slate cover a broad spectrum: sales agents, project incubators, production companies, festivals, distributors. That's great for me; after every pitch, a piece of the seemingly inscrutable puzzle snaps into place. With a project in early development, my goal is to make the connections. Through the quality of my previous work, the potential of the new one and — lest I forget — my boundless natural charisma, I'll close the deal eventually.
As on-top-of-it-all as I sound, telltale knots in my shoulders nonetheless jazz up my Tuesday morning. It's the second day of the No Borders pitch sessions; my producers and I barreled through six meetings the day before. It's the tension that greets a sudden, decisive push from inertia to motion. I finished the current draft of Lingua Franca a day before the No Borders deadline. Now the leap from page to screen — and the moving parts needed to make it happen — gets realer by the second, and more herculean. But I'm ready to roll up my sleeves, and I'm lucky to be joined by my producers, Darlene Malimas (who flew in from Manila) and Jerome Kerkman (from Milwaukee).
I'd planned on schlepping to Metrograph for Chantal Akerman's News from Home that evening. I decided to stay in Dumbo instead to preview 20 brash and idiosyncratic new works selected for the IFP Filmmaker Labs at Brooklyn Bridge Park. The cringe-inducing seductions of Poor Jane was something else, like a Dogme 95 filtered through Todd Solondz.
Speaking of Solondz, if diversity's a bad word, then IFP Film Week is a study in coprolalia. This year in particular sees a refreshing spike in visibility for women, POC and LGBTQ filmmakers. Fellow No Borders participant Anu Valia's We Strangers follows a young motel cleaner in a small Kansas town whose closest relationships begin to unravel as she struggles to get an abortion. Then there's Tchaiko Omawale's Solace, a coming-of-age drama about an idealistic teenage girl who finds solace in her friendship with the troubled girl next door. The diva-fabulous dreams of an aspiring superstar are hard fought in Shaz Bennett's Alaska is a Drag, set at a fish cannery in Alaska.
Those projects being just the tip of the (diversity) iceberg, it's fitting to raise a toast to fellow comrades — and women filmmakers — pushing for representation. This we did with gusto at the cocktails organized by Film Fatales on Monday evening. Meeting these inspiring, talented, extraordinary filmmakers reaffirms my alliterative mantra: the Future is Fearlessly Female.