Alec Moeller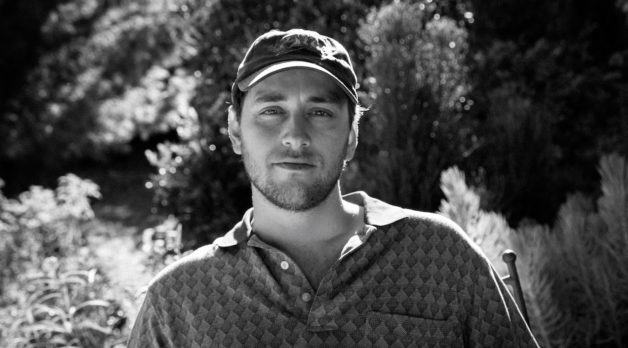 Alec Moeller

Shot on richly textured three-perf 35mm, Alec Moeller's Empath follows Kate (Betsey Brown), who's prone to uncontrollable tears at the slightest provocation, e.g., seeing a clown drawing made by her psychiatrist's son. "He must be such a sad little boy to paint such a very good clown," she bawls. The doctor thinks she needs mood stabilizers, but Kate seeks out more meaningful help at a support group for "hyper-empaths," who describe themselves as simply feeling too much. The group is run by a suspiciously controlling doctor (Michele Simms), and the short derives tension from the increasingly hard-to-pin-down motivations of its weeping group of sufferers, while its comedy comes in large part from the austere precision of its staging.
Moeller was born in Lancaster, California—"basically Palmdale," he says, "which most people know from the Afroman song 'Palmdale'"—and has been moving closer to Los Angeles ever since. He began making movies "just like everybody else [in] my generation: We had a video camera. You're going to make little horror films with your brother, your friends." Moeller became serious about wanting to make films around age 16 when, he says, "the Boogie Nights commentary was the nail in the coffin."
Moeller had thought about going to film school, but, he laughs, "I remember reading PTA quotes saying, 'You don't need it' and that getting to me at too young an age, where it kind of ruined my life." Instead, Moeller got an associate's degree in English from the College of the Canyons in Santa Clarita, then began working at a Starbucks while saving money to make his work. His 2019 short documentary 200 Headstones began when Moeller learned about a "fake cemetery" that'd appeared near his old high school in Acton—placed there, it turned out, by resident Dale Bybee as part of a complicated attempt to prevent a high-speed railroad line from running through his property. 
To make the short, Moeller first met with a production company that ultimately passed, one of the first times he noticed a "stigma because of not having a film school on my resume." Empath was another self-financed effort, its producers and crew drawn from, Moeller says, "looking at Instagram and seeing who's doing cool stuff." Many have musical connections, like producer and editor Andrew Ruse, whose work includes producing Joji's Tik-Tok mega-viral video for "Glimpse of Us." Of his choice to shoot on 35mm with DP Ben Mullen, Moeller observes that "the 2-perf cameras are harder to get ahold of these days because they're more in demand, because they're cheaper. But the thing about 3-perf is, I know a ton of people who just own them. That's another thing about shooting film: That's a good way to get a serious DP attached. If you tell them you have whatever ton of cans, and you want to do this on film, they're like, 'For sure.' And if they don't own their own package, they know someone who does."
Inspired in part by Safe, Moeller shot Empath in summer 2021 and got rejected from every festival he applied to that fall. A series of private screenings in Los Angeles followed, with word getting out. The film has since been programmed online on Short of the Week and NoBudge, and has also played at Los Angeles's Brain Dead theater and at the Palm Springs International Film Festival in a program alongside fellow 25 New Face Antonio Marziale's Starfuckers. He's learned a lot from the rejections ("I'm much better at networking now") and is currently working on a feature-length version of Empath, as well as developing a few more shorts.—VR/photo by Ben Mullen