Alexa Karolinski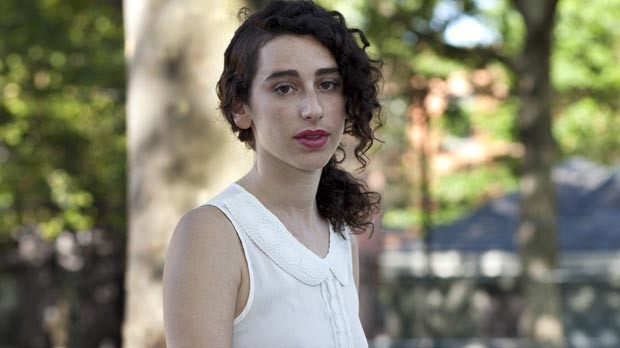 Alexa Karolinski
A few years ago, Berlin-born Alexa Karolinski set out to make a cookbook project of her grandmother's delicious Jewish dishes, but in capturing her warm, familial kitchen on camera as part of her research, she realized there was more to share than a few recipes. Oma & Bella, the feature documentary that resulted, is a touching portrait of two spirited characters — Alexa's grandmother and her good friend and roommate Bella, a fellow Holocaust survivor.
With practiced hands, they prepare meal after meal in their fully stocked West Berlin kitchen, all the while sharing engaging stories about their past. Some are endearing memories of dance clubs and heartthrobs, some very difficult recollections of their time spent in Nazi concentration camps. Their sincerity and outpouring of warmth are magnetic, and it is almost impossible not to fall in love with them by the end of the film.
Oma & Bella is Karolinski's first feature. After completing a bachelor's degree in art history in London, she returned to Berlin to work as an editorial assistant for Vice Germany and subsequently produced cultural reports for the arts television channel Arte. "They really kind of threw me into cold water," she explains. "On my first day, my boss just told me I'd be interviewing [artist] Jeff Wall."
Before long, she decided she wanted to make her own projects instead of just reporting on the creative work of others, bringing her to New York and the social documentary master's program at the School of Visual Arts. Oma & Bella began as her thesis project for the program and has garnered much praise and recognition, both at home and abroad, and was recently picked up stateside by Oscilloscope.
Karolinski had hoped the two octogenarians on screen, who can no longer travel, would be able to see the film in a cinema and was very happy when Oma & Bella had its world premiere at the Berlin Film Festival. Needless to say, the ladies were thrilled to see themselves as the stars of the show and are apparently local celebrities in their neighborhood these days.
Currently, Karolinski is working on a number of projects here in the U.S., where she plans to stay for the time being. Not forgetting her Arte roots, she is now working on a documentary short about Billy Name, an artist and one-time core collaborator at Andy Warhol's Factory. She is also involved in friend and filmmaker John Walter's current project about the Philip Glass opera Einstein on the Beach.
In the future, Karolinski hopes to try out a number of different styles of storytelling. Not wanting to limit herself to traditional documentary, she'd like to explore hybrid approaches. She doesn't completely support genre delineation, however. "To say something is a documentary or a narrative or a hybrid — what does that even mean? Fifty years ago, there were filmmakers making fascinating projects we'd call hybrids today. I just want to tell a good story."
Contact: omabella.com
– Cate Smierciak
Photo By: Richard Koek