#15 "Funny Ha Ha"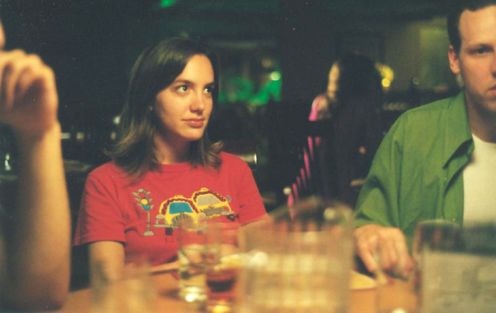 #15"Funny Ha Ha"
Marnie (Kate Dollenmayer) is 23, and she drifts through "Funny Ha Ha,"Andrew Bujalski's low-budget first feature, in search of love and employment – with pretty disappointing results. The young men she is drawn to don't reciprocate, and she can't quite bring herself to respond to the one guy who seems to be genuinely smitten with her. After temping for a while, she finds a job doing research for a professor, which seems reasonably tolerable.
What gives this film its quiet pathos is not so much the relative bleakness of Marnie's circumstances but the modesty of her expectations. At one point, she makes a to-do list, and its lack of ambition – "spend more time outdoors," "make friends with Jackie," "learn to play chess" – is both funny and sad.
Marnie would never admit to anything more acute than mild depression, and Mr. Bujalski captures the ache of her existence without pity or melodrama. She is lonely, but far from alone, because "Funny Ha Ha," much as it is the story of a few difficult, uneventful months in her life, is also a deft group portrait of recent college graduates – her friends, co-workers and would-be lovers – groping their way across the flatlands of early adulthood.
Their conversational tics sound at once stylized and improvised, and the movie's narrative rhythms are loose and ambling. It feels as artless and scattered as Marnie and her cohort, who wear old T-shirts with holes in them and decorate their apartments with nondescript furniture, some of it probably hauled in from the sidewalk. But this scruffiness is a bit deceptive, as "Funny Ha Ha" has both a subtle, delicate shape and a point.
Followups
Mutual Appreciation (2005)
Alan's band, the Bumblebees, has recently broken up after releasing an EP that got some attention. Alan has moved to Brooklyn, where he is trying to get solo gigs, and spending a lot of time with his old friend Lawrence and Lawrence's girlfriend, Ellie.
Beeswax (2009)
In this typically low-key comedy drama from independent writer/director Andrew Bujalski, Jeannie and Lauren are a pair of twin sisters living in Austin, TX, who are close without having much in common. Jeannie, who is confined to a wheelchair, runs a well-established vintage clothing store called Storyville with her longtime friend Amanda, while Lauren drifts from job to job and is pondering an offer to teach English in Kenya. Jeannie and Amanda have had a falling out and Jeannie is worried about her stake in the business, especially since the original partnership agreements were drawn up by Amanda's father.
Media
Official Trailer – Funny Ha Ha
Official Trailer – Beeswax
Did You Know
*Andrew Bujalski  has been called the "Godfather of Mumblecore."
*Neither film received theatrical distribution until 2005 and 2006, respectively.
*Bujalski wrote both screenplays, and appears as an actor, playing a major role in both films.
*In 2006, Bujalski appeared as an actor and contributed to the screenplay of the Joe Swanberg film Hannah Takes the Stairs.