#14 "The Great World of Sound"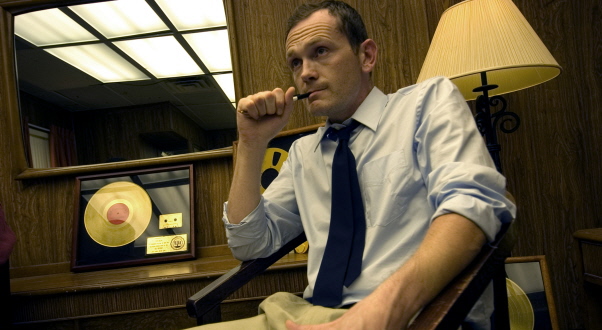 #14 "The Great World of Sound"
If you've ever wondered about how some of those would-be stars get on "American Idol," here is a film about some who don't. "Great World of Sound" is a movie about an outfit that buys ads in the papers offering free auditions to new talent, and then tries to sell them a "professional recording session" that will produce a CD allegedly distributed to radio stations and record companies.
To some degree, this offer is real. To a very small degree. We actually even see one of the clients in the "professional" studio. But the real point is to get the hopefuls to show their "commitment" by "investing" $3,000 in their "futures." We follow two of the Great World salesmen on their odyssey through the cheap motels and fast food grease pits of the South: Martin (Pat Healy), a neat, introverted, worrywart, and Clarence (Kene Holliday), an ebullient African-American who, after spending three years on the streets of Houston, is happy to have this job or any job.
In a way, the movie resembles Albert and David Maysles' great documentary "Salesman" (1968), about door-to-door Bible salesmen. The salesmen in both films are led to expect much larger rewards than are possible. But "Great World" has another dimension: Although Martin and Clarence are fictional characters, many (but not all) of those who come to audition aren't in on the joke. They think it's a real audition: in that sense, they're as exploited in real life as in the story. (Director Craig Zobel says he got releases from everybody after the fact.)
Followups
Compliance (2012)
 Among feature films, the phrase "Based on True Events" often brings to mind sentimental dramas or lurid tales ripped from the headlines. So outlandish and disturbing is the backstory to Craig Zobel's sophomore feature "Compliance," however, that it's easy to wish that it were entirely fictional.
Media
Official Trailer – The Great World of Sound
Craig Zobel and Ann Dowd (Sandra) talk about making the film Compliance.
Did You Know
*At the restaurant scene when the two main characters eat the chicken wings, the chicken wings themselves go back and forth between being bitten and unbitten.