Back to selection
"Story Drives the Form": Laura Poitras and Charlotte Cook on Creative Tag-Teaming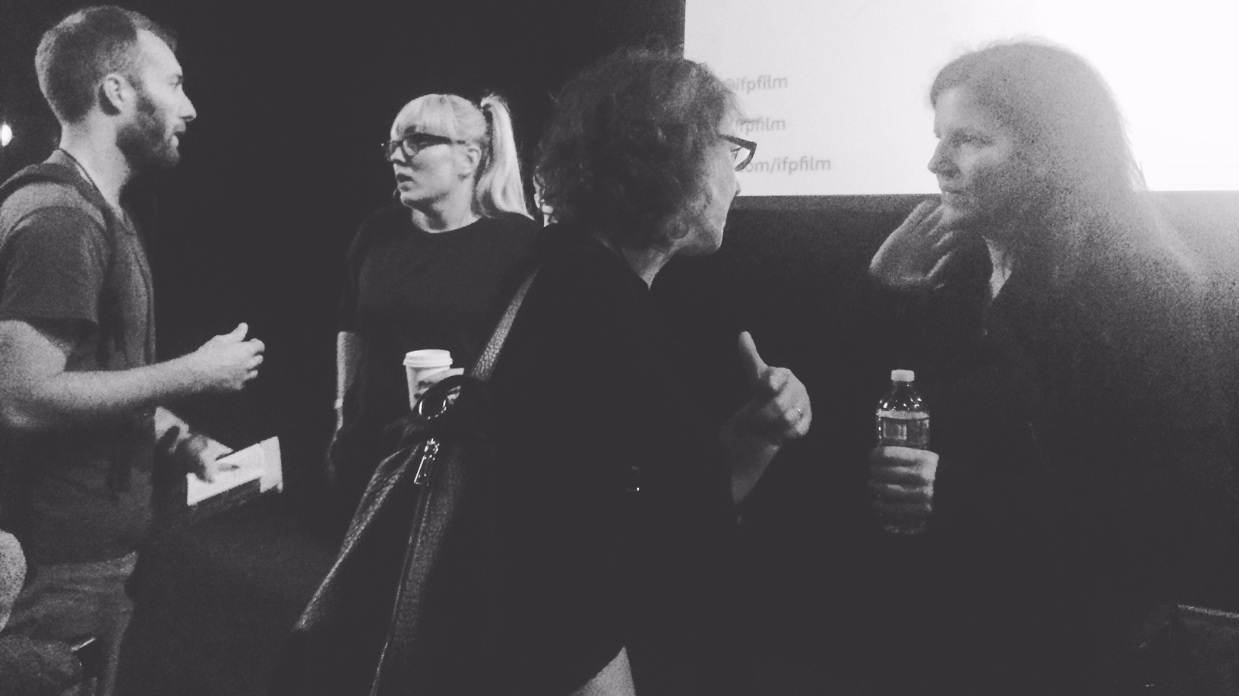 Charlotte Cook and Laura Poitras after their IFP Film Week panel.
Before IFP Film Week fades too far in our rearview mirror, we're elaborating upon several of our snaps from our Instagram feed with further comments by the filmmakers, speakers and panelists. View all of Meredith Alloway's Instagram diaries here at the link.
Laura Poitras and Charlotte Cook talked their visual journalism platform, Field of Vision, on an IFP Film Week panel called "Creative Tag-Teams" last month. Poitras, of couse, shook the world with her Oscar-winning doc, Citizenfour, in 2014. Cook, who was Director of Programming at Hot Docs, is an executive producer and co-founder of this new creative platform with Poitras and A.J. Schnack. Previously an arm of The Intercept, Field of Vision relaunched itself as a new standalone website on Monday September 19th. What's unique about Field of Vision is the dedication to melding the news with the auteur — delivering doc film in an entertaining, convenient but still relevant way.
Poitras, when asked by an audience member how she transitioned out of experimental filmmaking to documentaries targeting a larger audience, responded, "Story drives the form." For her, it was about identifying the stories she wanted to tell and that dictated how the form developed. "Stories about people tend to be more universal," she said. Poitras described the effort she puts into making her films. She urged everyone to "lean upon the documentary community" for support and reflected on her interactions with investors. "I've invested more," she said, referring to her own sweat equity, a reminder to the audience not to undervalue their own labor when negotiating a financing deal. Regarding the faster-paced schedules of the Field of Vision films, Poitras said she realized that she didn't want to just make films that took four years. "If I had a need, that's a need that exists in the film community," she said. That's where the seeds of Field of Vision were formed.
Poitras and Cook wanted to find stories and filmmakers with two things: access and a vision. "I love to support the creative process," Poitras said. In the past two years, Field of Vision has commissioned 22 short films, two feature films and three series. Poitras brings up The Journey, a film realized in collaboration with The New Yorker about Syrian refugees. She was passionate about supporting this film because "the crisis of refugees is something that will haunt us globally."
Not only are Cook and Poitras clearly out to support new voices in doc filmmaking, but Cook wasn't giving in to the cultural pressure to make content short and sweet. "Stop your day for 10 minutes," she persuaded. She's trying to bring cinema online. Field of Vision is also teaming with newsrooms and pairing them with filmmakers to showcase projects that are just as much investigative as engaging. Like many of the other creators on the IFP panels, it appears that Poitras and Cook are taking advantage of the fact that short-form online content can still be captivating and, most crucially, important to our world.