Back to selection
A Disturbing Trend: Documentary Filmmakers Arrested for Doing Their Job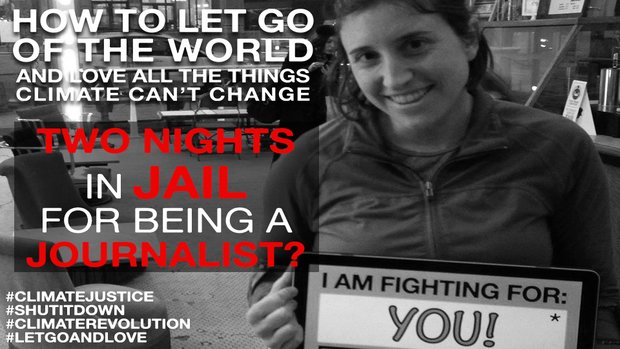 Deia Schlosberg
On Monday, October 17, a North Dakota judge dismissed the criminal charges that had been filed against journalist Amy Goodman, host and executive producer of Democracy Now, over her reporting on a protest against the Dakota Access Pipeline.
Judge John Grinsteiner ruled there was no probable cause to support the allegations, and therefore, he dismissed the case. Of course, this is good news. But the dangerous reality is that journalistic freedom is still under threat as arresting journalists and filmmakers who are reporting on citizen protests has become a bonafide trend.
On Tuesday, October 11, Deia Schlosberg, producer of the 2016 documentary How to Let Go of the World and Love All the Things Climate Can't Change was taken into custody at a TransCanada Corp's Keystone Pipeline site in Pembina County, North Dakota. Along with activists Samuel Jessup and Michael Foster, Schlosberg was charged with three counts of conspiracy, charges which carry a maximum penalty of 45 years in prison.
"When I was arrested, I was doing my job," Schlosberg said in a statement released today. "I was reporting. I was documenting. Journalism needs to be passionately and ethically pursued and defended if we are to remain a free democratic country. Freedom of the press, guaranteed by the First Amendment, is absolutely critical to maintaining an informed citizenry, without which, democracy is impossible."
The same day Schlosberg was arrested in North Dakota, documentary filmmaker Lindsey Grayzel and her cinematographer, Carl Davis, were arrested and jailed for documenting a direct environmental action and the police response to that action in Skagit County, Washington. Their footage was confiscated by law enforcement officials.
Grayzel and Davis were filming activist Ken Ward attempt to shut down the TransMountain pipeline and then get arrested. Both filmmakers were outside a fenced area while they were filming what was taking place inside the fenced area.
Grayzel, a Portland-based filmmaker, was strip-searched and held in custody in the Skagit County Jail for 34 hours before being released on bail. Her charges include: 2nd Degree Burglary, 2nd Degree Trespass, and Criminal Sabotage, among others.
Her total maximum punishment is 30 years plus 90 days imprisonment, a fine of $46,000 or both.
"Journalism is not a crime; it is a responsibility," Josh Fox, Oscar-nominated director of How to Let Go of the World and Love All the Things Climate Can't Change, said about this pattern of arrests, including his producer Schlosberg's. There is a petition to support Schlosberg here.