Back to selection
DOC NYC: Five Questions for City of Joy Director Madeleine Gavin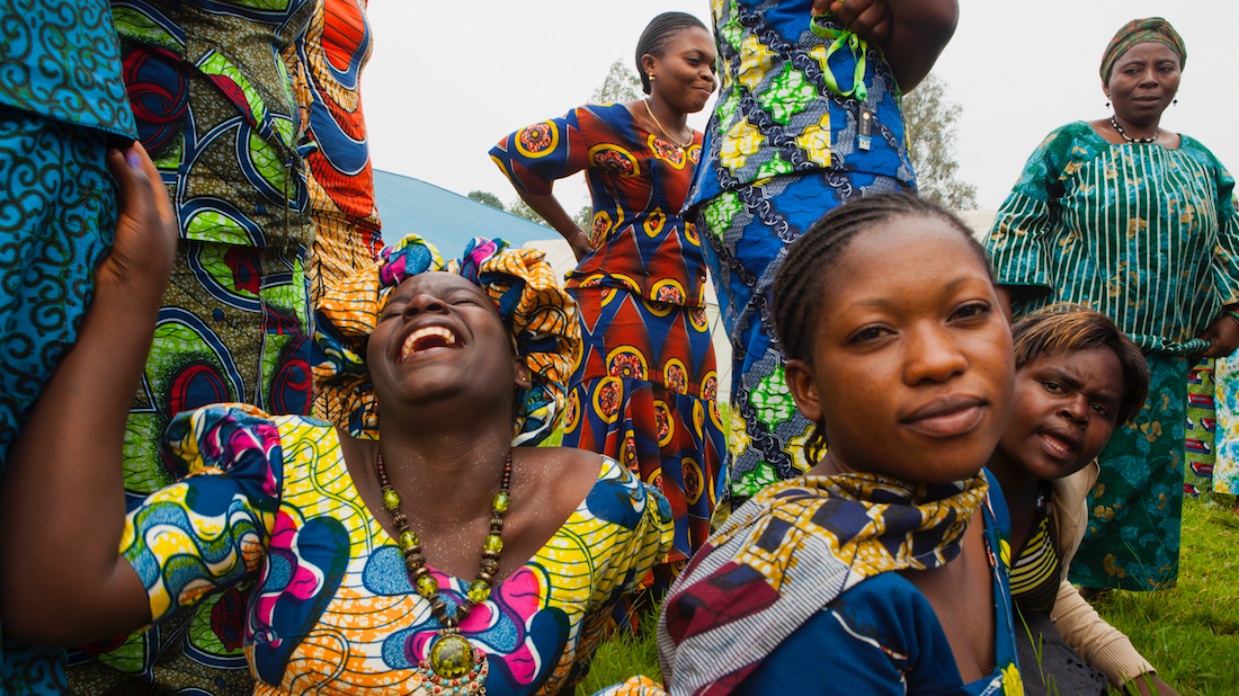 City of Joy
World premiering last night at DOC NYC, City of Joy tells the story of a center for young women in the Eastern Democratic Republic of Congo dedicated to helping them overcome the aftermath of rape, abuse and traumatic violence. Directed by Madeleine Gavin, well known in the independent film world for editing films like Mean Creek, Meadowland and, most recently, Nerve, the film documents the relationship between the center's three founders — Nobel Peace Prize nominee Dr. Denis Mukwege, a Congo doctor; The Vagina Monologues playwright and actress Eve Ensler; and Congolese human rights activist Christine Schuler-Deschryver — while also following the City of Joy's first class as they heal, learn to empower themselves, and prepare to venture back to their communities. Below, Gavin discusses why this film inspired her to direct her first documentary, her collaboration with Ensler, and the stories she found in her female subjects.
Filmmaker: First, how did you connect with this story, and why did it become the subject of your first film? And, had you been looking for a story to direct for some time, or was it this story that made you want to direct?
Gavin: I had been been intrigued by the idea of directing for a while but when I started making City of Joy, it didn't come out of looking for a subject to direct. It was the subject that made me think of directing this particular film and the clearer I became about the idea, the more I realized just how much I wanted to direct it.
The Eastern part of the Democratic Republic of Congo has endured 20 years of devastating violence. It is estimated that up to 8 million people have been murdered and hundreds of thousands of women have been raped and tortured. Rape has been used as a weapon of war in the conscious destruction of community to get at the precious resources in the area. Congo is often referred to as the worst place in the world to be a woman for all these reasons and more. City of Joy tells another story of that region.
What drew me to this project was hearing stories from Congolese women a couple of years before we ever started shooting this film. At the time, my mind was blown open by the horror of what I was hearing. These were women who had suffered horrific rape and gender abuse, had experienced devastation to their communities, their families, their homes, their bodies. They had in many cases lost everything that was meaningful to them. It was crushing to imagine both what they had been through and how they could go on.
But equally arresting was the palpable resilience of these women. My daughter was young at the time, and I was sure that if I had seen her endure what these women had or if my daughter had witnessed such things, I would collapse and my life would be over, period. The fact that these women could find ways to create meaning in their lives after such experiences was awe-inspiring. This is what initially drew me to this story.
Approximately two years later, we started shooting in Eastern Democratic Republic of Congo, just before City of Joy opened its doors to its first class of women.
Filmmaker: Your story offers a number of human focal points, from the women in City of Joy to Dr. Dennis Mukwege and the City's director, Christine Schuler-Deschryver, to playwright Eve Ensler, who is certainly a recognizable figure in the U.S. Tell us about who you focus on the film, and what decisions guided your choice of principal subjects.
Gavin: City of Joy focuses on the first class of girls at a leadership center in war-torn Eastern Congo called City of Joy (from which the film gets its title.) It also focuses on the founders of this center, three activists who imagined this revolutionary place where women who have suffered unimaginable rape and abuse can learn to lead in spite of all they have endured.
From the beginning, I knew I wanted to follow the first class of women at this center through their time there and use that as a sort of spine for the film and then explore other characters, themes and history around that.
This first class of women were spending just over nine months at City of Joy and so that had an organic chronology to it and became a sort of present-tense for the film. But the activists, Christine Schuler-Deschryver and and Dr. Denis Mukwege had long histories before the center, City of Joy, was ever created, and I knew that to tell any part of that history, I was going to have to step out of time. The war too was going to be a backdrop that was going to force up to 20 years of backstory. Eve Ensler's arrival in Congo in 2007 was likewise going to be from the past. So early on it was clear that there were going to be non-linear, almost impressionistic elements to the structure and story-telling in this film. This was a challenge for sure in terms of trying to make sure there was narrative drive while exploring tangential stories related to both the history of the people in the film and the story of the war.
Filmmaker: Speaking of Ensler, you worked with her almost 15 years ago on another film involving her collaboration with a group of women — in this case, female prisoners. How has her collaborative work changed over the years, if at all, and how did that earlier experience shape this one?
Gavin: What I Want My Words Do To You, the film you mention, was about a writing workshop Eve Ensler taught at a maximum security women's prison in New York and in some ways it is really that film that led to this film, City of Joy. It is through Eve that I first had my eyes opened as to what was happening in Congo and it was through Dr. Mukwege asking her to come to Congo and through his collaboration with Christine and Eve that City of Joy, the concept, became a reality.
Filmmaker: You're well known in the independent film world as an editor, and you've worked heavily in fiction filmmaking, most recently seeing the teen thriller Nerve be released into the marketplace. What have you brought from your background in fiction editing to your work as a first-time documentary director?
Gavin: I very consciously move back and forth between narrative and documentary in my editing work. I love both forms and I feel like switching back and forth is a great creative challenge and may even help prevent me from falling into crutches or patterns of thinking.
In some ways I feel like my approach to narrative and documentary is similar. In documentary there is no script, and in narrative I believe the script should be thrown out after the first cut — not indiscriminately, but I find that except in rare projects, scene order and dialogue choices don't often translate from the page to the screen. And more often than not, it seems that if you let go of the script, the final film will speak more to the core of the intention of the story than it would if you were to try to stay true to what was on the page.
So in narrative, very often the director and I end up doing a huge amount of restructuring and a ton of dialogue cutting, scene cutting etc, much more than anyone would ever know unless they saw the shooting script. I did a narrative film with the director Reed Morano a couple of years ago and when we were finished, Reed's assistant, Dani Girdwood, made a graph of what the scene order and been in the script and where things had been moved in the edit. Then she noted elements we deleted or added, like scenes we had created through ADR or found moments in the footage etc. In the end the document was like one of those spirograph toys kids play with. It was an entirely new animal, we had moved so much around, deleted and created so many new elements.
When I was shooting in Congo, I tried to be very aware of the editing and what might be needed. Access is always an issue in making a documentary and with this particular film, shooting in Congo and the issues of distance, logistics, security, politics etc, those challenges were often huge. I was often having to reimagine things on the fly because I knew I couldn't get x, y or z — sometimes things I had dearly depended on getting in terms of what I was exploring in the material. I think my experience in narrative probably helped me to turn some puzzles around in my mind in ways I otherwise might not have been able to and sometimes to decide in a moment that I could make something work that seemingly might not have worked at all.
Filmmaker: Finally, tell us about the hidden stories within City of Joy. It's a story of an organization but also one about women surviving trauma. How, on a filmmaking level, do you convey that? What processes, tools, creative techniques did you use to convey the enormity of this subject?
Gavin: One of the things I felt strongly about in the making of City of Joy is that I wanted this film to have its own language, both tonally and structurally. I understood that I could make a film that was explicit about some of DRC's history and that told the story of what was going on with women in Congo. But I wasn't really interested in making a film that was too straight ahead because I had seen films where I felt like I got a lot of information but didn't really experience anything. I wanted to make a film that allowed audiences to feel what I felt when I first went to Congo — the tremendous strength, vitality and commitment that these individuals had to each other and to imagining a future for themselves and their country.
It was important to me that the audience not go numb in the watching of this film, or to be so torn up that they shut down and stopped listening. So the balancing between the devastation of what these women had suffered and the incredible force of hope and joy that they embodied was something I grappled with a lot. The shifting tones between pathos, humor, irreverence and joy were something I strived for, trying to keep the film visceral and surprising in its emotion and arc.
To this end, I used all sorts of methods and found myself inventing things along the way. I tried to create the feeling of nostalgia, shooting visual elements that represented a world past and the subsequent loss of that world. I worked a lot with sound and music and the interaction of these elements. I saw the war as a sort of character of its own that we revisit throughout the film, learning bits and pieces each time. I tried to give enough history but not too much, and I questioned myself constantly in this regard. This was a real challenge and I hope an audience finds it satisfying but this lacing of elements and tonal shifts was very important to me.