Back to selection
DOC NYC: Five Questions for The Guys Next Door Directors Allie Humenuk and Amy Geller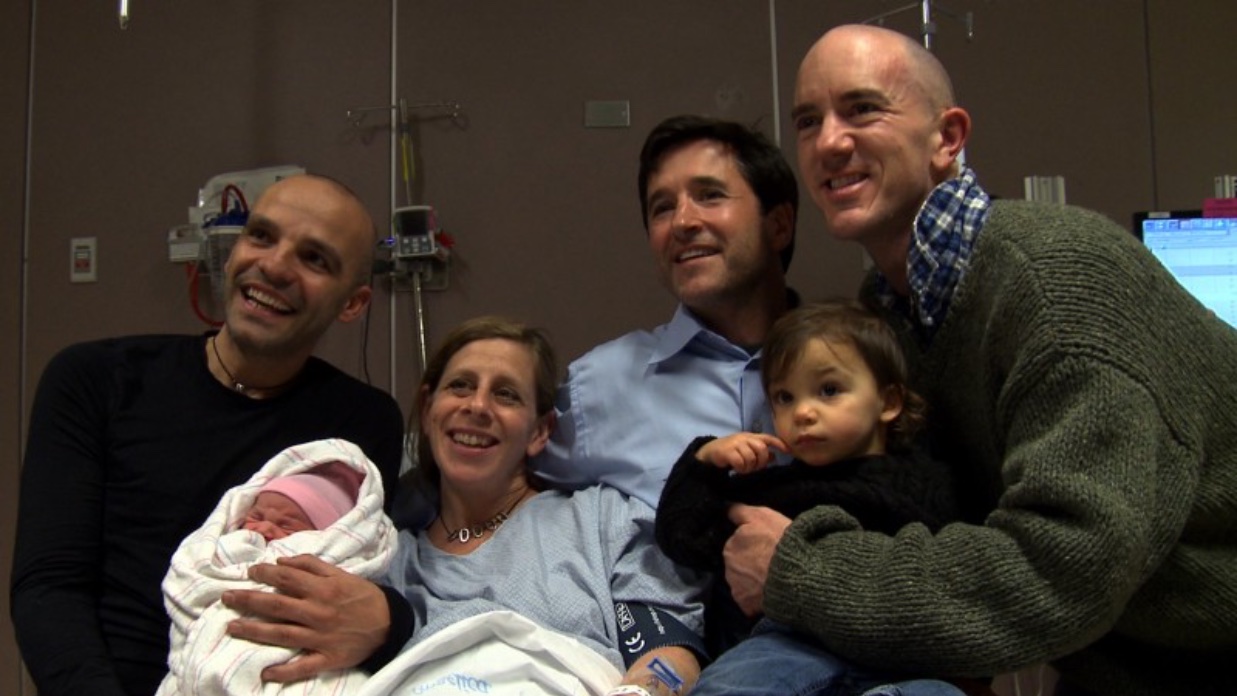 The Guys Next Door
Shot over three years, The Guys Next Door looks at what the filmmakers, Allie Humenuk (Shadow of the House) and Amy Geller (For the Love of Movies) dub "a real Modern Family" — a gay male couple parenting a child and forming an extended family with that child's surrogate mother. Premiering today at DOC NYC, and co-presented by NewFest, the film catches its principal characters at a time when their commitments to each other are challenged by circumstance, geography and subtle changes in our society.
Filmmaker: First, how did the two of you — Amy and Allie — wind up collaborating on this film, and what connected you to this subject matter? Which came first — making a film about gay marriage and surrogacy, or your meeting your subjects?
Allie Humenuk: For me it was meeting the subjects. Amy came to me with the idea to make a film about Rachel having babies for her gay friends. She asked me to co-direct, co-produce and shoot the film. At first I thought Amy was interested in making a documentary about surrogacy, and I said I wasn't interested. The films I love making are character driven; from the specifics of someone's life, universal themes reveal themselves. To me if feels like a more organic and intuitive process than starting with an issue or topic and then looking for characters. However, I have a lot of respect for Amy as a filmmaker and I offered to shoot some early footage to give her something to work with to apply for grants.
We met the entire family at once. Rachel and Tony and their kids were visiting Erik and Sandro and Rachel-Maria in New York. Rachel was eight months pregnant with the second baby she was having for the guys. It did not take long for me to feel a connection with this family. After our first day of filming, I turned to Amy and said, "If you want to jump off a cliff with me and make a film about these characters, who they are, what motivates them and where this journey into parenthood is going to take them, then I want it!" I say "jumping off of a cliff" because we had no idea where we were going. We didn't have a timeline or a built-in dramatic arc. Making the film would be a process of being open to whatever was unfolding in front of us, culling through hours of footage to find the most meaningful moments and then crafting a story.
Amy Geller: I have always wanted to make a film which follows a story that is unfolding, something that's "of the moment." Most of my previous work has been in historical documentary, dramatic recreation and fiction, which is certainly challenging but not as spontaneous or as editorially risky. Plus, I had admired Allie's incredible work as a cinematographer and as a director. We had worked together on some educational videos in the past. So, when she agreed to "jump off the cliff" together, I was overjoyed.
Filmmaker: When you approached Erik, Sandro and Rachel, what was their initial response? Was it hard to convince them to let you into their lives? What were there concerns, and how did you respond to them?
Geller: I had a friend in common with Rachel, so I first contacted her. We met over breakfast, and I told her, "I would love to come with my filmmaking partner and videotape your family, and also Erik and Sandro's family." Everyone graciously agreed. When we started, we didn't know how long we'd be filming. Although it became clear, through the making of the film, that we wanted to show the girls getting older and have personalities of their own. While I don't recall that they had any serious initial reservations, I do remember that the logistics of filming with over a dozen people in the birthing room was very tricky. During the actual birth, the nurse instructed everyone where they had to stand, including Allie, who was holding the camera. Incredibly, this angle allowed Allie not only to capture the birth of Eleonora but just as importantly Erik and Sandro's faces as they watched their daughter enter the world. Incidentally, I was hiding under a chair in the tiny room in order to be out of frame.
Filmmaker: Talk about your access to your subjects. How much did you shoot? Did you accompany them for extended periods, or schedule specific shoots around specific events? And what advice do you have for other filmmakers making verite, character-based docs?
Humenuk: Access to film subjects is key. It is very hard to make a film when your subjects are reticent. One of the things that made this film possible was our bond with our characters and their trust in us. None of us knew what the film was going to be, but everyone was open to being a part of the project. We invested a lot of time getting to know our subjects. They welcomed having us around even though they were not exactly sure what we were doing or how long we would be doing it. In the end, I think because they felt comfortable around us and because of the nature of who they are, they were extremely generous with their time and their ability to be authentic on film. At the beginning, we knew the events we wanted to film: the latter days of Rachel's pregnancy, the guys preparing the house for a new baby and the birth of the baby. After that, most of our shoots were about hanging out with our subjects and filming their everyday routines. During the filming, the guys moved to Portland, Maine which is about a two-hour drive from Boston, where Amy and I live. We spent a few days each month in Maine living with the guys. We also went to Sardinia with Erik and Sandro for a week to see where Sandro grew up and to get a sense of the family and culture he longs for when he is in the United States. Rachel and her family live in a suburb in Boston and so it was easier to visit them at a moment's notice. We intentionally avoided holidays and birthdays. New Year's Eve was the holiday that we did film. It was a ritual for them and it became an important marker for the passage of time and of the families' connectedness. Ultimately, our access to and relationship with the subjects enabled us to make such a personal film.
Filmmaker: In terms of story arc and structure, what was your biggest challenge on this film and how did you deal with it?
Humenuk: The biggest challenge was editing the film. I loved the shooting. I trusted that we had a story. Intuitively, I think we even knew what the story was. But trying to bring the story to the surface in the editing room was really hard. Put two directors and an editor together, all of whom have strong opinions, and try to craft a story from footage that doesn't have a built-in dramatic arc. That is a challenge. Also, our approach to editing is different. I like to review all of the footage and identify the scenes that I like the best. It doesn't matter why I like them. I then cut those scenes and ask myself, what does the verite footage tell me? What story can be told with this footage? I then explore the interviews to help fill out the narrative. Both Amy and our editor Rachel Clark like to start by finding the arc through the interviews. Of course they think about the footage and that informs the arc, but I think they initially work more with the words. I work very intuitively and that can be hard in a group.
I don't think one approach is better than the other. But they are fundamentally different, and we needed to find a way to bridge what felt like a pretty big divide. In the end, what made the editing successful was that we all felt like we were trying to get to the same place; we had a similar vision for the film. So, if one scene or sequence of scenes didn't work for one person, we worked until we found something that we all liked. Usually what we all liked was stronger than what we had had before.
Filmmaker: Now that you've made the film, and have the benefit of a certain amount of hindsight, what larger story do you think it tells, and what broader social story does it wind up telling?
Geller: A couple of weeks ago, we screened the film in Indiana at the Yes Film Festival, where we also won a jury award for best documentary. One of the jurors summed up the film beautifully: "I cry a lot when watching films but very rarely when watching documentaries. This one brought me to tears of joy, inspiration and love for all of the people. They represent the best of human beings." At such a divided time in this country, we offer this loving family portrait as an antidote to the divisive words and hurtful behavior. From Maine to Maryland to Indiana to Alabama, we've seen how the film creates an opening for discussion, and even among conservative thinkers, a possibility for a change of heart through the powerful desire for children and the hope for children to grow up healthy and loved. #loveisloveislove