Back to selection
Watch Five Great Films this Weekend at our MoMA "Best Film Not Playing at a Theater Near You" Series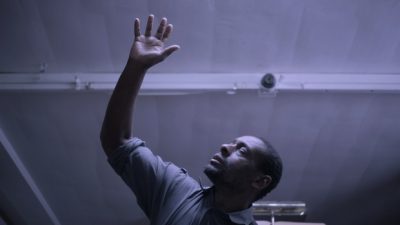 Free in Deed
Filmmaker's annual collaboration with the Museum of Modern's Film Department, the Best Film Not Playing at a Theater Near You, series returns this weekend for its 11th edition. Curated by MoMA's Sophie Cavoulacos the IFP's Milton Tabbot and Zachary Mandinach, and, from Filmmaker, Vadim Rizov and myself, the series is our pick of five great films that, in this download, streaming, pay per view era, deserve most especially to be seen on the big screen.
Each year we think we're going to struggle to find five films that meet our exacting standards — five pictures that both haven't gotten distribution and haven't elected to self-release in digital markets. This year, in fact, we relaxed the latter criterion and opened up our selection process to films that had gone straight to digital. Funnily, though, the five films we landed on didn't include any of these titles. The filmmakers in our 2016 series are theatrical true believers, and we share their belief.
The series kicks off Friday night with The Nine, Katy Grannan's piercing and poetic documentary about invisible lives lived on a stretch of South Ninth St. in Modesto, CA. Grannan is an acclaimed portrait photographer, and she brings not only empathetic and composition skills to her debut feature but also a refreshing resistance to the traditional tropes of contemporary documentary. Grannan will be present for the Q&As. Grannan is one of Filmmaker's 2016 25 New Faces.
Also on Friday night is another feature by 25 New Face filmmakers — the team of Sherng-Lee Huang and Livia Ungur. Hotel Dallas is an indescribable documentary hybrid both about and employing the enthusiasm of American TV watches in Romania for the persona and mythologies of the American television show Dallas.
On Saturday is Jenny Gage's indelible and effortless portrait of a group of New York teenage girls, All This Panic. The interior life of teenagers has seldom been captured with such fluidity and grace, and all in a film that is also mindful of issues of class, race and other defining factors of contemporary urban life.
Saturday too is our screening of The Pearl, Jessica Dimmock and Christopher LaMarca's surprising and engaging documentary on trans women living in the Pacific Northwest. Both directors are keen photographers — and 25 New Face alumni — and the film captures with both compassion and artistry the evolution of their lives.
Finally, receiving its East Coast premiere in the Saturday evening slot is Jake Mahaffy's relentless and shattering journey into the contradictions of faith, Free in Deed. (And, yes, Mahaffy's another 25 New Face, although he appeared on our list all the way back in 2005.) Free in Deed recently was nominated for four independent Spirit Awards, including Best Cinematography, Best Male Lead and Best Supporting Female.
From the press release, screening times and descriptions below.
The Nine. 2016. USA. Directed by Katy Grannan. 98 min.

The stretch of South Ninth Street in Modesto, California, known as "the Nine" is home to some of society's most anonymous and invisible, those who have fallen through the cracks—some down on their luck, and others in more desperate straits, nursing drug habits or selling their bodies to get through another day. But in Katy Grannan's generous documentary this place is seen more poetically, as a way station in which moments of beauty and hope can coexist with despair (especially as embodied by Kiki, the film's central character and guiding voice). Noted photographer Grannan has made an exciting artistic leap with her first feature film, which evolved from her past few years taking street portraits of some of the same individuals who appear in the film.

Hotel Dallas. 2016. USA/Romania. Directed by Sherng-Lee Huang, Livia Ungur. 75 min.

The lively feature debut of New York–based duo Sherng-Lee Huang and Livia Ungur transforms remnants of the cultural Cold War into a bold take on hybrid documentary and Conceptual video. In 1980s Romania, where Ungur grew up, the American series Dallas was one of the few foreign shows on the air; the Ewing family's feuding was intended to demonstrate the corruption of American capitalism. Instead, the series' escapist imagery captured the imagination of a generation, both during the Ceausescu regime and after the fall of the Iron Curtain. Hotel Dallas loosely charts the real story of a 1990s Romanian oligarch who fashioned himself after the series' lead, J. R. Ewing, complete with a replica of the show's Texan ranch that doubles as an embezzlement scheme. The narrative unfolds through archival footage, reenactments, a madcap film within a film, and the participation of Dallas star Patrick Duffy. At once slow-burning and exuberant, Hotel Dallas creates innovative cinema from personal and cultural history. Friday, December 16, 9:15 p.m., Monday, December 19, 8:00 p.m.

All This Panic. 2016. USA. Directed by Jenny Gage. 80 min.

Condensing three years into 80 minutes seems exactly right for a documentary portrait of the fast-paced lives of teenage girls. The core subjects of Jenny Gage and cinematographer-collaborator Tom Betterton's first film are a group of articulate, privileged, and highly self-aware siblings and friends. As they grow from high school to college, parties and boyfriends come and go, but core loyalties and antagonisms remain at the center of their lives. Mary Timony's music provides the backdrop for this fluidly observational, never overbearing portrait of young women at defining moments. Saturday, December 17, 1:30 p.m. Sunday, December 18, 4:00 p.m.

The Pearl. 2015. USA. Directed by Jessica Dimmock, Christopher LaMarca. 94 min.

Dimmock and LaMarca's debut feature documentary is an intimate portrait of a group of trans women supporting and sustaining each other while occasionally arguing over generational and political fault lines. Some, like Nina, realized their sexual identity only in middle age; others are younger and ready to articulate their ideological and personal position in the world. The Pearl observes but never judges, creating a safe space via careful—but never over-aestheticized—camerawork that belies the directors' shared background as photographers. Saturday, December 17, 4:00 p.m. Sunday, December 18, 7:00 p.m.

Free in Deed. 2015. USA/New Zealand. Directed by Jake Mahaffy. 98 min.

A crisis of faith unfolds with brutal intensity in Jake Mahaffy's Venice Film Festival award-winner Free in Deed. Based on an actual incident, this Tennessee-shot tale of an isolated Pentecostal minister's misguided attempt to "heal" a violent, disturbed child is both visceral and philosophical in its meditation on agency, suffering, and the role of religion in our social fabric. Both David Harewood, as the minister, and Edwina Findlay, as the child's mother, give heartbreakingly unforgettable performances. Saturday, December 17, 7:00 p.m. Monday, December 19, 5:00 p.m.