Back to selection
The Best Short Films on Television in 2016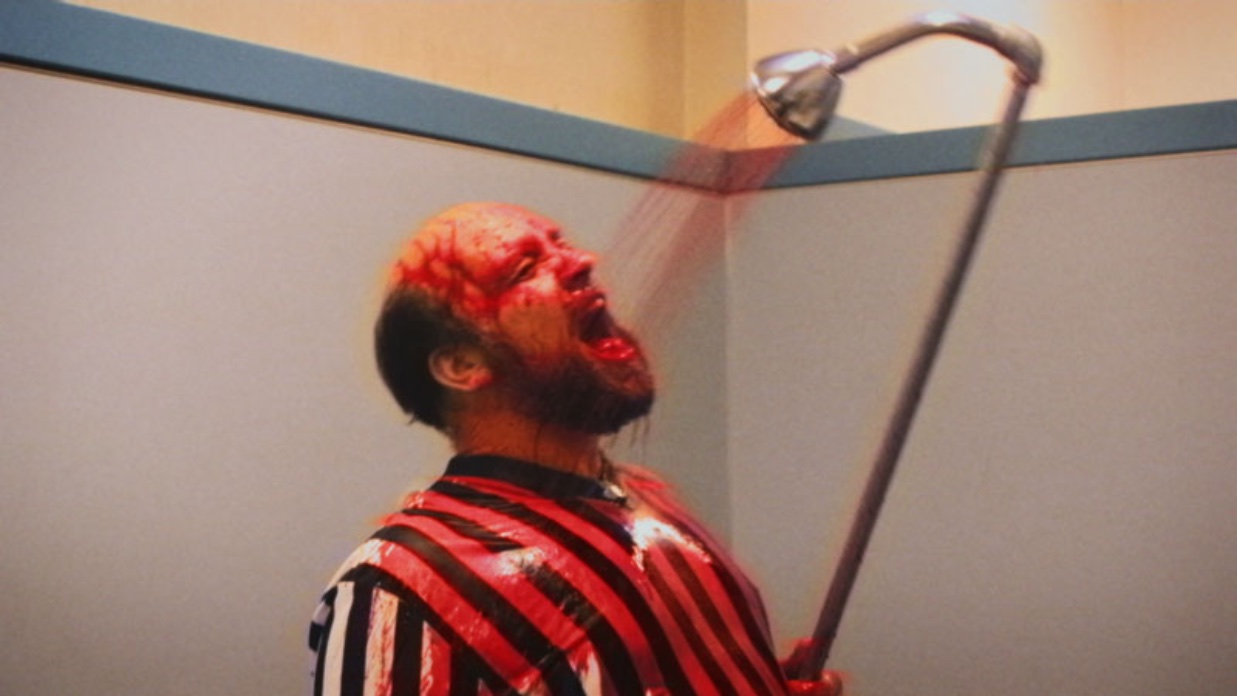 M.O.P.Z.
At the start of this year, I opened an account with Letterboxd, a social platform that allows you to keep track of the films you watch. I work as a critic and edit a criticism website, so readers and subscribers often write me asking about what I have seen, especially when I do not publish my sentiments about a major film on any outlet. As of mid-December, I have listed about 200 movies (and a few limited series, including Netflix's Easy and the ESPN sensation OJ: Made in America) as "watched" since I saw Darius Clark Monroe's brilliant short film, Dirt, on January 20th. This tally is short, though, because as a journalist, much of what I see is embargoed for review until near release, and Letterboxd maintains a ratings system that might jeopardize those embargoes. Then there are the myriad shorts and microbudget indies too low-profile to register with the site.
If I had to estimate, I would guess that I have seen upwards of 275 features and perhaps 100 short films this year, not to mention the incessant stream of must-watch series like Horace and Pete or Fargo that I watched in dozens of one-episode sittings over the course of the summer. I'm not trying to impress anyone or compare numbers, especially when I know that my count was hindered by long days worked and an upsetting ratio of books-to-thinkpieces read. My goal in tallying my film consumption is simply to say that with more opportunities as a writer and critic in 2016 than ever before, I watched more than I ever have — and there remains a frighteningly large screener backlog to finish before January. You may already know this, but the main core of these films, especially those just coming in at this time of year, tend to be dull, derivative, or both.
As a result, when Filmmaker asked me to consider the year in film, the projects that truly broke open my sense of the possible were readily identifiable in the heaping mound of movies watched. The works that struck me hardest were often formally innovative, eccentric in their dialogue, and disturbing; while some were quiet, somber, and self-serious. But they all have three things in common: all have been seldom screened in actual cinemas after their world premieres; all were originally produced as short films; and all wound up on television, where I saw them.
The major pillar on the televised short film vanguard, to my mind, is ESPN. The sports network has a demonstrated record of high visual standards and expert, if sometimes formulaic, programming in its 30 for 30 series. But until the series began airing its documentary episodes in 2009, I had spent most of my life ignoring televised sports with the exception of the Super Bowl. Then, at the beginning of this year, came OJ: Made in America. A nearly eight-hour saga broken into five parts, the miniseries was recently named to several "Best Of" lists by The New York Times. One might argue, as Daniel Feinberg did in The Hollywood Reporter, that ESPN's extraordinary venture into long-form TV with director/editor Ezra Edelman as their prophet had "spoiled us" to actual shorts. After Made in America premiered at Sundance, I had the same concern.
Thankfully, this was not so: several of the shorts that aired in 2016 strove for Edelman's achievement with impressive (though never equal) artistic results. I was struck particularly by the power of We Are, a reevaluation of Penn State's community health in the wake of a sexual abuse scandal in 2011, which aired on the network this summer. Although billed as directors Jay Bulger and Joshua Shelov's chronicle of the removal of Joe Paterno's statue, We Are was a more anthropological, even abstract, analysis of unflappable localized patriotism — in all its abused, traumatic guilt — on campus than I had anticipated. Its attempt to pull-back from the intensity of the scandal, rather than follow the filmmakers of Happy Valley into the rabbit hole, showed more restraint than nearly any episode I've seen in the series.
An equal-and-opposite short was the wonderful Gonzo @ the Derby, which, like We Are, had its world premiere at the 2016 TriBeCa Film Festival. In its combination of DIY-style animation (which looked something like a cross between Bill Plympton's films and a Frank Miller comic), Robert Miller's nervous score, and loopy appearances by Sean Penn and Ralph Steadman, this was easily the funniest nonfiction film all year — and the strangest. A 13-minute rendering of Hunter S. Thompson's legendary experience at the 1970 Kentucky Derby, the doc showed such remarkable verve and imagination that it has since been re-aired again and again. Those may not be the adjectives you associate with ESPN programming, but this year, the creative direction took a turn towards the weird. I remain in awe of this short finding a television berth.
Perhaps the change was subtly inspired by the other reigning distributor of shorts on television, Cartoon Network's bizarro sub-network Adult Swim. Technically, it's just the name of the late-night programming block on the Turner-owned channel; but in addition to hosting the most inventive work on modern cable, Adult Swim is also upsettingly flawed. In her sad, smart article "Adult Swim Could Do Better by Women," Ariane Lange of Buzzfeed wrote that the network has a poor history of ordering series from female creators for its off-color brand of genius esoterica: "On TV at large, one out of every five creator credits goes to a woman; on Adult Swim, it's one out of every 34." This discussion of the network's policies towards women led to some arcane and strange comments by EVP Mike Lazzo earlier this year, in which he tried to explain the inequitable hiring phenomenon (and wound up with his foot further down his throat.) Finally, it was revealed that Adult Swim had ordered Million Dollar Extreme Presents: World Peace, an outlandish sketch show considered so offensive in its satire that Lange argues it is "beloved by the white supremacist 'alt-right' movement."
This proved to be the final straw for comedian and writer Brett Gelman, who cut ties with the network in late 2016 after making three specials for it. Brett Gelman's Dinner in America, co-written by Gelman and Jason Woliner and directed by Woliner, is the most politically provocative, malevolent and intense comedy of the year. Built around a forced confrontation between Gelman's demented, race-baiting Beelzebub persona and several esteemed African-American actors, Dinner in America demonstrated that Adult Swim wanted to cultivate an ongoing string — dare we call it a franchise? — of hyper-intelligent short films to broadcast each year. Woliner and Gelman's second special together, Dinner with Family with Brett Gelman and Brett Gelman's Family (2015), was even made an Official Selection at Sundance in 2016. On the eve of its festival premiere in January, Woliner told me: "We're lucky because they do get strangely good ratings, but in another way, these specials fly under the radar. It's almost like we do them when no one is looking." Adult Swim could not have found a more talented or hilarious pair of collaborators. But in October, five months after Dinner in America aired, Gelman announced on Twitter and in several interviews that he would no longer work with the network.
What's hardest to chew about this is not how strongly Gelman and Woliner's specials will be missed — each film was an increasingly brazen and brilliant invocation of social, sexual, and racial sicknesses in our country — but that Adult Swim spent 2016 celebrating equally odd, exciting talent. With no advertising or warning whatsoever, a 2 a.m. slot in April was devoted to the unbelievable M.O.P.Z., the 11-minute tale of a robot janitor that murders children. As directed by Todd Rohal (who also co-wrote the script with Benjamin Kasulke), the short "was definitely an experiment in compressed time" that equally resembles the work of Benny Hill, Charlie Chaplin, and mescaline addicts. Yet M.O.P.Z., like Dinner in America, the animated ASMR session Joe Pera Talks You to Sleep, or last year's masterful Tim and Eric diptych of Sauce Boy and Bag Boy, aired exclusively on Adult Swim: no festival runs, no special fundraiser screenings, and no promotional tours for the lot. I still can't decide if the sudden, Beyoncé-like "dropping" of these truly inspired shorts is the network's greatest policy, or its most disrespectful one.
The one certain result of this hit-and-run distribution tactic is that Adult Swim's short films feel like little doubloons of brilliance found in the deep sand of television's ever-widening beach. As I polish off the screeners being sent to me for end-of-year review consideration — this last week, that included Hacksaw Ridge, Sing!, and Lion — I find myself constantly craving the kind of adventurous filmmaking and unhinged screenwriting that these televised short films exemplify. M.O.P.Z. may not win Screen Actors Guild awards, but it made a tough year much more palatable.