Back to selection
Four Lessons for Filmmakers from Julian Rosefeldt's Manifesto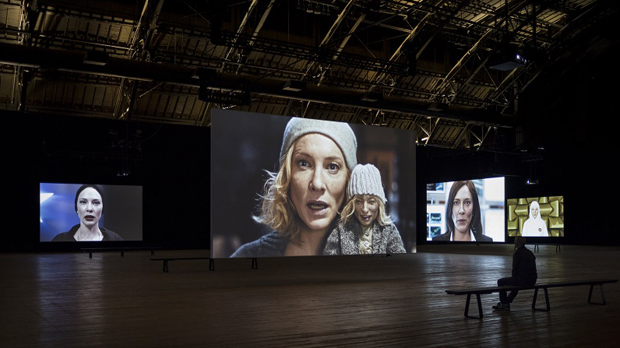 Throughout December, perhaps the best film showing in New York wasn't in a theater at all but in a Civil War-era equine drill hall. Julian Rosefeldt's Manifesto, a multiscreen installation starring Cate Blanchett in twelve different roles, closed its stay at the Park Avenue Armory last week. A single-screen linear version will reach a broader audience at Sundance next week, prompting me to reflect on the (presumed) differences between the two versions and what video artists and filmmakers of all stripes can learn from Rosefeldt's latest work.
First, a description. Manifesto takes its title and its text from the written manifestos of artists past: Dadaism, Futurism, Suprematism, Pop Art, Surrealism, and other movements are described in the words of artist-writers like Sol LeWitt, Alexander Rodtschenko, Tristan Tzara, Claes Oldenburg, André Breton, Bruno Taut, Wassily Kandinsky and numerous others; for the filmmakers in the room, there's also a bit of Brakhage, Jarmusch, von Trier and Herzog. When a viewer enters the Armory's enormous drill hall, they are met with a large 16:9 video screen of a burning fuse, an apt metaphor for an artistic manifesto. Stepping past, they see that the entire open hall includes nine other screens (three have projections on both front and back, for a total of 13 images) that serve as the only light in the entire space. On each, Blanchett embodies a different character — a corporate trader, a laboratory scientist, a punk rock groupie, a homeless man, a Russian avant-garde choreographer, a news anchor and her correspondent, and so on — and recites from the aforementioned manifestos, one movement per character/screen. The videos are synchronized and last 10 minutes and 30 seconds before a new loop begins. I had a little under two hours to spend there but could have gone much longer, finding I wanted time to watch each video individually as well as take them all in together as a whole. And that actually is the first lesson:
For a film that will be seen in a theater or on an iPad there's very little a filmmaker can do about this. But for video artists planning gallery installations, the three-dimensionality of the space and viewers' ability to move about it is one of the artist's strongest tools; Pipilotti Rist's work closing at the New Museum this week — with projections on the ceiling, floor, corners, and hanging fabrics — illustrates this excellently. With Manifesto, Blanchett's stellar performance has earned the lion's share of praise and is what viewers in Park City will surely concentrate on, but I think the use of space is Rosefeldt's strongest tool here, and the quality that makes the installation so much more engaging than a strict linear version will be.
The Park Avenue Armory is massive — 55,000 square feet — and work that I've seen there previously has often been swallowed up in the space, even when trying to fill it all with various screens, sculptures, or rotating bleachers. Rosefeldt and the Armory staff (noting that the installation had its premiere at the Australian Centre for the Moving Image in Melbourne) sidestep this problem by going the other direction and not attempting to fill the hall at all: Manifesto is spacially minimalist, with just the hanging screens and some benches scattered throughout. Focus therefore immediately goes to Blanchett's face — never has her screen presence been used so powerfully — and viewers are able to wander between screens at will or follow a roughly clockwise arc, outlined in the printed program, taking them from Situationism through to Vorticism/Blue Rider/Abstract Expressionism and, finally, filmmaking, passing through several strident and militant movements and ending on the much more tranquil words of Jim Jarmusch: "Steal from anywhere that resonates with inspiration or fuels your imagination." Seen in this way, Manifesto has a linear progression, but it's the fact that it's not strictly linear that makes it so appealing; viewers can go in any direction or speed they desire.
Further, the large empty spaces between screens are illuminated with the soft reflected light of the projections — remember when the beam from a film projector used to be a little magic? — and call to mind Ma, the negative space in Japanese art, or, for me, Olafur Eliasson's 2003 installation at the Tate Modern's large Turbine Hall in which viewers basked on the floor in the light of a half disc of light and a mirrored ceiling: in all of these the empty space and the people moving through it become an integral component of the artwork itself. The eye can wander where it wants, taking in one screen or two or more at once, and, since they're essentially visible simultaneously, the lack of rush to proceed to the next object allows viewers to immerse themselves in Blanchett's mesmeric performances without feeling like they're missing anything anywhere else. I found myself not just watching individual segments in their entirety but also literally circling screens, wandering back and forth between them, and standing in the middle of the hall scanning all of them at once. The space added to rather than detracted from the experience.
Sound was an enormous part of this. Designed by Markus Stemler and Fabian Schmidt, each film's soundtrack reverberated and blended with the others in the vast drill hall, adding to the sense of the videos' interconnectedness and creating an aural art object as interesting as the visuals; speakers pointed straight down, but there was still enough bleed between them to create the effect. The baseline for this, of course, is Blanchett's mellifluous voice and her dazzling array of accents and speaking styles encapsulating different classes and dialects as cleanly as different nationalities and even genders. Her midwestern housewife bowing her head in prayer is just as vocally distinct as her Queens stockbroker or her British punk rocker or her Middle-American elementary school teacher. But, arriving expecting a series of monologues with nothing else, I was surprised at how much other sound Rosefeldt worked in, from the ascetic hum of a futuristic laboratory (recalling Kubrick's aural work in 2001) to the cacophonous noise of a garbage processing plant to the clicking of dancers' shoes in an empty theater to the natural birdcalls and rain at an outdoor funeral service.
The entire work's pièce de résistance is a moment roughly nine minutes into the films' cycle when simultaneously on each screen Blanchett turns to address the camera directly in an extreme close up. She raises her volume and sings the words of each manifesto at a different monotone pitch. With each segment showing sequentially this will play as a repeated motif, the tonal differences going unnoticed, but with all the segments playing simultaneously in a unified space it forms a chord, a drone of words that lose their meaning but knit together sonically into a brief moment of minimalist music. Invoking the work of Steve Reich, Philip Glass, or, perhaps more precisely, Nico Muhly, Caroline Shaw, or the vocal ensemble Roomful of Teeth, it is a musical performance with harmonies planned out well in advance of each film's production and reaching culmination in the sounds' reverberation off the drill hall's wooden walls and arched ceiling — prerecorded video melded into physical space through acoustic harmony.
Adhere to a strong thematic vision
Blanchett's range and star power will probably generate the most buzz, but the treatment of the manifestos is the unifying theme that allows her performances to soar. Rosefeldt focuses on the written words of these mostly visual artists, and gives the texts new life by having them spoken out loud, whether the context seems ironic (Pop Art being invoked at a family dinner table), odd (Vorticism at a corporate party), or appropriately sincere (Werner Herzog quoted to a class of children). The layers of meaning are complicated by the texts' filmic representations, not least having all these male-written manifestos vocalized by a female actress, but they are consistent throughout.
Don't shirk on quality filmmaking
Sometimes a strong theme like this will appear able to carry its own weight, but strong filmmaking is always necessary as well. Manifesto has as much quietly exploring cinematography, shot by DP Christoph Krauss, as it has spoken words, and the architectural environment of Berlin, where the films were shot, is as much a character as Blanchett. A brightly painted spiral staircase, for instance, in the scientist-Suprematism/Constructivism film lingers a tantalizingly long time, becoming a strangely beautiful graphic element that asserts its right to exist on its own merits. In contrast, the crumbling chemical plant of East Berlin that hosts Blanchett's homeless man reciting the dogmas of Situationism externalize the meaning of her words about the doomed decadence of capitalism. Interiors and exteriors are equally evocative, and nowhere is the costuming, hair and make-up, production design, camera movement, or other actors' performances extraneous or underdeveloped. Each is a quality film in its own right, and therefore together they combine into something greater than the sum of their parts. Blanchett's raw physicality forms the heart and hub around which all of these elements radiate, showing the importance of empowering and trusting actors to do their best work.
In all, Manifesto is a unique piece, but all of these lessons are applicable whether you're working a gallery or theatrical space. It illustrates how a cinematic work can also be a fulfilling artwork, and vice versa. Through a strong theme, quality filmmaking, and straightforward use of space it achieves the profundity of thought of most feature films along with the interactivity of most apps, interactive films, and transmedia projects. That's a lesson for all filmmakers regardless of your medium.