Back to selection
Sundance 2017: Five Questions with Landline Director Gillian Robespierre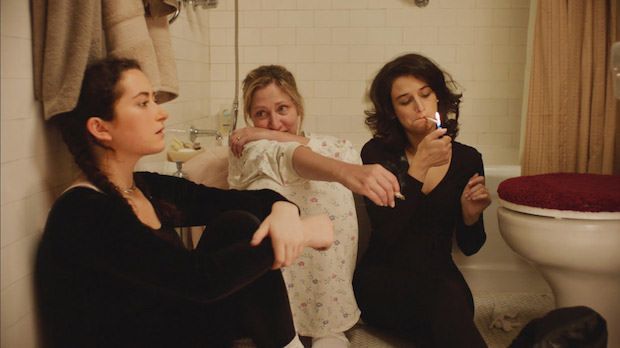 Landline
Everything changed for Gillian Robespierre after Sundance. In 2014 she arrived at the festival with her debut feature, Obvious Child, a personal, provocative, NYC-set comedy starring Jenny Slate. Before the festival even wrapped, she had found an enviable distributor for the film in A24. Obvious Child would go on to play on 200 screens nationwide, earn more than $3 million and garner Robespierre a directing award from the National Board of Review.
She returns to the festival three years later with Landline, an observant family comedy set in '90s New York. Filmmaker spoke with Robespierre ahead of the film's world premiere about her love of '70s American cinema, the changing face of New York City and why she turned down offers to direct studio films after the success of Obvious Child. Landline stars John Turturro, Edie Falco, Abby Quinn and reunites Robespierre with Jenny Slate.
Filmmaker: Your DP Chris Teague said in an interview with Filmmaker that neither of you much liked the "bright, colorful, flatly lit" look of romantic comedies from the '90s. When you envisioned Landline in your head, before any shooting began, how did it look?
Robespierre: Teague and I talked a lot about what shooting a period movie from a recent period would look and feel like. Early on we decided against using movies from the '90s as a visual inspiration. Since we both came of age in the '90s we had strong memories of what that time looked and felt like. I grew up in New York City, during the very last days before Starbucks and chain stores took over every corner, and 42nd Street still had peep shows and was a mecca for buying fake IDs. If anything the city and my childhood apartment still very much looked straight out of the '70s. So we decided to dive into American cinema from that era. We watched movies like An Unmarried Woman, Kramer vs. Kramer, Three Days of the Condor, French Connection (we had a fast-paced driving scene but had to cut for budgetary reasons), and although it doesn't take place in NYC, Broadcast News was a reference, but I watch that movie once a year anyway. All of those films have a moodiness and timelessness that we hoped for Landline. Unfortunately we were not able to shoot on film, so we opted for the Alexa with some vintage lenses and added a texture of LiveGrain during color correction that was designed to represent film stock, and it's really quite extraordinary.
Filmmaker: I'm curious about the '90s setting. Was the script set in the '90s from day one, and what do you hope the period setting adds to this story?
Robespierre: My co-writer Liz Holm and I knew early on that we didn't want this movie to rely on social media or text messages as a story device, which is pretty hard to escape these days. So we thought a clever (not that clever) way to dodge someone stalking a loved one on the Internet was to set the movie pre-social media. Liz and I are also born and raised New Yorkers who grew up in the '90s, and we felt like enough time had passed to set a movie in it. To us the '90s feel like the last moment New York was still this place that was a little more gritty, where artists, musicians and punks ruled below 14th Street, certainly not the shopping mall and glass box condos that exist now. There was also a real thriving middle class who could exist in Manhattan, many of whom can't and don't anymore. For sure, every generation of New Yorkers thinks their era was the last time "New York was really New York," before the rich got richer and the poor got poorer, so maybe we're just guilty of that. But looking back at our childhoods it felt like the city was shifting in step with our families' taking new shapes. That constant evolution, always changing while still being nostalgic for what came before, is one of the best/worst things about this city and really movies.
However, we didn't want the period to be a gimmick, and we made sure to stay light on nostalgia. We wanted to make sure that if you took the '90s element out the story would still work and all generations could relate. But the '90s still are very present through music, wardrobe and references that we hope delight people.
Filmmaker: This is your second film with co-writer and producer Elisabeth Holm. Can you talk about your process as creative collaborators?
Robespierre: The process is pretty simple: coffee, lots of snacks and we talk. We talk about characters and structure but also about what we did the day before, an argument we got into with our husbands, or how one of us sneezed so hard during an assembly in fifth grade they peed their pants. There's no real agenda at the start, but once the chatting is over we go into our separate holes to write. It's very hard to write in the same room with another human. Plus the Internet is enough of a distraction, and I like to write in bed and Liz won't get in with me. Then we share pages and read them out loud to each other, give each other notes, rewrite, swap pages, repeat. We're not the best actors, but it's always nice to hear dialogue and make sure it sounds real. We do punch up lines in the same room while we read out loud. And then my toddler comes home and we break for a manicure pedicure. This is our second go at it, and we wouldn't continue doing it if it wasn't a little pleasurable.
Filmmaker: You're a New York native with two features now shot in the city. Are you a dyed-in- the-wool New York filmmaker, or do you have upcoming projects that you hope will take you out of NYC?
Robespierre: Oof — you're starting to sound like my therapist. It's true, I'm deep-rooted in New York, but I do occasionally leave and enjoy leaving the island. Liz and I actually wrote a pilot for a show that was going to take us on a cross-country trip, and I will be leaving (briefly) to go shoot two episodes of the TV show Casual this year in LA. Liz and I often joke that our next film will take place in Hawaii, and we'll obviously have to spend a lot of time on the ground. You know. For research. I can assure you it's a very serious joke.
Filmmaker: There's been a recent trend of directors scoring festival hits and then going on to direct much bigger films. You don't seem to be following that trajectory. Following the success of Obvious Child, did any part of you have an interest in making the leap to studio filmmaking? Or do you find that those types of opportunities are not as available to female filmmakers?
Robespierre: Since making Obvious Child I've had the privilege to meet a lot of people who are excited about collaborating with me. I read a handful of studio movie scripts that were sent my way to direct, and in the end I didn't pursue those projects because I didn't feel connected to the story. Making a movie takes up a big chunk of your time, time away from your family and friends, and unless the idea makes you want to sacrifice every part of your being for two years (which they didn't) I didn't feel the need to say yes. If the right studio and project came my way I would totally do it! But I do believe that the opportunities for women to direct in film or television are less available. I feel like there is a big discrepancy with the number of articles written about the topic and the actual number of women working in the field.