Back to selection
"The Kind of Craziness I Love to Photograph": DP Rene Soza on 500 YEARS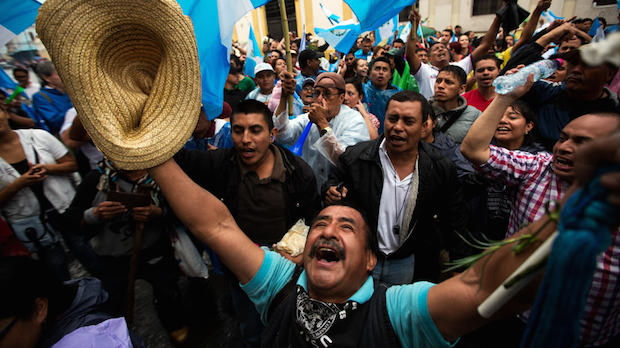 500 YEARS
Cinematographer Rene Soza served as one of two DPs on 500 YEARS, the third film in a documentary trilogy on Guatemala from director Pamela Yates. The film explores the historical significance of the war crimes trial of general and former president (1982-1983) Ríos Montt and the toppling of recent president (2012-2015) Otto Pérez Molina. Soza spoke with Filmmaker about his connection to this material and his aim to "visually communicate the electricity of speaking out and taking to the streets." 500 YEARS screens five times during the 2017 Sundance Film Festival.
Filmmaker: How and why did you wind up being the cinematographer of your film? What were the factors and attributes that led to your being hired for this job?
Soza: I met the director Pamela Yates through the Guatemalan co-producer of 500 YEARS, Beatriz Gallardo, who knows my work. Filming real life has always been my passion. In 500 YEARS we had to film street scenes and massive protests in Guatemala City, the largest demonstrations in the country's history. This is exactly the kind of craziness I love to photograph. Plus I got to participate as a cinematographer in documenting one of the most dramatic moments in my country's history.
Filmmaker: What were your artistic goals on this film, and how did you realize them? How did you want your cinematography to enhance the film's storytelling and treatment of its characters?
Soza: I got to participate intimately as a cinematographer in the emotions that all Guatemalans were living through. A moment when we said "no" to corruption. Through our non-violent protests and political alliances of the many, we brought down a sitting president, vice-president and cabinet ministers. My goal was to visually communicate the electricity of speaking out and taking to the streets, of ending our silence and changing our country. I used available light to our advantage.
We had to find the characters that we had been following for several years in the middle of tens of thousands of people, where there was so much social messaging (everyone's a filmmaker!) that no cell phone calls nor text were possible and we had to be smart about finding people.
Filmmaker: Were there any specific influences on your cinematography, whether they be other films, or visual art, of photography, or something else?
Soza: I was always discussing how to approach filming in unpredictable situations with the director Pamela Yates. She often talked about Patricio Guzmán's The Battle of Chile and when she wasn't with us physically – because this movement for A New Guatemalan Spring went on for nearly four months – we would communicate through words, photographs and video on WhatsApp.
Filmmaker: What were the biggest challenges posed by production to those goals?
Soza: In this kind of cinema vérité filming I'm always thinking about where to be and how to capture those special once-in-a-lifetime moments: someone spontaneously expressing their disgust at governmental corruption, students and peasants marching together, indigenous people taking the stage and rallying rural and urban people alike, and finally, the arrest of the president.
Filmmaker: What camera did you shoot on? Why did you choose the camera that you did? What lenses did you use?
Soza: It was a Sony FS5 and Canon 5D. I used it because of the great resolution and because it was practical to handle in large crowds and on long marches. I used 18mm, 50mm, 85mm and 70-200mm lenses.
Filmmaker: Describe your approach to lighting.
Soza: In all of the street filming I used available light, always trying to get it right. When I used lights in interiors it was a soft frontal light, tilted to one side, and a backlight.
Filmmaker: What was the most difficult scene to realize and why? And how did you do it?
Soza: I infiltrated a group of former and current military people who were against the genocide trail of the former president, General Efraín Ríos Montt, at the beginning of filming 500 YEARS. It was dangerous and difficult because they thought that I was filming their gathering for them.
Camera: Sony FS5 y Canon 5D
Lenses: 18mm, 35mm, 50mm, 85mm y 70-200mm
Lighting: Available light, Arri Kinos and LEDs