Back to selection
"Grounded Yet Earnest, Awkward Yet Buoyant": Editor Jacob Craycroft on Brigsby Bear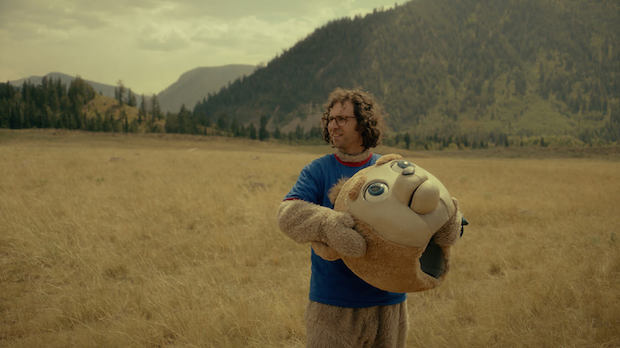 Brigsby Bear
From Robert Altman's A Prairie Home Companion to Super Troopers, Jacob Craycroft has edited more than 40 features and shorts since 1997. In recent years he's cut the young-Obama biopic Barry, a segment of the anthology film New York, I Love You and, at this year's Sundance, Brigsby Bear. Craycroft spoke with Filmmaker ahead of the film's premiere about the film's tricky tone, working with the ever-busy cast and crew of SNL and the difficulty of editing a single project in both AVID and Final Cut Pro. Brigsby Bear screens five times during the 2017 Sundance Film Festival.
Filmmaker: How and why did you wind up being the editor of your film? What were the factors and attributes that led to your being hired for this job?
Craycroft: I was in the final stages of editing Barry when I first read Brigsby Bear and had a phone interview with the director, Dave McCary. I really liked the script and the people involved, particularly in light of the YouTube shorts that the director and Kyle Mooney had done over the years. I knew that Brigsby would have an offbeat and interesting tone.
Unfortunately as Barry extended its edit, the two projects looked to overlap and the timing was tricky. I suggested that Taylor Levy, my assistant editor on Barry, start the job and stay on as the assistant/additional editor when I became available full time. In the meantime I would commit what time I could and would oversee Taylor's work. I started full time around the completion of principal photography.
Filmmaker: In terms of advancing your film from its earliest assembly to your final cut, what were goals as an editor? What elements of the film did you want to enhance, or preserve, or tease out or totally reshape?
Craycroft: There were two main balancing acts during editorial: managing the tone of the film and working around Dave's SNL schedule.
Dave continued to work at SNL while we were cutting the film, which basically kept him out of the edit room Wednesday night through Sunday, so we had to fit a full week of work into three days and steal any extra time we could on the other days by sending scenes back and forth between our cutting room at Light Iron NY and 30 Rock. We were already on a tight schedule given the number of scenes and the amount of VFX shots in the film.
In terms of tone, the task was finding a unique path that skated between comedy and drama. It is not the broader (albeit subversive) comedy that might be expected when seeing the attached talent and producers (Lonely Island, Lord & Miller, etc.), but rather a more poignant statement about the complexity of contemporary family life and finding one's voice. We wanted to maintain a balance in Kyle's humor, keeping it grounded yet earnest, awkward yet buoyant.
Filmmaker: How did you achieve these goals? What types of editing techniques, or processes, or feedback screenings allowed this work to occur?
Craycroft: Dave wanted to get his hands dirty, as he always cuts his YouTube and SNL shorts. This really helped in terms of getting the work done in the allotted schedule. Taylor also continued to contribute on top of his assistant duties.
We had a couple of feedback screenings that are always helpful in pinpointing what scenes or elements are superfluous, as well as what humor is working (or not) – usually confirming what you already know or suspected. But you need to be able to filter all the competing voices into what are the most useful truths. Any one opinion serves the film best when it allows you to reexamine a moment or scene in a new light.
Another unique aspect to the edit was Kyle's involvement. He co-wrote the script with Kevin Costello and is a longtime friend and collaborator with Dave. Kyle was a constant creative presence in the the edit room, a sounding board for Dave, and a sometimes director-proxy when Dave was unavailable.
Filmmaker: As an editor, how did you come up in the business, and what influences have affected your work?
Craycroft: I worked with two great editors at the start of my career. My first job was assisting Dody Dorn on Peter McCarthy's Floundering (Sundance '84). While still living and working as an assistant in LA, I cut a super 16mm b&w feature, Hang Your Dog in the Wind (the one-off, memorable Slumdance '97). A few years later I assisted Geraldine Peroni on Nora Ephron's Michael, which brought me back to New York City. Both Dody and Gerri instilled a great sense of work ethic in me, and Gerri gave me the best piece of life advice ever, "Stay curious!" – although I admit she said it in admonition, due to an oversight in the cutting room by myself and the 1st assistant editor.
After Michael, I cut some indies and documentaries. Thanks to Gerri, I got a job cutting Robert Altman's Tanner on Tanner and stayed on to cut A Prairie Home Companion. Working with Altman taught me to emulate the trust he put into the people he hired, and to aspire to his ability to stack multiple moments into one scene…to look for complex simplicity, or simple complexity.
I would say every film I have cut, from Super Troopers to Magic Magic to Downloaded (narrative and documentary) has been a learning experience that informs how I approach the next one.
Filmmaker: What editing system did you use, and why?
Craycroft: This was a complicated decision. Dave wanted to be able to roll up his sleeves and do some cutting. He does all his SNL shorts on Adobe Premiere, but I convinced him we should cut on AVID, primarily due to AVID's media management and the ease of multiple editors working in tandem off the same media. We had the normal tight schedule as we hurried to make the Sundance deadline. Also, I was cutting Barry on AVID and as the projects overlapped, it was going to be easier to move back and forth between the two if need be.
It didn't go all that smoothly though. After principle photography we had to dive right in, and Dave did not feel that he had the time to really get comfortable on AVID. So he would cut scenes on Premiere and we would bring them into AVID. He had a full set of the dailies on a portable drive and we could send him bins with string-outs and cuts. Unfortunately the two edit systems didn't play so well together, and while it worked out in the end, we encountered a lot of media/project corruption and had to come up with work-arounds. Until the two platforms figure out a way to play nice together, or a third party plays mediator (i.e. what Automatic Duck did for FCP7), I would recommend steering clear.
Filmmaker: What was the most difficult scene to cut and why? And how did you do it?
Craycroft: The end (Spoiler Alert) "Movie in Movie" sequence. It was not only the emotional resolution of the film, but there was a big question of how much of the main character's film to show, and in what balance of subjective vs. objective presentation. Since the viewer has seen him making the film throughout the movie, we weren't sure how much our audience would want to re-experience. Some of the "movie-in-movie" was recap montage material but there was also a full dialogue scene, which was the finale to the main character's film. Also the look of the "film," the majority of which was shot green-screen, was not really settled upon until we had locked picture.
It was the first sequence we worked on, as we needed to get the VFX underway ASAP, and the last to be completed. Ultimately I think we found a nice balance of hitting a quiet emotional tenor with a smattering of just enough humor and triumph.
Filmmaker: What role did VFX work, or compositing, or other post-production techniques play in terms of the final edit?
Craycroft: There is a fair amount of VFX and compositing work in Brigsby. It is based around a fictitious vintage children's television show which has a fair amount of VFX elements. There are also the movie-within-movie elements in the finale. Then there are, of course, all the "screens" that abound in film today. In all there were upwards of 100 VFX shots in the film – almost all of them were expertly and creatively handled by our one-man-band, Andrew Sherman. It was somewhat helpful that most of the TV show and Hero film VFX needed a hand-made/rawer quality, which allowed some room for "imperfections" in their look.
Filmmaker: Finally, now that the process is over, what new meanings has the film taken on for you? What did you discover in the footage that you might not have seen initially, and how does your final understanding of the film differ from the understanding that you began with?
Craycroft: It was always in the script, but I think the themes of friendship and community really came to the forefront as we were editing the film, in part because the long-time creative friendship of Dave and Kyle was on full display, driving and informing Brigsby Bear.
In a recent viewing of the film, it occurred to me that it might be one of the first protest films of 2017 to take up the mantle of Meryl Streep's Golden Globe acceptance speech. The positive powers of creativity battling an orange-faced baddy.