Back to selection
"We Were Interested in Creating Something Raw": DP Isiah Donté Lee on Burning Sands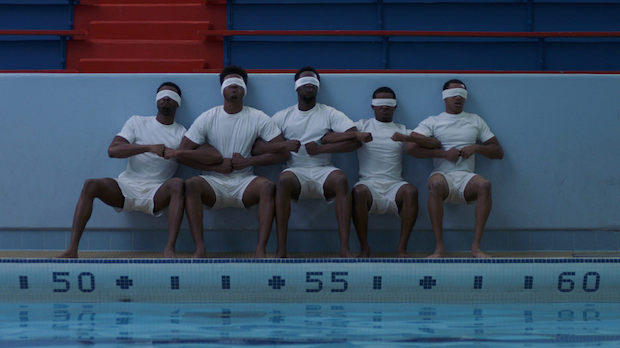 Burning Sands
Isiah Donté Lee shot 10 shorts in four years before making the jump to features with Burning Sands. The story of five college students who embark on a "Hell Week" of hazing to gain entry into a prestigious black fraternity, Burning Sands premiered last week at the 2017 Sundance Film Festival and will be released by Netflix in March. The film draws heavily from the college experiences of its writer/director, Gerard McMurray. Below, Lee speaks with Filmmaker about the film's deliberate mix of handheld and static compositions, shooting the climactic scene in one night and the "beautiful richness" of Cooke S4 lenses "when photographing dark skin tones."
Filmmaker: How and why did you wind up being the cinematographer of your film? What were the factors and attributes that led to your being hired for this job?
Lee: There was originally a DP attached that had to leave for another project, so I came on a week or two before pre-production began. Mel Jones, one of our producers, recommended me to Gerard around the same time my agents were putting me up for the job. From our first meeting, Gerard and I were on the same page about the vision of the film. We were interested in creating something raw. We did not want the film to be a romanticized depiction of black college life. As an African American male I was excited to explore some of the post-slavery psychological effects on black culture. This was also my first feature film as a cinematographer, so I'm grateful that I was considered.
Filmmaker: What were your artistic goals on this film, and how did you realize them? How did you want your cinematography to enhance the film's storytelling and treatment of its characters?
Lee: My ultimate goal was to create an atmosphere that felt authentic to Gerard's personal experiences. I kept my approach simple for most of the film and tried to maintain a level of naturalism. I wanted to make sure the cinematography didn't overly glamorize the fraternity lifestyle or the hazing violence. We wanted the pledging to feel grounded and real as opposed to a hyper dramatic experience. In order to achieve that we used static compositions and contemplative camera moves, often observing our characters from a distance with wide frames and long focal lengths. The concept of brotherhood was a major cinematic throughline, so to me that meant that we needed the brothers to hold the frame together. They are often seen lined up, stacked up and staged in a collective way. My mission for each scene was figuring out how to visually unify their experience. We also talked about differentiating "Hell Night" from the rest of the film. The main characters have been waiting to get to this moment for the entire film and we wanted to experience that with them. So for the last quarter of the film we shot everything handheld. The camera work becomes very energetic and reactive. I hoped this would create an immersive and visceral experience for the viewer.
Filmmaker: Were there any specific influences on your cinematography, whether they be other films, or visual art, of photography, or something else?
Lee: We looked at various films ranging from La Haine to Foxcatcher but mostly to reference the tone of certain scenes. I also wanted to show Gerard some films that had examples of switching from a locked off camera to handheld. I showed him scenes from Hunger and Of Gods and Men; both have very effective examples of the mixture of these techniques. We didn't really have any specific visual references for the overall look of the film. My biggest reference was Gerard and his detailed knowledge on the subject. He showed us videos and pictures from when he was pledging that really helped me visualize a lot of things.
Filmmaker: What were the biggest challenges posed by production to those goals?
Lee: The biggest challenge was that we had very little time and a ton of actors. We were on an intense 18-day shooting schedule. This meant a lot of pages per day and most of the scenes have five or more leads in them. This compromised our ability to get detailed coverage and forced us to make decisions about what the bare necessities of the scene were. Working at this pace also made designing shots very difficult. We didn't get many shots; luckily we had an extremely talented cast that was completely locked in.
Another major challenge was the last minute changing of locations. The key to keeping up with a schedule this tight is having a detailed plan for each location. However Mike Wilson (my gaffer) and I would often have to rework the lighting plan on the spot of a new location.
Filmmaker: What camera did you shoot on? Why did you choose the camera that you did? What lenses did you use?
Lee: We decided to shoot on the Arri Alexa Mini, provided by Lynn Gustafson at Arri Rental. Gerard originally wanted to shoot on film but I felt digital was the better choice. We had an extensive amount of exterior night work, so I needed the sensibility of digital in order to make use of available light. The Mini helped me find places to put the camera in cramped locations with a lot of people. On such an intense shooting schedule it was important for me to have a camera that I felt created an image with a lot of range. I didn't always have the time to finesse everything. The Alexa provided me a kind of security while working in an environment where I couldn't always control the light.
For the majority of the film, which is stable and composed, I used a set of Zeiss Ultra Primes to capture a pristine image absent of any optic artifice. I wanted something a bit softer and warmer for everything that was handheld so I switched to a set of Cooke S4 Primes. The handheld work was subjective and personal and mainly the actors' faces. I find the Cooke S4s to have a beautiful richness when photographing dark skin tones.
Filmmaker: Describe your approach to lighting.
Lee: My approach was always based on motivated light and practical sources, typically HMIs through windows while LiteMats and Kinos played inside. I rated the camera at 1280 to 1600 ISO for the entire film, so a lot of the work was getting rid of light. I wanted the lighting to have the same realism as everything else and for the most part to stay away from anything stylized. There were a few moments where I instinctually felt like getting a little theatrical. For example, there is one scene where Zurich, our lead, has an entertaining conversation with a young woman that we wanted to spice it up a bit. I worked with our production designer, Erik Louis Robert, to make sure we had a variation of interesting colorful practicals throughout the room. He designed something that was beautiful, whimsical and mysterious.
Filmmaker: What was the most difficult scene to realize and why? And how did you do it?
Lee: The final hazing scene at the barn was extremely difficult. It was eight pages of action, stunts, 25 to 30 extras, and we had to get it all in one night. I planned to use a condor to light the exterior but it got stuck in the mud about 300 feet away from the barn. This set us back about an hour. After our first set up we were hit with a major thunderstorm that forced us to shut down for another four hours. By the time we resumed shooting I was doubtful that we would be able to finish the scene. We began shooting as fast and as much as we could. It was hectic and I didn't have time to finesse anything. I was literally running around with the camera on my shoulder trying my best to get everything we needed to tell the story. As the sun rose and our night ended I walked away knowing we had captured something and just hoped it was enough. What's fascinating is when I watched this scene, I realized that the chaotic nature in which we shot it completely elevated the scene. It's a wonderful example of the unexpected magic of filmmaking.
Filmmaker: Finally, describe the finishing of the film. How much of your look was "baked in" versus realized in the DI?
Lee: Having a lot of information was important. With the two cameras and fast days I knew I would be doing some cleaning and matching in post. We shot using a slightly altered Rec709 LUT for monitoring and recorded in Log C. My dailies grade was a bit off so the challenge in the DI was regaining the consistency of the look I intended from the start. With the incredible patience of colorist Richard Garibaldi I was able to recapture the essence of what I created and remain sensitive to Gerard's vision.
Camera: Arri Alexa Mini.
Lenses: Zeiss Ultra Primes & Cooke S4 Primes.
Lighting: HMI heads, KinoFlos, LiteMats and a lot of available light
Processing: Digital Capture. 2K. ProRes 4444XQ
Color Grading: Richard Garibaldi at HeadQuarters in LA