Back to selection
Fear and Loathing and Black Rebels in Rotterdam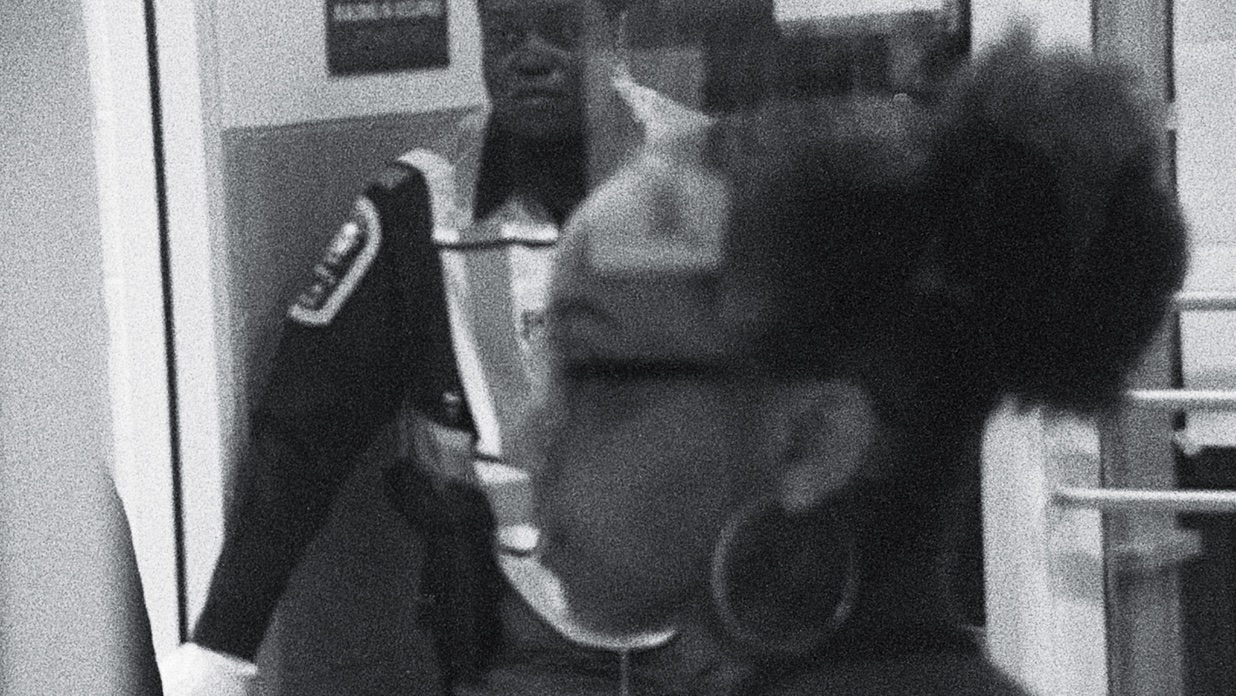 Tonsler Park
Being an American in rainy, gray Holland now, one feels compelled to apologize all the time. The 46th International Film Festival Rotterdam is halfway through and during the days I've been here, the 70-year-old old post-war liberal order seems to be collapsing all around us. It's hard not to feel the twinge of embarrassment and guilt. That liberal order, one which has been enforced as often by violently repressing ostensible threats to its hegemony as by "spreading democracy and economic growth," in the insufficient neoliberal sense, is finally being done away with, not by guerrillas and communist radicals but by the citizens of the angry and ill-informed and largely white heartland of America, working through established democratic channels. The neoliberal impulse to internationalize the production of goods, piling the wealth high for those at the top while providing incremental improvements in living standards and technology for those at the bottom, hasn't worked out so well for them. But the racist undercurrent that reactionary polity produces can be felt in Rotterdam, and the stench sticks to American skin here easily.
At an industry party with a Iranian woman who lives in Amsterdam but had lined up a job in New York that feels like a pipedream now, or in a nightclub with filmmakers from various Middle Eastern countries who the U.S. has continuously vilified (if not invaded or bombed), you might feel the overwhelming sensation to whisper your sorrow in a Persian ear or take the mic in between Iggy Pop songs and tell everyone that, on behalf of those many millions of Americans who realize our country's mass delusion will have terrible consequences for everyone, "my bad." For we should all know, and continue to discuss amidst all the cinema and meetings and partying, that if right-wing governments come to power in France and Germany this year, the party will pretty much be over and a sequel to the 19th (or first half of the 20th) century is likely assured. At least both The Brookings Institution and the broad majority of cab drivers from the Arab world I've spoken with seem to feel that way. The hope that pervaded as I first visited this festival, in 2009, just as the Obama era was dawning, is fully gone now. We are all on the train to dystopia together.
How are motion pictures relevant in this moment, one in which too often for progressives "internet" activism has replaced the actual hard work of organizing others? This is a question the entire edifice of this festival seems to be asking. This most consistently searching of film festivals kicked off with a plea, from second-year IFFR festival director Bero Boyer in a Steve Jobs-esque opening address (delivered with a headpiece microphone), to let the "bubble" that festival-goers are in "pop." Tall and quick to smile, Boyer has streamlined the once unwieldy Tiger competition from 16 films and three prizes to eight films and one prize since I last visited but the festival. Despite changing personnel and a changing world however, Rotterdam remains much the same in its taste for thoughtful, far-reaching programming and a truly internationalist snapshot of the year in world cinema.
The festival started with Janizca Bravo's bold Sundance holdover Lemon, which made its International Premiere on Opening Night and will, with any justice, establish a cult following. A startlingly evocative and unrelentingly weird hair-twirler, the film opens with a long pan through an amber-colored living room that both announces its razor sharp aesthetic control and introduces us to slumbering Isaac (Brett Gelman, who also co-wrote), a mediocre and clearly crazy Jewish-American Prince of an actor and theater instructor. We glean, through a series of awkward encounters he has while out on casting sessions, or in his own acting seminar, that Isaac isn't all there, but the film remains off kilter enough during its opening passages to have us reserve our judgement of him; we don't yet know that it is a satire and he is a peculiar form of sociopath.
We laugh at Isaac, not with him — indeed, we're as bewildered by his increasingly outlandish behavior as the other characters in the film, who include his long-suffering wife, a blind blonde (Judy Greer) who leaves him halfway through a meltdown that provides the film's pivot point. Whether Isaac is spray painting "white nigger" on the car of a more successful actor who takes his class (Michael Cera), accidentally killing the birds his neighbor has left him to babysit or briefly kidnapping the wheelchair-bound grandmother of a Panamanian-American woman (the long lost Nia Long, terrific), this is a remarkably humorous study of the contours white-American mediocrity and shame can take when combined with mental illness (the particular variant of which the film never directly specifies). That it is also the product of a black woman from Panama working in a Los Angeles setting with a mostly white principle cast marks it as the rarest of birds. Featuring wonderful supporting turns from actors as reliable and underutilized as David Paymer, Fred Melamed and Rhea Perlman, Lemon is a film that deserves a big audience stateside. Here's hoping a brave distributor discovers a way for it to find one.
…
This is easily the blackest Rotterdam ever. "Many democratic societies are facing the implications of the cultural divide and emerging racism," the festival's program stated when discussing Black Rebels, a program aimed at presenting films "about and predominantly by black people resisting this divide." Although neither Lemon or Stella Meghie's remarkable Spirit Award nominee Jean of the Joneses, also showing here, are included in the strand, these are works of black rebellion, especially in an industry that likely expects something entirely different from black women than to make movies that include a 20-minute "Passover dinner from hell" setpiece or to focus on, as Meghie does, an ensemble of West Indian women whose problems more closely echo the characters of Wes Anderson than Richard Wright. Black boundary breakers were everywhere during the festival's first few days; Barry Jenkins, who was being feted during Moonlight's Dutch premiere, also gave a rousing master class and shared three earlier films: The Borscht Corp-produced 2011 short Chlorophyl, his debut 2008 feature Medicine for Meloncholy and My Josephine, a 2003 student short in which an Arab couple wash American flags at a laundromat.
Headlined by the world premiere of Ernest Dickerson's Double Play, an evocatively shot tale of dueling infidelities in 1970s Curacao, Black Rebels also included a full 300-minute screening of the first season of Donald Glover's Atlanta, recent shorts by Francis Bodomo (Afronauts) and Matt Wolf (Bayard & Me) and repertory screenings of work by directors such as Horace Ove (Baldwin's Nigger) and Charles Burnett, who was here to screen both his legendary 1977 film Killer of Sheep and 1995's The Glass Shield. At the Q&A for the later film, which Weinstein-era Miramax infamously tampered with, Burnett remarked how his police corruption thriller — one that delves deeply, if imperfectly, into the systemic racism that had long pervaded the LAPD — was born of living in a Los Angeles in the late '70s through the early '90s when LAPD police chief and D.A.R.E. co-founder Daryl Gates presided. Gates's LAPD rampaged through L.A.'s black districts, ignoring community activists and ruining lives through their draconian efforts at fighting the drug war while actively seeking racists, Burnett recalled, many newly emigrated from the south themselves, to serve on the force.
Perhaps the biggest rebel of them all (although also not included in the strand despite his appearance on the kickoff "talkshow" that took place Sunday) is Kevin Jerome Everson, the Slow Cinema's midwestern negro extraordinaire, who is back with yet another feature at Rotterdam; long-time readers will know he premieres one here yearly, and the newest, Tonsler Park, is one of his most poignant yet. In Charlottesville, Virginia, where Everson teaches at the oldest state university in America, this black-and-white 16mm documentary glimpses poll workers, nearly all of whom are black, carry out the basic works of democracy, allowing their fellow citizens to cast a ballot and vote. Everson trains his long lens on the face of middle-aged and old black women facing never-ending rows of voters, many of whom obscure those very faces for long stretches of the five and six and 10-minute takes that pervade this film.
Everson's work requires endurance and concentration on the part of the viewer — you have to construct the meaning out of his studies of black folks at work for yourself as they summon the power to endure in an America that often casts them as undeserving of its bounty. Even his characters keep the machinery of its self-governance operating, perhaps imperiling their own health in the process of having their slice of the dream, they toil with grace. He watches the way a security guard fidgets in mild boredom (trolling the audience perhaps), the smile that cracks on a younger poll worker's face at a job well done and a young black girl being sworn in to provide poll assistance, one who we imagine will carry on this tradition, with a patience that provides their labor, which we endure right along with them, a dignity not often bestowed upon the black working class in America cinema.
As I watched it, in a room of only four other attendees at the Saturday night press screening, several of whom left during its earliest passages, I almost welled up several times. It was a heavy evening. As you surely know by now, citizens of seven countries that had nothing to do with 9/11 were, by executive order, banned from my own country earlier in the day. Unbeknownst to me, protestors were already gathering at the very airport I had flown from to arrive halfway across the world, all in order to watch negroes in Virginia exercise the rights many of my elders fought and bled for. Everson's movie gave me the space to meditate on how broken my home is, how the socio-political divides our country has never transcended have pulled us away from each other, countrymen in name only. It gave me the time, amidst all those seemingly unending shots of dignified labor, to remember how I had built walls between me and members of my family who had voted for our current government, between me and women I had loved who had an imperfect historical imagination or a strident fealty to the Democratic nominee; one of them had even been educated in the very same city Everson made Tonsler Park in. By the time the film ended, with a shot of old black hands folding an American flag, the polling station coming to a close as the film stock ethereally faded in and out, Everson's final spool reaching its last several dozen feet of film, it was just me and one other woman remaining in the cinema. The rest had fled long before the darkness and silence settled in, leaving her and I to wonder if there was any way back out into the light.