Back to selection
Four on the Floor: The Quad Cinema Returns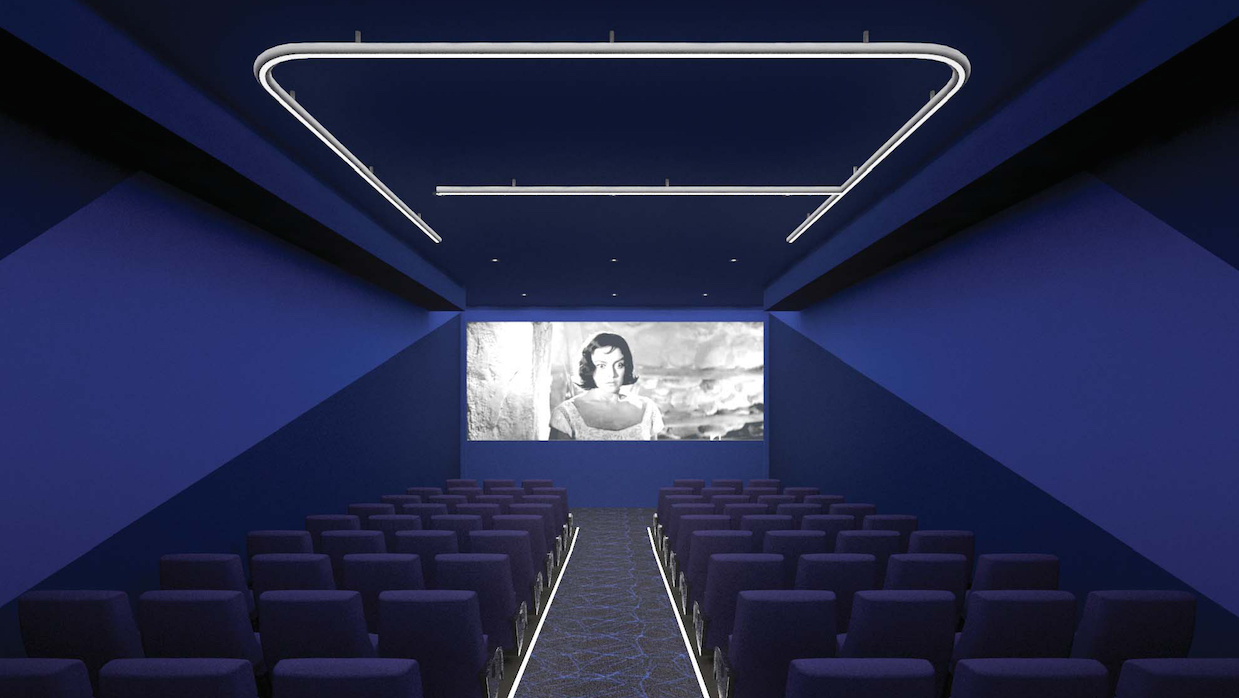 A rendering of the interior of the Quad Cinema (Image courtesy of Cohen Brothers Realty Corporation)
Six years ago or so, when I was still a struggling freelance critic, a trip to NYC's Quad Cinema was something to anticipate with dread. The theater had recently dipped its toe into four-walled exhibition, and much of what was on tap were films that should not have existed, the results of dumb money being thrown at terrible documentaries and even worse narratives. When the Quad closed in May 2015, it felt more like a mercy killing than anything else; its reopening this April starts a new, brighter chapter.
The theater's history as an institution of NYC filmgoing started in October 1972, when brothers Maurice and Elliott Kanbar opened the four-screen auditorium, the first one in the city. The programming was a mix of mainstream and arthouse fare, switching exclusively to the former in 1988. Relationships with other theaters competing for the same slice of downtown viewers could be strained: During the '90s, Maurice repeatedly wrote to the IRS inveighing against the nearby Film Forum, claiming that programmer Karen Cooper was abusing the theater's nonprofit status by booking commercially viable films that should have been his to claim. The Kanbars were likewise unamused by the IFC Center's opening in 2005: "For the consumer, it's very good, but it puts the rest of us at a disadvantage," Elliott told New York magazine. "It's like Rupert Murdoch bankrolling the Post. Now IFC, the Angelika and the Sunshine are going to compete viciously for the same films."
In 2014 the Quad was purchased by purchased by real estate developer Charles S. Cohen (CEO of film distributor Cohen Media Group), which subsequently closed the space for an extensive remodeling. The new Quad, which opened April 14, is both similar to and different than its previous incarnation. The auditoriums and screens are still small, with seat counts ranging from 97 to 118. Previously numbered 1 to 4, the theaters are now labeled Q, U,A and D; A is equipped for 16mm projection, U for 35mm, and there are new digital projctors as well. Seats are now more spread out and spacious, and the projection booths are, accordingly, smaller: May estimates they're now a third of the size they used to be. The programming will be a mix of first-run films, including those released by Cohen Media Group itself, and repertory cinema.
Programming duties have been assigned to C. Mason Wells (director of repertory programming) and Gavin Smith (vice president). Wells was previously at IFC Center, Smith uptown at Lincoln Center, and their convergence at the same theater comes at an interesting moment in NYC's theatrical expansion. The Quad is opening a little more than a year after the launch of the much-noted two-screen Metrograph theater and follows closely on the opening of the Alamo Drafthouse's first NYC outpost. IFC Center is expanding the number of screens as well. "It's always going to be competitive in this landscape, but I think it used to be more acrimonious than perhaps it is now," Wells notes. "I've heard horror stories of programmers from different institutions who wouldn't even speak with one another, as of 30 years ago, whereas at this point, it's much more congenial. The idea is not to go after the same 200 people for repertory screenings, but to convince the other eight million people in New York that that's something that they want to do."
One of the first series draws upon the theater's past history, showing a number of films affiliated with the Quad's past. Reconstructing the theater history involved a combination of going through internal records, institutional memory (co-managers Eva Rode and Robin Keegan have been with the theater since 1983 and 1984, respectively) and combing through the film listings archives in New York magazine, which can still be looked at online via Google Books. "Return of the Secaucus Seven is a movie that found a second life at the Quad, because they were able to hold it over for a long time," Wells notes. "Code Unknown is something that we will show in the future, because that's a movie that actually premiered on cable. The Quad bucked the trend and showed it theatrically after the fact. So it was doing kind of an anti-Netflix model, 20 years before that was even the case."
Cohen Media Group's films include both new titles (high-profile recent releases include Mustang and Timbuktu) and a library of over 800 titles. "There's kind of a vertical integration here in that we distribute films, we're producing films, we have an archive, and we're exhibiting films," Smith notes. "That's also a similar model to what you have with Drafthouse. They're now distributing films with Neon. I imagine eventually they'll be in production. It seems like just being an exhibitor isn't always enough in some way. I think we have an enormous competitor when it comes to classic acquisitions with Criterion. I mean, I'm kind of waiting for Criterion to announce they're opening a movie theater somewhere. It seems like the next step for them. Part of me would be feeling, 'Oh, let's hope not, because that's another competitor.' And another part of me would be feeling, 'That's great. Another theater.'"
Smith continues, "The person that probably inaugurated this kind of model was Bruce Goldstein, who was doing repertory programming at the Film Forum for many years, and then launched a distribution company, Rialto, and acquired a lot of great movies, which he could then play, for the most part, in Film Forum. And then they developed a relationship with Studio Canal, which gives them access to a library. That library's not exclusively for Film Forum, but Film Forum probably had first dibs on a lot of great titles. It's a very deep catalogue that they have."
Both Wells and Smith are celluloid enthusiasts, and 16/35mm projection is a big part of their plans. "I've always thought it was pretty challenging, but I've been surprised by how successfully we've been able to put together our programs for April and May," Smith notes. "I would say probably 75 or 80 percent of our repertory is 35 millimeter. We'll keep doing it that way, as long as the prints are there. Where the studios are kind of falling short, what's filling the gap a little bit are archives and collectors. We're developing relationships with everybody that we can, and that extends overseas to places like the British Film Institute and the Cinémathèque Française."
"You're paying someone to get the print, and you're paying the studio for just the rights," Wells adds. "They might give you a discount on the rights, but not really by much. Overall, you're forking over more money for the privilege to show the movie in this way. But by the same token, it becomes an element of the marketing. Certain studios have had people over the last decade who have been very resistant to lending out prints. And that's a personality thing, that they get to make that decision. They, unfortunately, are the ones with the keys to the entire library, and if you have a good relationship with them, sometimes, you can coax it out of them. But I think as there are more and more programmers coming up who value 35mm exhibition, they are becoming more persuasive in talking the studios into actually letting those prints be shown. And I think studios are seeing the box-office receipts. I think they are, hopefully, smart enough to see that, okay, this title is playing here on DCP and it's playing here on 35. And the gross is higher for the 35 print, because of the format."