Back to selection
Five Questions for Nobody's Watching Director Julia Solomonoff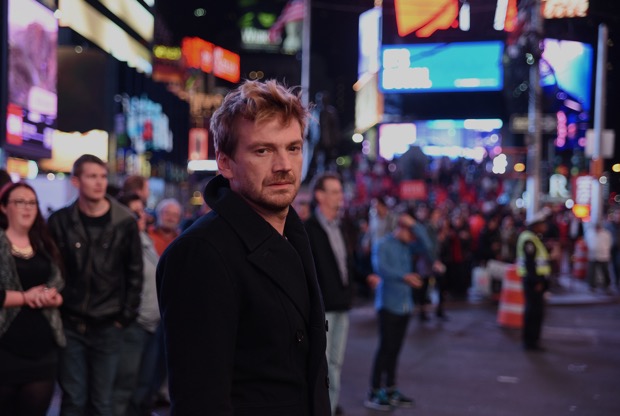 Guillermo Pfening in Nobody's Watching
In Julia Solomonoff's third narrative feature, Nobody's Watching, Guillermo Pfening plays Nico, an established Argentine actor in New York who has overstayed his visa in hopes of a promised film role and a new chance at life. But the idea of making it as an actor in New York is even harder for the blond Nico, who is told both that he is too white to play Hispanic and that his accent is too strong to play American. He falls back on odd jobs and light shoplifting, living under the radar until his past in Argentina comes back to haunt his current life.
In a time when immigration is a daily news headline, Solomonoff, who has lived between New York City and Buenos Aires for nearly 20 years, explores the emotions and personality of just one of these personal stories. It is a story that is increasingly relevant against the current political backdrop. Rather than playing a heavy hand or going overtly political, Solomonoff effortlessly takes on a new perspective in the current immigrant debate while exploring the freedom of anonymity against the loneliness of having no roots. Nico seamlessly blends into the New York landscape but becomes more and more isolated when he finds out his talents do not serve him in the giant metropolis. He must make a difficult choice in going back to face his past, or forging ahead in an unknown landscape.
Elena Roger co-stars as Andrea, a friend who provides temporary work for Nico, and Rafael Ferro plays Nico's ex-lover and boss Martin. Solomonoff co-wrote the film with Christina Lazaridi and executive produced with Maria Teresa Arida. After premiering at the Tribeca Film Festival, Guillermo Pfening took home the best actor in an international narrative award. Filmmaker spoke with Solomonoff about putting the film together in New York and just why this type of storytelling is becoming increasingly important today.
Filmmaker: What was your writing process like on this film?
Solomonoff: Nobody's Watching had many different stages. I wrote the first two drafts alone, then I worked on it with a couple of advisors for about a year. There was more than one film in it and the different themes were competing. It had well observed scenes but it felt like a "cultural observation" kind of movie. It lacked tension.
Then Christina Lazaridi joined and we started anew. We disassembled it and spread it on the floor. The producers got a bit anxious, because it was like I had a car that was running but making a funny noise and all of a sudden, for almost six months we had no car, just parts spread on the floor. The script had already won a few grants and now we could not even submit it anywhere! But then, when we put it back together, it felt smoother, it had found clarity, it found its spine.
I felt so confident with this spine that I was able to shorten, add, and improvise scenes in the shoot. We shot the scenes between Martin and Nico towards the end of the shoot and felt like we had captured the essential tension of the movie. So, in the edit, the heartbreak story became the cohesive tissue, the articulating tension. We did some crucial changes in the edit, yet Christina was very generous in her feedback. She was never defensive about the written script. She totally gets the dynamic process of filmmaking. In order to find flexibility and freedom, you need to build a clear, strong spine…yes, I know, it sounds like yoga.
Filmmaker: The idea of finding one's home comes up a lot in this film. What does that mean for you cinematically?
Solomonoff: Beautiful question. As a filmmaker, to me, finding home means to be able to be truthful to my experience, to speak in my own terms without getting lost in translation (avoiding the imposed formulas of likeable characters, redeeming actions and assimilation narratives).
Nobody's Watching took years to make, but while making it, I found a home in the collaborations that it started: the very diverse, multinational and passionate cast and crew that gathered around it…and now again, in the kind of personal exchanges it sparks with the audience.
I first came to New York as a Fulbright grantee, to study at Columbia, almost twenty years ago. My life was similar to Nico's: juggling studies with babysitting, restaurants and some weird jobs too. I had that exhilarating sense of freedom and discovery but also a sense of isolation and misunderstanding. After graduation, I went back to Argentina, worked as an AD, wrote and directed two features. I felt part of a vibrant and politicized creative community in Buenos Aires. I became creative director of Public TV, Canal Encuentro. When I moved back to New York, in 2009, I missed that sense of community, of purpose, but over the years this movie helped me find those creative allies, and I hope we will continue to develop projects together… theirs or mine.
Filmmaker: This is a different type of immigrant film. Why was it important to tell the story of someone who goes under the radar?
Solomonoff: The immigrant experience in the US is so varied and complex, so rich, yet many times its representation is limited to a few broad strokes and tropes. This is my own experience, but it is also shared by many. Of course, there are many stories that are more dramatic and urgent than this, but in a way, when you focus on a character with less extreme stakes, it allows you to observe the grey zones, that for me are more interesting and revealing… some issue-driven films, even with good intentions, feel heavy handed, exploitative or even opportunistic.
Nico being white but Latino, masculine and paternal but gay, middle class educated but borderline illegal allows him to test the slippery boundaries of prejudice and surveillance. He knows that as a white male with a baby in a stroller, the chances of him being caught shoplifting or spotted as an illegal immigrant are low. By abusing a system based on racial profiling, he exposes it: he is an actor and a chameleon.
In 2016, all six of America's Nobel laureates were immigrants. I teach Film at the graduate level [at Columbia University]. They are very international programs and you can already feel Trump's policies impact on the admissions for next year. Besides being appalling (the deportations, the bans, the separation of families), the demonization of immigration is weakening the intellectual growth of this country.
Filmmaker: What's the significance of your film in 2017, when the government is moving even more toward policies of "everyone is watching"?
Solomonoff: We shot the film in 2015-2016, but it is even more relevant now than then. The opening scene in the playground (of the [foreign] nannies leaving when a dad calls 911) felt a bit exaggerated then…and now it's happening everyday.
There is a sense of constant surveillance, of everything being recorded, a bit of a 1984 déjà vu. My son is eight years old, and one of the games he plays when walking in the street is to count the cameras. Once I walked back from baseball practice with him, from 55th and 10th Ave to 24th and 9th Avenue and we counted 104 cameras!
At the same time, being recorded by a camera is not the same thing as being watched by a person. Nico is an actor and he knows that and pushes it. He wants to be seen, he provokes those cameras, but there is no response…Nobody's Watching also means nobody cares. Freedom and anonymity are opposite sides of the same coin.
Filmmaker: What's the biggest challenge of shooting an independent film in New York today?
Solomonoff: Shooting in New York was easier that I expected. We were able to access the Made in NY incentive, which is great. We shot on some great locations but we always avoided the NY postcard or the tourist cliché. We did steal a few shots. We were quick, non-invasive, a little sly (not unlike Nico).
No big trucks, no catering tables, an almost documentary crew capturing the vibrant life of the city and the changing seasons. "The extras look so real!" Well, they are real New Yorkers walking in the streets. The only situation where we needed to have a more closed-set approach was the playground, because we were working with kids and that requires a different kind of care and control. We shot in Riverside Park North, around 120th St, and the parks people there were great. The Brooklyn bar is Northern Territory. The owner was very generous and the place looks amazing.