Back to selection
The Accidental Tourist, Seven Days in May, Tough Guys, The Paradine Case: Jim Hemphill's Home Video Picks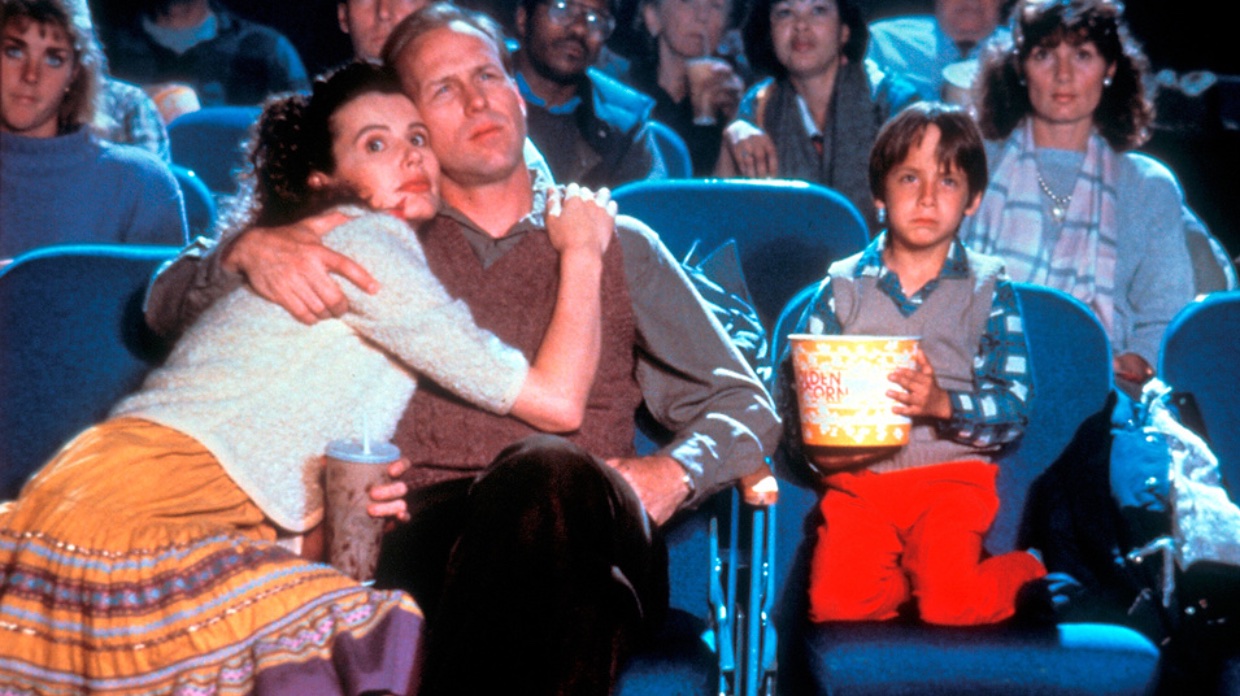 The Accidental Tourist
One of the best American films of the 1980s, Lawrence Kasdan's achingly beautiful and delicate The Accidental Tourist is now available on Blu-ray courtesy of the Warner Archive label. Adapted from a novel by Anne Tyler, The Accidental Tourist tells the story of Macon Leary (William Hurt in one of the great screen performances in history), a travel guide writer whose entire life is geared toward circumventing experience rather than embracing it; his books are for business travelers who want to avoid feeling as if they've ever left home. Macon's insular nature is exacerbated by the tragic death of his son, which hollows him out and destroys his marriage to Sarah (a superb Kathleen Turner, reuniting with her Body Heat collaborators Hurt and Kasdan). When Macon meets idiosyncratic dog trainer Muriel (Geena Davis in the third of the movie's great performances – one that garnered her an Oscar), he's dragged against his will into exactly the type of risky emotional commitments his whole life was designed to evade. In Kasdan's hands this material serves as a springboard for a profound and powerful meditation on loss and renewal in all their forms; the movie covers an astonishingly wide range of emotional experiences, examining them all through a satisfyingly literary framework with a rich sense of structure and metaphor. Some of this comes from the book, of course, but Kasdan and cinematographer John Bailey improve on the source material by finding elegant visual corollaries for Tyler's literary conceits; the 'Scope compositions beautifully convey alternating currents of loneliness and connection, and Bailey's nuanced photography tells a story of spiritual awakening through subtle shifts in light and color, adding depth and grace to Hurt's already extraordinary performance.
Warner Archive has also just released an immaculate Blu-ray edition of John Frankenheimer's 1964 classic Seven Days in May, a flawless political drama in which right-wing general Burt Lancaster attempts to stage a military coup to oust a liberal pacifist (Fredric March) from the White House. The movie is jammed with one top-notch actor after another, with Kirk Douglas, John Houseman, Martin Balsam and Ava Gardner representing just a small percentage of the knockout cast, and its combination of journalistic detail and literate ethical inquiry — courtesy of screenwriter Rod Serling, at the top of his game here — give the audience a consistently compelling, provocative, and frightening viewing experience. Frankenheimer was in the midst of an extraordinary period when he made Seven Days in May, having directed The Manchurian Candidate just before it and Seconds a couple years later; taken together the three films form an unofficial trilogy of American paranoia that looks forward to the 1970s masterpieces of Alan Pakula (Klute, The Parallax View, All the President's Men). Frankenheimer developed the perfect visual language to express his anxiety about the culture he was watching tear itself apart, combining stark black-and-white photography with extreme wide-angle lenses and long takes to keep the viewer in a state of constant unease and full awareness of the danger lurking in every corner of the frame. (A multitude of low-angle shots with the ceilings closing in on both the characters and the audience further enhances the sense of dread and claustrophobia in Frankenheimer's work.) He was a master of blocking actors in conjunction with understated but elaborate camera movements, and Seven Days in May offers a crash course in his style; both the film itself and the commentary track by Frankenheimer that accompanies it on the Blu-ray are essential viewing for any aspiring filmmaker who wants to learn how to make men talking in rooms as dynamic and absorbing as any action set piece.
Seven Days in May was just one of several great movies in which Kirk Douglas and Burt Lancaster appeared together; they also costarred in John Sturges' 1957 Western Gunfight at the O.K. Corral and John Huston's nifty 1963 mystery The List of Adrian Messenger, among others. In 1986 they reunited for their final collaboration, the infectiously warm and funny buddy movie Tough Guys, newly available on Blu-ray from Kino Lorber. Lancaster and Douglas play a pair of aging thieves who get out of jail after a 30-year sentence and try to adapt to both the cultural changes since they lost their freedom and the drudgery of a non-criminal lifestyle. With an obsessive cop (Charles Durning) watching their every move to see if they'll slip up and an old nemesis (Eli Wallach) trying to kill them, the old friends ultimately decide to return to their old ways for one last score. It all might sound a little formulaic, but director Jeff Kanew and writers James Orr and Jim Cruickshank deftly transcend the clichés by sublimating them to a series of digressions and episodes that are funny, poignant, and occasionally — as in a scene where Kirk Douglas enters the mosh pit at a Red Hot Chili Peppers concert — enjoyably bizarre. The movie's charm is similar to that of another action-comedy of its era, Martin Brest's Beverly Hills Cop. Like Brest, Kanew has an intuitive knack for delivering the genre movie goods without getting bogged down in them, and a flair for revealing character moments delivered with a light touch that yields lasting effects — this is one of those movies that gets more and more pleasurable in one's memory and on repeat viewings. Kanew was at the top of his game in this era, having directed Revenge of the Nerds and Gotcha, two comedies that are just as engaging as Tough Guys, just before he created this delightful showcase for Douglas and Lancaster's comic talents and iconic chemistry. He started as an editor — strangely for a future comedy auteur, his claim to fame was cutting Ordinary People, the least funny movie ever made — and Tough Guys exhibits an impeccable sense of rhythm and structure worthy of close study. It's fast without feeling rushed, and feels organic and off the cuff in spite of the careful craftsmanship behind every scene.
Another noteworthy new Kino release is the label's Blu-ray of Alfred Hitchcock's noir-inflected courtroom drama The Paradine Case. It's the fourth and least well known of the director's collaborations with producer David O. Selznick, who clearly was working some things out in this movie — he wrote the screenplay, and its story of a married lawyer (Gregory Peck) who becomes obsessed with a gorgeous client accused of murder (Alida Valli) has obvious parallels with Selznick's own life at the time. (His marriage to wife Irene had recently imploded thanks to his infatuation with actress Jennifer Jones, with whom he had just worked on Duel in the Sun.) Selznick's personal investment in the material gives The Paradine Case exceptional intensity in the scenes depicting Peck's almost comical lust for Valli, who is clearly not to be trusted, and then Hitchcock doubles down on the film's psychosexual intricacies by melding Selznick's preoccupations with his own. Among other things, Hitchcock was one of the cinema's great chroniclers and analyzers of the institution of marriage — he was every bit as probing when it came to the subject as Paul Mazursky or Ingmar Bergman — and the relationship between Peck and his wife (Ann Todd) in The Paradine Case is both painful and touching thanks to Hitchcock's acute understanding of the ways in which long married couples can wound and heal one another. The Paradine Case is also one of the director's most feminist works, with a running motif in which the upper crust men with whom Peck associates shut out, abuse, and otherwise exploit the women in their lives — in one of the movie's creepiest scenes, judge Charles Laughton goes full Roger Ailes on Ann Todd, and the scenes in which a room full of men decide Valli's fate are unsettling and resonant. Hitchcock conveys all of these complex ideas with uncommon concision and clarity via subjective tracking shots and elaborate choreography of both actors and camera (some of which is unfortunately compromised by Selznick's meddling in the editing room) that looks forward to even more ambitious experiments in Under Capricorn and Rope. I've never understood why the exceptional Paradine Case is so overlooked in Hitchcock's oeuvre; hopefully the Blu-ray release will prompt the widespread reappraisal it deserves.
Jim Hemphill is the writer and director of the award-winning film The Trouble with the Truth, which is currently available on DVD, iTunes, and Amazon Prime. His website is www.jimhemphillfilms.com.