Back to selection
Documentary Goes "Alternate Reality" at Sheffield Doc/Fest 2017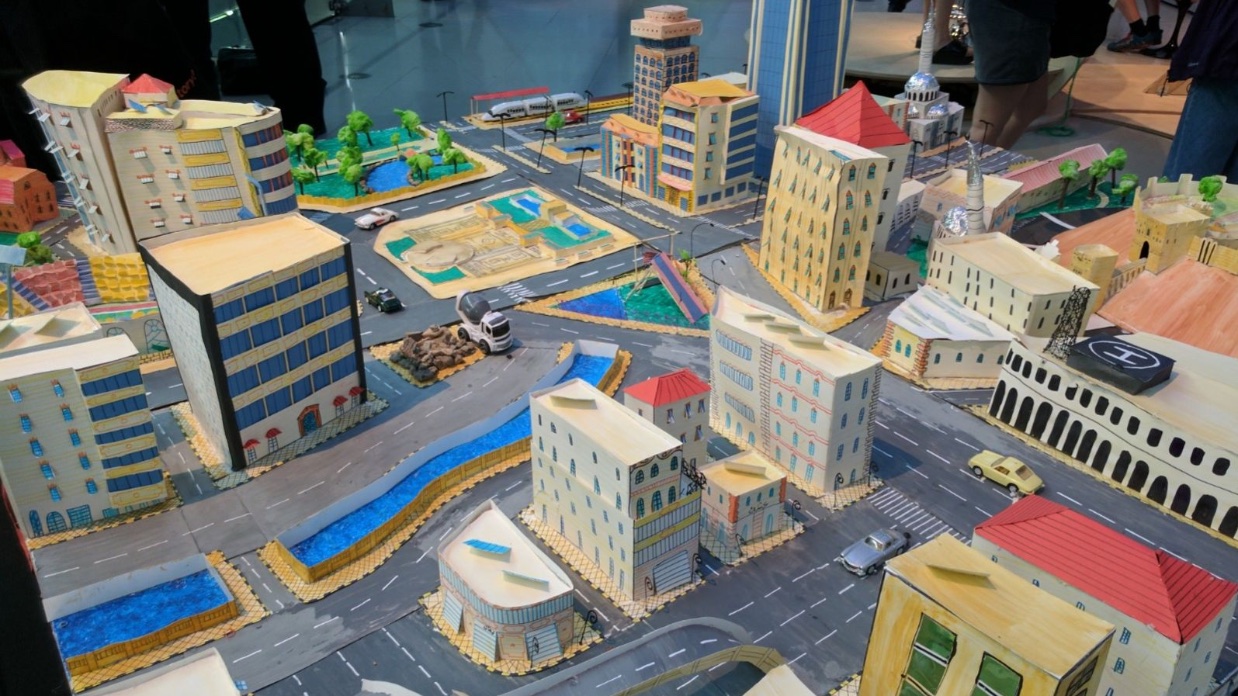 Future Aleppo
Virtual and augmented reality — a topic that is fast and feverishly taking over the zeitgeist of major film festivals — took center stage in last week's 24th edition of the Sheffield Doc/Fest. "What exactly is a feature documentary now?" Paul Ashton of Creative England asked panelists from Sundance, VICE, the non-profit film foundation Cinereach and Germany's broadcast outlet WDR/ARD. In part, he was referring to the festival's endless range of strands that covered experimental film, live theater and an expanded VR and AR section — "Alternate Reality" — that included 25 works housed inside the stunning Millennium Gallery and two additional tents around the city.
While the "Feature Length For All Platforms" panel came back with a range of answers to Ashton's question — works spanning from 50 minutes to two hours or more, and whose platforms have transitioned from cinema theaters and online channels to mobile phones and VR headsets — elsewhere in the Alternate Reality strand panelists questioned how the documentary funding world is rapidly rushing into this new VR space that is still not at the level of consumer adoption.
Alternate Reality
As has been the case at other festivals, such as this year's Sundance, SXSW, and Tribeca, booking tickets to view VR at Doc/Fest was difficult. After braving the lines in the multi-sensory Munduruku: The Fight to Defend the Heart of the Amazon, I was guided through the Amazonian rainforest via a Samsung Gear headset, a moveable chair, fragrant smells and a gentle breeze within a curtained-off space. The 20-minute piece was the recipient of the AR Audience Award.
Jennifer Brea's Audience Award-winning Unrest took the Alternate Realities VR Award for its 10-minute immersive experience that takes place from a bed, where I lay down and, with an Oculus Rift, experienced what it's like to be confined to a room with the debilitating illness ME (myalgic encephalomyelitis). Through a nod of my head, I was navigated through insightful experiences that provided scientific inner workings of our brains.
In the world-premiering Future Aleppo, I was given a first-hand look at war-torn Syria as seen through the nostalgic eyes of a child who was once proud of his hometown via VR, photogrammetry and 3D modeling. The Guardian's first-person First Impressions gave me an eye-opening idea of what it's like to be a young child experiencing love, colors, and abandonment for the first time.
At Doc/Fest, VR wasn't just a solitary endeavor. In the interactive In My Shoes: Intimacy two people with headsets communicate via touch, whereas in Blindness I was given an alarming first-hand perspective of an interrogation room in Iran's Evin Prison. The answers I provided to the interrogator (via a yes or no nod of my head) resulted in the actions taken on another prisoner also in the room for questioning.
Further down the road from the fest's main venue in a disused store was the part immersive theater/part VR piece Doom Room that had me holding a bloody heart and viewing life "from the other side." In its finale, Denmark's Mads Damsbo quite literally "flicked the switch," when I was being led back to reality, where, unbeknownst to me, I was suddenly viewing reality as part of the VR experience. It was a trick that had people talking for days (not to mention having us repeatedly attempt to scrub off the resilient red dye from our hands).
Alternate Talks
Despite these stand-out immersive offerings, the question still arose across the Alternate Reality Summit and most other panels during the six day-event: what is the impact of VR and AR, and how will such content make its way to viewers?
Nicole Jackson, The Guardian's VR Deputy Editor, stated that around just 3% of the general public have headsets. That statistic has prompted a wider offering of simpler 360-video content viewable on more accessible platforms such as Google Daydream, Google Cardboard, YouTube, Jaunt and Facebook.
"Web VR democratizes the user experience," said Google's principal VR filmmaker Jessica Brillhart. "If someone living somewhere like Bluff, Utah can't access this, then it feels wrong."
Che Ramadan of Amnesty International UK said that showing their 360-video projects on a simple online platform or on Google Cardboard helped nearly double their donations. "The more authentic something is, the more impactful it will be."
"The problem is," said Mitch Turnbull of Bramble Media, who has produced VR works for the likes of BBC and National Geographic, "the general public doesn't get to see VR's more impressive offerings [when solely viewed in 360]." She refered to elements such as volumetric capture, where images appear more authentic in 360 thanks to a wider array of cameras filming and stitching objects, Lytro technologies that allow a viewer to look a character in the eyes, and to move around without the character moving around, and CG effects made available through videogame engines such as Unity 3D.
With companies such as The Guardian partnering with Google Daydream for the next 18 months, investment in AR and VR shows no significant signs of stopping. "Once we have the roll-out of mobile phone 5G networks [estimated to happen in the next two to three years], we will be able to render in the cloud and then deliver to the phone," said Jon Wadelton, CTO of software company The Foundry. This means faster speeds, better picture quality, and for AR to become more seamless with reality.
He added that a 10-minute, 4K video can be as big as 1GB in size, which might take half an hour to an hour to download. Fasting streaming options could be a solution, as could 4K and 8K cameras, such as the current 8K GoPro Omni and Jaunt camera.
Tilman Scheel of Germany's online film submission platform Reelport said companies like Netflix are already in the VR space with apps on Samsung Gear and Google Play Store. Said Scheel, "Expect to see more shows in the caliber of Breaking Bad popping up in their VR apps." Ivanov added, "Viewers will be offered regular 2D experiences like we have now, but you will also be offered 360 and AR/VR formats. You will take your [mixed reality] glasses with you wherever you go."
Film
Across its feature and short-form programming, 182 films were presented, 34 of which were world premieres. The figures are competitive with like-minded festivals, such as Copenhagen-based CPH:DOX that earlier this year boasted a roster of 200 films and 75 world premieres, and Amsterdam-based IDFA that screened over 300 films in last year's 30th edition.
Cartel Land director Matthew Heineman won the overall Grand Jury Award for his follow-up, City of Ghosts. Special mentions went to David France's The Death and The Life of Marsha P. Johnson and Jairus McLeary and Gethin Aldous' The Work. The latter also won the Audience Award.
Notable world premieres included the opener Queerama, Daisy Asquith's take on the evolution of the LGBT community over the last century. Music from Alison Goldfrapp, Hercules & Love Affair and John Grant provided an emotional overlay to the film, and John Grant performed a live set following the show. Elhum Shakerifar's Even When I Fall was another sold-out world premiere, telling the heartwarming story of 13 young children who were slaves in Indian circuses and who later went on to form Nepal's first circus.
Several other talked-about films included Brexitannia, Timothy George Kelly's artful and often comedic representation of people across Britain and their views on Brexit. Shot in 4:3 in black and white, the film divided viewers with its sampling of interviews and their commentary. Freedom for the Wolf is Rupert Russell's depiction of urgent political perspectives from activists and academics across the globe, and American Valhalla gave a true insider's look, including extreme close-up camera footage, of Iggy Pop on his last tour. Josh Homme (Queens of the Stone Age) and photographer Andreas Neumann co-directed, and Matt Helders of the Arctic Monkeys is featured. Laura Poitras' newly edited and extended version of Risk was also a hot ticket, with the director on hand for a Skype Q&A saying, "As a documentarian, it's important to present the world differently than mainstream media."
Other Talks
The festival also introduced a new Craft Summit that included a raft of heavyweights such as legendary editor and sound designer Walter Murch, who revealed his tips on artful sound and editing; director and producer Ben Steele and Field of Vision's Charlotte Cook who discussed the "boom period" of serialised content; and experimental filmmaker Peter Greenaway who urged audiences to let go of scripts and more structured forms of storytelling. In another sold-out talk, Louis Theroux interviewed Nick Broomfield, who was in town for the UK premiere of Whitney: Can I Be Me, which was broadcast live via satellite from Sheffield to 146 venues around the UK. Of his work on the Whitney Houston doc, Broomfield said he was more focused on giving an impassioned account of the singer rather than a hard-hitting blow-by-blow of her turbulent relationships with her family and husband Bobby Brown. "It was about utilizing the footage from Rudi [Dolezal shot] on Whitney's 1999 tour," Broomfield said. "He had been asked by many people to use this footage, he trusted me…. Too many times I have made films that I have had to walk out of because they make me so uncomfortable. I didn't want that with this film."
Elsewhere, popular topics ranged from the rise of short-form content on sites such as The Guardian, New York Times, and VICE, as well as a focus on true crime docs.
With the continued controversy around streaming giants disrupting typical distribution models, a panel of American producers and execs also discussed the positives in cross-platform releases, including PBS' decision to release more films theatrically following its success with I Am Not Your Negro and The Black Panthers: Vanguard of the Revolution, both of which were released in theaters as well as on their stations. The group also highlighted potential other streaming competitors "that could shake up the market" including Hulu, National Geographic, Facebook, YouTube Red, Fullscreen, and Apple.
What's Next For Doc/Fest
Festival programmer Luke Moody emphasized it is still early days for the newly formed festival team (that also includes Patrick Hurley, head of marketplace and talent), but that they would continue to champion new voices from new countries, something he has already done in boosting last year's slate of short films from 35 to this year's 55. In addition to continuing its international output from countries such as the US, Mexico and India, the programmer hopes to place more focus on Asia next year.
Hurley added to the already jam-packed industry schedule — that included delegates from 54 countries taking part in pitch sessions, cross-over television and film panels, and the buzzy MeetMarket that pits decision makers with filmmakers in match-made one-to-one sessions — with a sales and distribution day where industry heads pitch to filmmakers, a young filmmaker dinner where 20 emerging directors can network with outlets such as The Guardian, VICE and BBC, and a series of works-in-progress screenings.
Like Moody, he vowed he would continue to drive focus on emerging filmmakers, and that there would be a push to include ambitious, global stories that challenge current storytelling models. Said festival director Liz McIntyre, "The beating heart of our programmes are stories that are authentic, relevant and that display creative freedom. This year, we shined a light on stories of fightback, and that offer a celebration of the human spirit. There will be more of that next year."