Back to selection
From the Ashes: Seeing Coal Clearly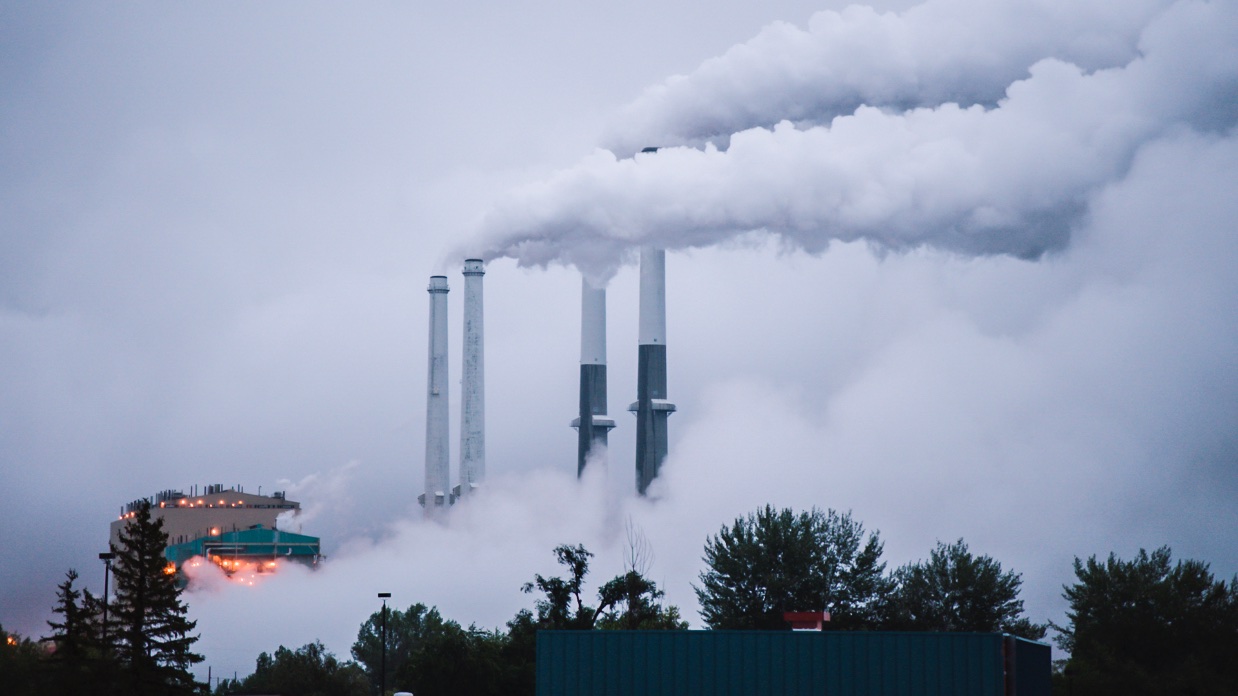 The Colstrip Power Plant - Colstrip, MT. National Geographic documentary From the Ashes still photograph.
The Tribeca Film Festival selection From the Ashes, a documentary on the U.S. coal industry and the "war on coal," directed by Michael Bonfiglio, is available for viewing free online this week through July 3. Katherine Oliver, who executive produced along with Jon Kamen, Joe Berlinger, Justin Wilkes and Dave Marcus, pens the following guest essay on the film, its issues, and the reasons why Bloomberg Philanthropies got behind the production. (Oliver is also a board member of IFP, Filmmaker's parent organization.) From the Ashes can be viewed at multiple sites now.
If a picture is worth a thousand words, then a feature-length documentary has the potential to change a national conversation. That's why Bloomberg Philanthropies produced a new movie called From the Ashes about a critical and urgent issue that is often misunderstood: coal.
Coal is at the center of some of the most important decisions facing our nation. During last year's presidential campaign, then-candidate Donald Trump made growing the U.S. coal industry a key part of his agenda — and in announcing U.S. withdrawal from the Paris Climate Agreement last month, President Trump made it clear that fulfilling that promise played a big role in his thinking. We often hear politicians talking about a "war on coal." So, what's at stake in this war? The answer is: a lot.
Coal is the single largest contributor to the carbon emissions that are warming our planet. Coal also takes a huge toll on public health, causing air and water pollution that is responsible for 7,500 deaths in the U.S. each year. The good news for public health and the planet's health is that, thanks to cheaper renewable energy and public demand for cleaner power sources, coal use is shrinking. In the last six years alone, nearly half of all U.S. coal plants have announced they will close or transition to cleaner forms of energy — and globally, coal production fell by a record amount in 2016.
But as the industry has shrunk in the U.S., so has the number of jobs it supports. In the 1920s, there were more than 800,000 coal miners in the U.S. By the time coal production peaked in 2008, the number was down to 82,000. In the years since, with the rise of clean energy, that number has fallen even further. This decline has had a devastating impact on communities in Appalachia, the Midwest, and other places where coal long played a critical role in the local economy.
With so much hanging in the balance, it's no wonder that coal's future is the subject of heated political debate — but too often, people with different points of view talk past each other, instead of to each other, or form opinions on the issue without seeing the full picture. From the Ashes, a new documentary film produced by Bloomberg Philanthropies & RadicalMedia, aims to change that, by showing both sides of the story in the "war on coal."
The film focuses on some of the communities where coal's impact is being felt and its future decided, from mining regions in West Virginia and Montana, to neighborhoods in Texas and North Carolina where pollution from coal plants is endangering people's health, to communities in the Pacific Northwest considering whether to build a coal export facility and a railroad to supply it. The film also profiles organizations working to help coal miners acquire new job skills and strengthen economies that have been harmed by the decline of coal.
Documentary film is the perfect way to tell this story, because of its unique ability to bring issues to life by showing us their human face. Film allows us into people's lives and helps us empathize and understand other points of view. It's useful to hear politicians debate energy policy — but it's far more powerful to see and hear the ways those policies have impacted real-life families.
Coal is a complicated issue. The good news is: Americans around the country are eager to find solutions. Over the last month, mayors around the country and around the world have been hosting screenings of From the Ashes in their cities. Hundreds of smaller screenings have also been organized in community centers, schools, and in people's homes. These screenings are a chance to build awareness, start conversations and build common ground on one of the most important issues of our time.
Today, film's role in discovering truth and showing both sides of the story is more important than ever. National Geographic is distributing From the Ashes for free nearly everywhere this week and I hope you'll tune in, and continue important conversations on the issues it covers.
Katherine Oliver is a principal at Bloomberg Associates, an international philanthropic consulting firm founded by former New York City Mayor Michael R. Bloomberg. In her position overseeing the media and digital strategies portfolio, Katherine helps cities harness the power of media and technology to improve government services, and advises them how to attract and promote businesses to support economic growth in these sectors. Katherine also oversees Bloomberg Philanthropies' support for film, TV and digital projects and serves as an Executive Producer on From the Ashes, the first feature film produced by Bloomberg Philanthropies and RadicalMedia. From the Ashes captures Americans in communities across the country as they wrestle with the legacy of the coal industry and what its future should be.
Prior to joining Bloomberg Associates, Katherine served as Commissioner of NYC's Mayor's Office of Media and Entertainment from 2002-2013.There she implemented strategic initiatives such as the Made in NY marketing and branding program; helped to generate direct spending of $7.1 billion annually in the entertainment sector, an increase of more than 50% from 2002; and saw industry jobs climb to an all-time high of 130,000. Under Katherine, the City instituted the first and only municipal-based tax credit in the film industry; initiated a program to train unemployed and underemployed New Yorkers for work in film and TV production; created the position of Chief Digital Officer, the first of its kind anywhere; and delivered a roadmap to establish NYC as the world's top-ranked digital city. By the end of the Bloomberg administration, 300 feature films and over 100 TV shows were being shot each year in New York City, and more than a quarter million people were employed in the tech industry. Katherine continues to be passionate about the impact that media and entertainment can have in marketing and promoting a city and supporting local economies.