Back to selection
Bull, Season One, Duel in the Sun and The Good, the Bad and the Ugly: Jim Hemphill's Home Video Picks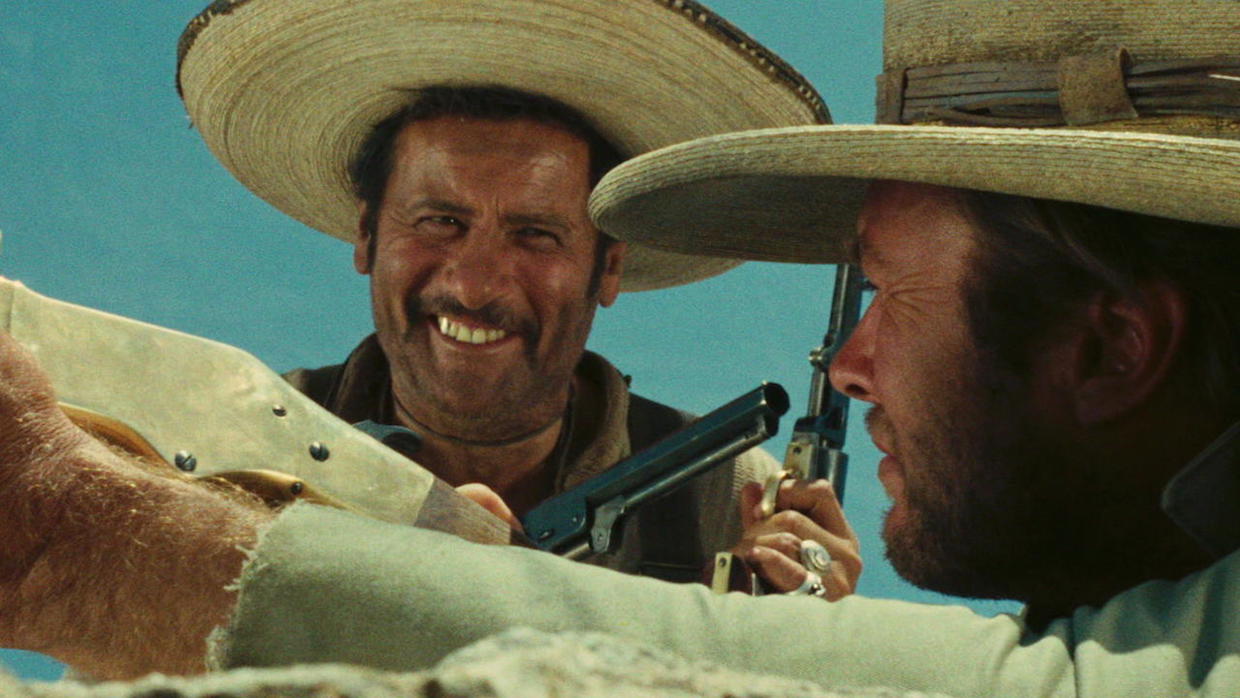 Eli Wallach and Clint Eastwood in The Good, the Bad and the Ugly
The best new television series of the 2016-2017 season arrived on DVD last week in the form of CBS/Paramount's Bull: Season One package. A smart, stylish and very funny drama with a killer pedigree – Donnie Brasco and Quiz Show writer Paul Attanasio is one of the show's creators, Steven Spielberg is an executive producer, and indie auteur Rodrigo Garcia directed the pilot – Bull reinvents and reinvigorates both the procedural and the courtroom drama with consistent verbal wit, visual elegance and one of the most compelling protagonists in the history of television. The show focuses on Jason Bull (Michael Weatherly), a psychologist who runs a trial analysis company that uses a sophisticated combination of technology, research, behavioral science and intuition to determine how attorneys, clients, witnesses and jurors are thinking. On the surface it's standard procedural stuff, as Bull and his team take on a different case and mystery each week, but Attanasio and his writing staff transcend the formula to tackle surprisingly complicated philosophical questions about truth, interpretation, ethics and identity. The show is both razor sharp in terms of its clarity and profoundly sophisticated in its grasp of the complexity of human nature in all its comedy and tragedy – it's what you would get if Jean Renoir wrote and directed an episodic drama.
The series contains some of the most subtle and deft shifts in point of view anywhere on network television (or premium cable, for that matter), partly due to the high quality of the writing and partly thanks to a visual style favoring depth, detail, and frames within frames that allow the viewer to constantly reexamine the action from different perspectives. The production design by Sarah Frank is vital in this regard, as the modular configuration of Bull's portable headquarters (which move to wherever the cases are) allows for more diverse and dynamic blocking than one usually finds in television – it also allows individual directors more flexibility in putting their own signature on the show, which is far more formally expressive than many series with more acclaim and award nominations. Anchoring it all is Weatherly's rich, magnetic performance in the title role; I've been a fan of Weatherly's work since I first noticed him in Whit Stillman's The Last Days of Disco, but he's never been better than he is here. Jason Bull's combination of self-assuredness, moral ambiguity, empathy and probing intelligence gives the actor the part of his career, and he plays it with both force and nuance in every episode. (It doesn't hurt that he gets strong support from an excellent ensemble that includes Annabelle Attanasio, Geneva Carr, Chris Jackson, Jamie Lee Kirchner and Freddy Rodriguez; their palpable sense of camaraderie is one of the show's most infectious and reliable pleasures.) It's a character that's vastly different from Weatherly's previous signature role on NCIS, yet in both cases he's so good that he seems to be playing himself – something that couldn't possibly be true given how distinct the roles are. The Bull: Season One DVD collection contains informative interviews with Weatherly and the other actors as well as deleted scenes and other supplements; the boxed set is a great way to binge this highly addictive show.
Last week also saw the release of new special edition Blu-rays (also available on DVD) of two extraordinary Westerns, Duel in the Sun (1946) and The Good, the Bad and the Ugly (1966). These days Duel in the Sun is the less well regarded and remembered of the two, though in its time it was a massive hit – and a good thing it was, since producer David O. Selznick spent more money on it than he had on Gone with the Wind. The film has a lot in common with a later epic Western, Michael Cimino's Heaven's Gate, in both its delirious excesses and its scathing leftist critique of values typically (though, in my opinion, often wrongly) assumed to be celebrated by the genre. Right off the bat the movie puts itself at odds with most Westerns by focusing on a female star: Jennifer Jones, playing the product of an interracial marriage whose fate becomes enmeshed with that of a cattle dynasty consisting of men who are either virulently racist (father Lionel Barrymore), misogynistic (son Gregory Peck) or pathetically weak-willed (other son Joseph Cotten). Writer-producer Selznick and director King Vidor go far beyond a mere gender reversal to demolish virtually every stereotype of male dominance that previous Westerns held dear, in the process brutally exposing links between patriarchy, capitalism, and various forms (sexual, racial, economic) of exploitation through both the interpersonal relationships and a subplot in which Barrymore's character fights an incoming railroad because of what he fears it will inspire in terms of immigration and the redistribution of his own wealth.
In spite of the fact that Duel in the Sun itself was shut down during production over a union strike, Selznick takes an ideological position so extreme that it's almost Marxist – as well as shockingly resonant and timely. Watching Barrymore's cranky racist rants in the wake of the "Unite the Right" rally in Charlottesville is an unsettling, depressing experience; Selznick had his finger so firmly on the pulse of the dark side of the American character that he captured something grim and relentless that would still be prevalent without significant alterations over 70 years later. Yet the movie is riddled with fascinating contradictions (particularly in Barrymore's right-wing battle against another symbol of right-wing corporate greed and expansion, the railroad), most of which only make it richer and more rewarding with every repeat viewing – though certain aspects, like the racial cross-dressing of Jennifer Jones and a demeaning supporting turn by Butterfly McQueen, feel undeniably dated. For several years Duel in the Sun has been difficult to find in any format, making Kino Lorber's special edition disc – complete with the original roadshow presentation's overture and exit music as well as an often deleted opening narration by Orson Welles – a cause for celebration. The disc contains a terrific historical commentary track by film historian Gaylyn Studlar, along with other supplements. Kino's new edition of Sergio Leone's The Good, the Bad and the Ugly is even more generously appointed, with three separate audio commentaries and a multitude of making-of featurettes. Most importantly, it contains not only the 161-minute American theatrical cut but a 179-minute international version of the movie Quentin Tarantino has deemed "the best directed movie of all time." Both it and Duel in the Sun are essential for any serious Western enthusiast.
Jim Hemphill is the writer and director of the award-winning film The Trouble with the Truth, which is currently available on DVD, iTunes, and Amazon Prime. His website is www.jimhemphillfilms.com.