Back to selection
Camden International Film Festival Announces 2017 Slate and Expanded VR Section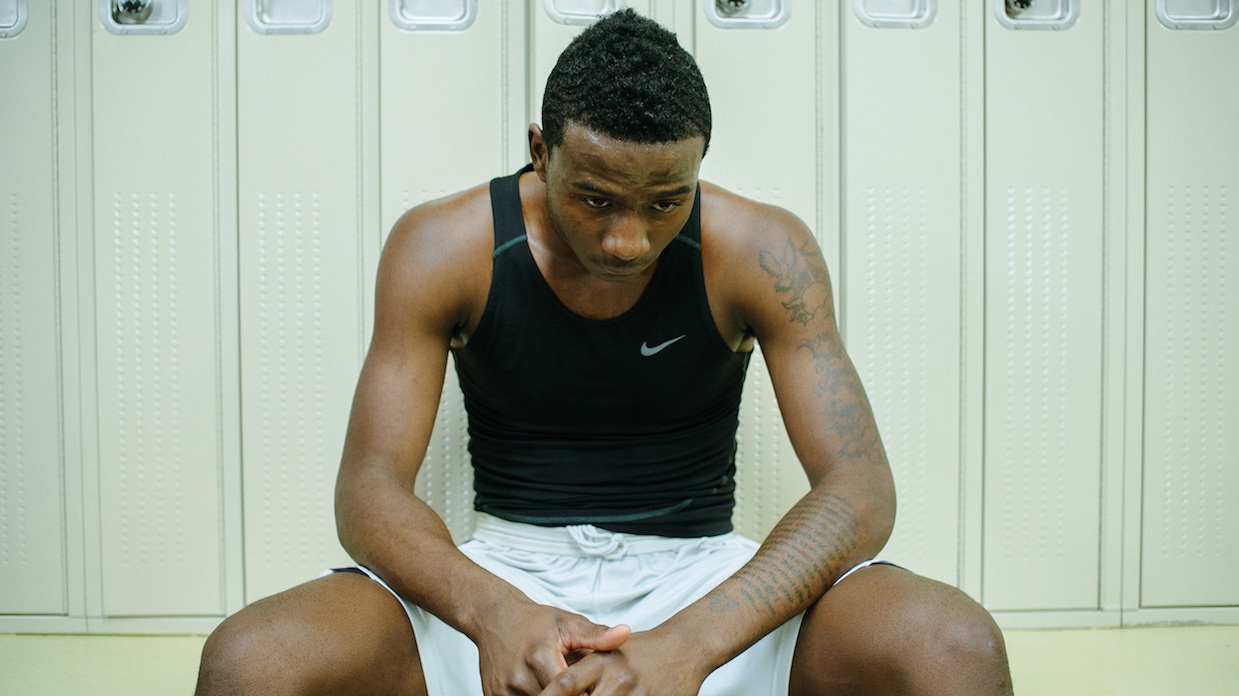 Shot in the Dark
The Camden International Film Festival, which takes place September 14 – 17 throughout Camden, Rockport and Portland, Maine, announced its 2017 lineup today. Opening the festival is a world premiere, Dustin Nakao Haider's basketball doc, Shot in the Dark, and the lineup also contains eight films, including The Reagan Show, All That Passes By Through A Window That Doesn't Open and Whose Streets?, that received support from parent organization Points North Institute's Artist Programs. "Screening at CIFF this year feels like a homecoming," said Sabaah Folayan, Director of Whose Streets?, in a press release. "This community believed in our project when it was still just an idea and it means everything to be able to come back and share the finished film."
Other news includes an expanded Storyforms VR section, with room-scale VR being presented for the first time.
"This year's slate underscores documentary as a thriving art form, one that provides unique opportunities to engage with the world around us," said Ben Fowlie, Executive Director of the Points North Institute, and founder of the Camden International Film Festival in the press release. "We're honored to showcase over seventy of the most inspiring and creative voices from across the globe working in nonfiction storytelling today."
Continued Samara Chadwick, who recently joined the CIFF team as Programmer, "This formidable collection of documentaries offers unexpected moments of courage, humour, creativity, and affection to stories that are often difficult to access or to tell. With so much to explore at the festival, this year we are highlighting currents across the CIFF, Storyforms and Forum programs with filmmaker talks, extended Q&As and thematic strands that explore issues of race in America, the refugee crisis, and the complicated intersections between documentary and journalism."
To purchase passes and for more information about the festival, visit its website. This year, Showtime Documentary Films is the festival's Headline Sponsor. The 2017 lineup is below.
Shot in the Dark – Opening Night Film
Dustin Nakao Haider | United States | 96 mins
Orr Academy's basketball court is a haven. Outside, it's a neighborhood racked with gangs and violence. Though each player has his own struggle, they'll need to fight together if they ever want to break out.
World Premiere | Filmmaker in Attendance

69 Minutes of 86 Days
Egil Håskjold Larsen | Norway | 71 mins
A 3-year-old girl and her family's long journey from a Greek refugee centre to Uppsala, in a film that gives the tragedy both a form and a face. US Premiere

A River Below
Mark Grieco | USA, Colombia | 86 mins
A River Below captures the Amazon in all its complexity as it examines the actions of environmental activists using the media in an age where truth is a relative term. Filmmaker in Attendance

Abacus: Small Enough to Jail
Steve James | USA | 88 mins
From acclaimed director Steve James, Abacus tells the incredible family saga of the only U.S. bank to face criminal charges in the wake of the 2008 financial crisis. Filmmaker in Attendance

All That Passes By Through a Window That Doesn't Open
Martin DiCicco | USA, Qatar | 70 mins
A journey by rail where workers reflect upon opportunity and regret, floating through a Eurasian expanse striving to fill their days and dreams, as much as their pockets. North American Premiere / PNI Alumni | Filmmaker in Attendance

Behold the Earth
David Conover | USA | 63 mins
A feature-length musical documentary film that inquires into America's divorce from nature, built out of conversations with leading biologists and evangelical Christians. Filmmaker in Attendance

Bobbi Jene
Elvira Lind | Denmark. Sweden, Israel, USA | 96 mins
A love story, and a film about a woman's fight for independence, a woman trying to succeed with her own art in the extremely competitive world of dance. Filmmaker in Attendance

Cocaine Prison
Violeta Ayala | Australia, Bolivia, France & USA | 76 mins
From inside one of Bolivia's most infamous prisons, comes the story of the foot soldiers of the drug trade. US Premiere | Filmmakers in Attendance

Common Carrier
James N. Kienitz Wilkins | USA | 78 mins
A mix of artists struggle to perform their roles, at once connected and alienated by the plague of modern life. Filmmaker in Attendance

Devil's Freedom
Everardo González | Mexico | 74 mins
A deeply compelling investigation into the phenomenon of Mexico's "disappeared" from the perspectives of those bereaved by, and those responsible for, some truly barbaric acts.

Did You Wonder Who Fired The Gun?
Travis Wilkerson | USA | 90 mins
This isn't a White Savior story. It's a White Nightmare story. North American Premiere | Filmmaker in Attendance

Do Donkeys Act?
Ashley Sabin, David Redmon | UK | 72 mins
A film that subtly subverts the notion of the "dumb beast" as it captures donkeys communicating emotionally with each other in the midst of healing from human cruelty and neglect. Filmmakers in Attendance

El Mar La Mar
Joshua Bonnetta, J.P. Sniadecki | USA | 94 mins
A portrait of the Sonoran Desert along the United States border with Mexico. Filmmakers in Attendance

Eric Clapton: Life In 12 Bars
Lili Fini Zanuck | USA | 95 mins
A look at the life and work of guitarist Eric Clapton told by those who have known him best, including BB King, Jimi Hendrix, and George Harrison. US Premiere

House in the Fields
Tala Hadid | Morocco, Qatar | 86 mins
House in the Fields is the first part of a triptych set in Morocco that starts in the Atlas Mountains, journeys through Casablanca and finishes beyond the borders. US Premiere | Filmmaker in Attendance

In the Waves
Jacquelyn Mills | Canada (Québec) | 60 mins
An expressive documentary that depicts the life of 80 years old Joan Alma Mills in her aging coastal village as she finds herself confronted by the fragility of life. North American Premiere | Filmmaker in Attendance

Let There Be Light
Mila Aung-Thwin, Van Royko | Canada, France, Italy, Switzerland, USA | 90 mins
Let There Be Light follows the story of dedicated scientists working to build a small sun on Earth, which would unleash perpetual, cheap, clean energy for mankind. After decades of failed attempts, a massive push is now underway to crack the holy grail of energy. Filmmaker in Attendance

Look & See: A Portrait of Wendell Berry
Laura Dunn, Jef Sewell | USA | 80 mins
A cinematic portrait of farmer and writer Wendell Berry. Through his eyes, we see both the changing landscapes of rural America in the era of industrial agriculture and the redemptive beauty in taking the unworn path.

Lots of Kids, a Monkey and a Castle
Gustavo Salmerón | Spain | 90 mins
A bustling, loose-limbed portrait of actor-director Gustavo Salmerón's large family, especially his unforgettable mom. US Premiere | Filmmaker in Attendance

Love Means Zero
Jason Kohn | USA | 89 mins
Nick Bollettieri coached a generation of tennis champions, but his relentless desire to win cost him the relationship he valued most. US Premiere | Filmmaker in Attendance

Maineland
Miao Wang | China, USA | 89 mins
Chinese students now account for over one-third to one-half of international secondary school students, including in a small liberal arts college in Maine. Filmmaker in Attendance

No Man's Land
David Byars | USA | 83 mins
Embedded with the militants of the 2016 occupation of the Malheur Wildlife Refuge, No Man's Land provides a vivid depiction of events that have become emblematic of the current political divide. PNI Alumni | Filmmaker in Attendance

Purge This Land
Lee Anne Schmitt | USA | 80 mins
Contemplating the culpability of White America in the ongoing disenfranchisement of Black America, this film combines images of sites of white racial violence with anecdotal history of John Brown's radical ethics. Sneak Preview | Filmmaker in Attendance

Quest
Jonathan Olshefski | USA | 104 mins
The moving portrait of a family in North Philadelphia who open the door to their home music studio, which serves as a creative sanctuary from the strife that grips their neighborhood. Filmmaker in Attendance

Resurrecting Hassan
Carlo Guillermo Proto | Canada, Chile | 100 mins
A blind family is haunted by the tragic death of their son Hassan and seek to resurrect his spirit and transcend their suffering, while singing in the subways of Montreal. Filmmaker in Attendance

Sand und Blut (Sand and Blood)
Matthias Krepp, Angelika Spangel | Austria | 90 mins
Private video footage narrated by refugees now living in Europe offers a new and intimate perspective on Syria and Iraq's recent history: a montage of haunting images of devastation, fear, and hatred. North American Premiere | Filmmakers in Attendance

Secret Screening
Academy-Award Winning Director | USA
A gripping investigation by one of the country's most celebrated directors. Sneak Preview | Filmmaker in Attendance

Shot in the Dark
Dustin Nakao Haider | USA | 96 mins
Orr Academy's basketball court is a haven. Outside, it's a neighborhood racked with gangs and violence. Though each player has his own struggle, they'll need to fight together if they ever want to break out. Opening Night Film | World Premiere | Filmmaker in Attendance

Stranger in Paradise
Guido Hendrikx | Netherlands | 72 mins
A blunt film essay on the power relations between Europe and refugees. Filmmaker in Attendance

Taste of Cement
Ziad Kalthoum | Germany, Lebanon, Syria, United Arab Emirates, Qatar | 85 mins
In Beirut, Syrian construction workers are building a skyscraper while at the same time their own houses at home are being shelled. North American Premiere | Filmmaker in Attendance

The Cage Fighter
Jeff Unay | USA | 83 mins
Although a man promises his wife and daughters that he will not return to competitive mixed martial arts fighting, he secretly begins training for the dangerous sport that gives him a sense of purpose. PNI Alumni | Filmmaker in Attendance

The Departure
Lana Wilson | USA | 87 mins
Ittetsu Nemoto, a former punk-turned-Buddhist-priest in Japan, has made a career out of helping suicidal people find reasons to live. Filmmaker in Attendance

The Family I Had
Katie Green, Carlye Rubin | USA | 77 mins
How does the mother to a murdered child and the murderer himself move forward, and what kind of relationship can she forge with her now incarcerated son? PNI Alumni | Filmmakers in Attendance

The Reagan Show
Pacho Velez, Sierra Pettengill | USA | 75 mins
Made up entirely of archival news and White House footage, this documentary captures the pageantry, absurdity, and mastery of the made-for-TV politics of Ronald Reagan. PNI Alumni | Filmmakers in Attendance

The Sensitives
Drew Xanthopoulos | USA | 83 mins
What if modern life made you sick? PNI Alumni | Filmmaker in Attendance

The Work
Jairus McLeary, Gethin Aldous | USA | 87 mins
Set entirely inside Folsom State Prison, The Work follows 3 men during 4 days of intensive group therapy with convicts, revealing an intimate and powerful portrait of authentic human transformation that transcends what we think of as rehabilitation. Filmmakers in Attendance

This is Congo
Daniel McCabe | USA | 93 mins
Following four compelling characters, the film offers a truly Congolese perspective and an immersive exploration into Africa's longest continuing conflict. North American Premiere | Filmmaker in Attendance

Whose Streets?
Sabaah Folayan, Damon Davis | USA | 90 mins
"Portrait of Ferguson May Be the Doc of the Year: Powerful you-are-there portrait of how a community raged in the aftermath of tragedy – and reacted with activism – could not be more vital" – Rolling Stone
PNI Alumni | Filmmakers in Attendance