Back to selection
Considering The Big Lebowski: A XXX Parody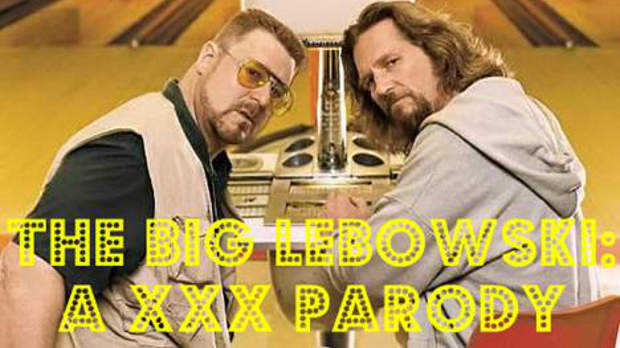 In retrospect it seems inevitable that some enterprising pornographers in Hollywood's shadow industry would look to the Coen brothers' quintessential Venice Beach bum The Dude for inspiration. Not only is southern California the hub of the sex biz, The Dude is SoCal made flesh. And now a company called New Sensations has done just this with The Big Lebowski: A XXX Parody, a passionate, nearly shot-for-shot recreation that shows that cute porn is not an oxymoron. Sure, New Sensations has already tackled pop culture with 30 Rock: A XXX Parody and Seinfeld: A XXX Parody, but The Big Lebowski: A XXX Parody really does feel like something different. This isn't some mainstream TV touchstone the company is tackling, but a cult film from bona fide indie auteurs. A few years back Lucas Entertainment was the darling of the GAYVN Awards with its serious porn remakes of Fellini's La Dolce Vita (and Dangerous Liaisons prior to that). In its own way The Big Lebowski: A XXX Parody feels closer to those earnest gay versions, more tributes birthed from true movie geek love than of-the-moment knock-offs.
In director Lee Roy Myers's alternate Lebowski events are set in motion when an "Oriental thug" (as opposed to the original movie's Persian rug…ouch) ejaculates on The Dude's new VHS tapes — "the tapes that really tied his porn collection together." But what's most shocking in the action that follows is not the abundance of hardcore sex scenes, but how well they blend into the Coens' original film, which, remember, features a pederast, a porn starlet and a conniving seductress. After all, Tara Reid's Bunny Lebowski solicits Jeff Bridges's stoned and horny Dude right from the start. It actually makes perfect sense that in this version he'd pull out his checkbook and engage in some poolside fun.
Fun seems to be a priority for this production company, which is pretty damn refreshing in an age when, following the sober-minded art porn of the 70s, and the cheesy VCR revolution of the '80s into the '90s (this version's Dude is adamant that his tapes be replaced in VHS format not Beta), adult entertainment has become a reality-TV style endurance contest and freak show. Fortunately, there's a smart and sexy grassroots movement of sorts going on, with neo-burlesque and its stars like Dita Von Teese reclaiming Betty Page's sense of play and Hugh Hefner's original stylish Playboy vibe. The Big Lebowski: A XXX Parody fits nicely into this fold, a cinema-buff pornographic tribute in which dildos are tossed like bowling balls during a dream sequence and Walter accuses the wheelchair-bound Lebowski of faking his erectile dysfunction. Like the Coens' original this is a cult film for the Internet (porn) era. One could easily see The Dude downloading it himself.