Back to selection
Sony's Two New Cameras: VENICE and RX0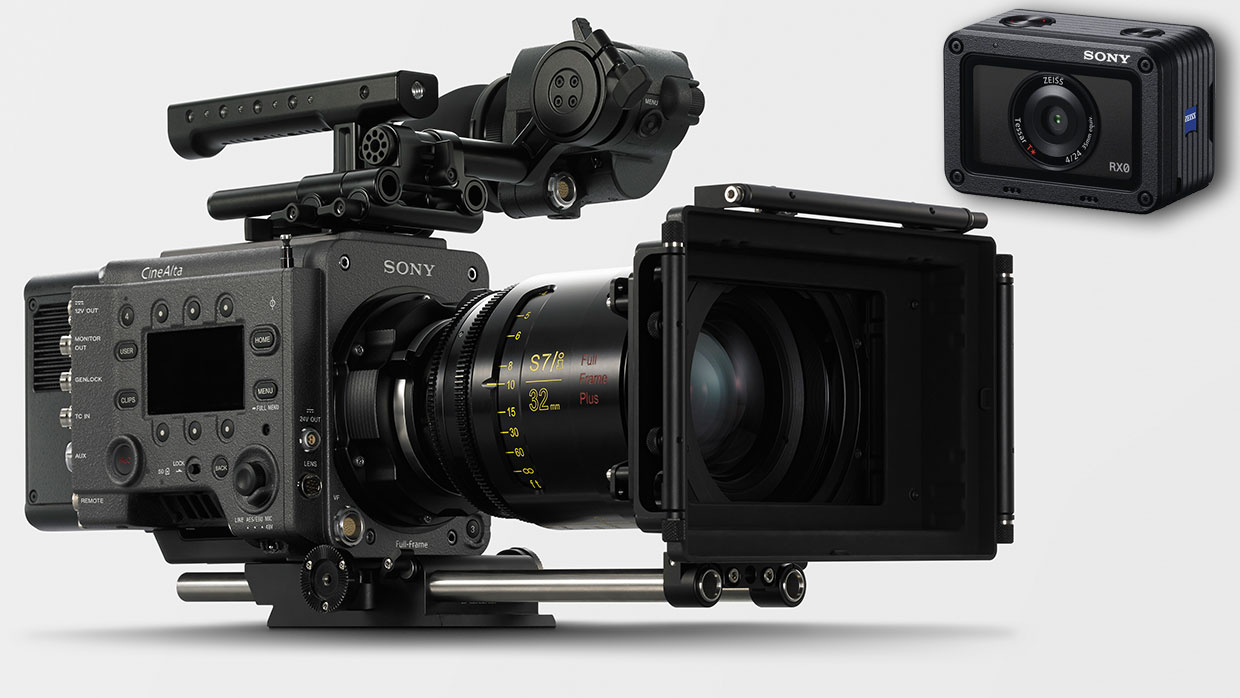 Sony has announced two new cameras that will be of interest to filmmakers, though because they are so different it's entirely possible that you might have heard of one and not the other.
Sony VENICE
At the high-end, Sony has announced its new flagship camera, the VENICE. Note that Sony does the name in all-caps, though it doesn't appear to be an acronym.
Sony first hinted at this camera back in June. It has a newly developed 36x24mm full-frame sensor and is their first CineAlta digital camera to have a full-frame sensor. It has several other notable features including: 15 stops of dynamic range, support for capture in many different image modes, eight stops of ND built-in, LED panels on the assistant's side as well as on the operator's, an interchangeable sensor block and both an E-mount and PL-mount.
Internal recording is to two SxS cards with XAVC 300Mbps or 480Mbps codec with 4K 4:2:2 or externally using the AXS-R7 for RAW. ProRes HD is also supported internally. The top frame rate is 60p, and there is one XLR audio input and a headphone jack.
The sensor is capable of shooting in many different formats; you can shoot Super35 and use just a portion of the sensor, or in Full Frame (they capitalize it!) mode you can use oversampling to produce a 4K image. There's no global shutter, but they say that the fast read-out of the sensor makes rolling shutter negligible.
Sony thinks that users will mostly be shooting with PL lenses, though it does have an E-mount for adding specialty lenses. The E-mount is the native mount of the camera, while the PL-mount is bolted into it. The PL mount supports the Cooke/I system. The end user can unbolt the PL mount, though the E-mount won't be active with the initial release.
Resolution Isn't Everything
With VENICE Sony seems to have taken a page from ARRI's book, and rather than stressing resolution, are talking about the dynamic range (15 stops) and the color reproduction. At Full FRame the sensor is 6K (6048 x 4032), but when shooting Super35 it supports Super35 24.9×18.7mm, 4096 x 3024 resolution and Super35 24.9×14.0mm 4096 x 2160 resolution. That's certainly adequate, but remember that RED now offers the Super35 8K Dragon, and Sony's own F65 is 8K.
The base ISO is 500, which is lower than most current cameras, but the camera produces very little noise, and has 15 steps of dynamic range. The VENICE exceeds Rec. 2020 color space and its color range is wider than DCI-P3.
Future Upgradability
One feature Sony is stressing with this camera is that it is both a part of the existing system, and will be upgradeable. It works with the viewfinder and external recorder they released for the F55 and has an interchangeable sensor block. Removing the sensor block also provides easy access to the fan for repairs.
The idea of upgradability is laudable, but the history of electronics is littered with systems that were intended to be upgradeable but never were. New innovations in technology or manufacturing (a completely different sensor technology for example) can render useless the best-laid plans for upgradability.
Pricing and Availability
The VENICE will ship in February, and though Sony hasn't formally announced prices, hints are being dropped of a price around $45K US. Not all of the features will be implemented at initial release. For example, the E-mount won't be working and some of the features will require additional license fees. This will apply to both the Full Frame functionality and 4K anamorphic. Sony says that they are planning to offer both time-limited and permanent licensing, so you could unlock the 4K anamorphic for a week or a month if you want. Again, no firm pricing has been announced, though the permanent license for full frame capability may be around $6k and the 4K anamorphic about $4k.
Sony says that, at least for the moment, they will continue to offer both the F55 and the F65. The F65 has an 8K sensor and a mechanical shutter, so it may remain attractive for some applications.
Conclusion
The VENICE will be outside the price range of most indie filmmakers, but its adoption of a full-frame sensor could be a harbinger of full-frame sensors in more affordable cameras. At the moment, if you want to shoot full frame, you have to shoot on DSLR cameras like the Canon 5D or Sony's A7S/R cameras. If the VENICE proves popular, maybe a full-frame sensor will turn up in other cameras.
The RX0; A GoPro Competitor?
At the other end of the spectrum, Sony announced the RX0, which some have billed as a competitor to the GoPro. I'm not sure that's Sony's intention.
At first blush the RX0 appears to check the action-camera boxes; it's small, waterproof (to 10 meters) and shockproof, but there the comparison ends. In fact, if you just look at features and price you might think the RX0 makes a poor competitor to the GoPro.
The RX0 is more expensive ($700) and only supports 1080p (it does send 4K out the HDMI port.) It has a 24mm-equivalent, f4 lens while the GoPro has a 14mm f2.8 lens. Why buy an RX0?
It appears to have a better sensor and the lens, though not as wide, won't distort at much. Better focus modes, and Slog2 recording are other advantages. In short, image quality should be better than the GoPro. It also supports frame rates up to 960fps (120fps in 720p), and the lens doesn't protrude in front of the camera.
Finally, Sony has clearly developed this camera for multi-camera installations. It supports timecode and you can control up to five cameras with a smartphone and Sony's PlayMemories app. The FA-WRC1M radio commander can trigger up to 15 cameras, and Sony says they are developing solutions for triggering even more cameras.
The RX0 will ship in October.