Back to selection
"What Kind of Pain is This Coming From?": Martin McDonagh on Creating the Award-Winning Three Billboards Outside Ebbing, Missouri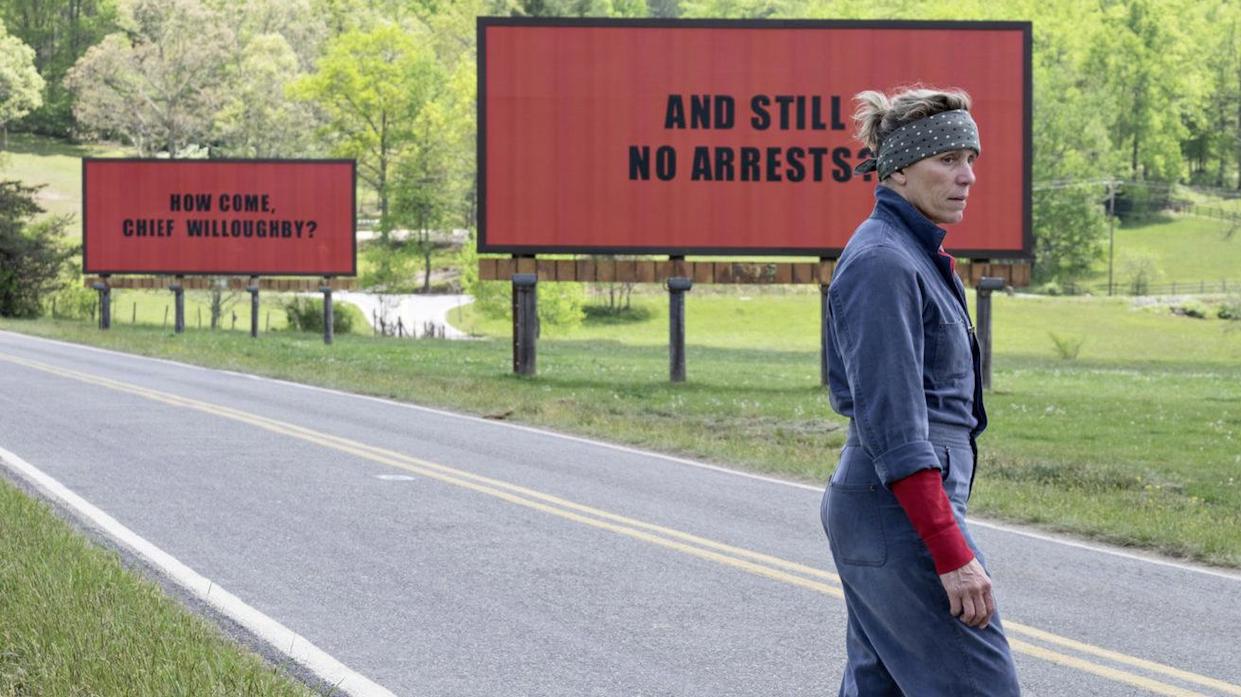 Three Billboards Outside of Ebbing, Missouri
If the road to the Oscars is paved with festival accolades, Three Billboards Outside Ebbing, Missouri is already well on its way to victory. Opening this week, playwright Martin McDonagh's third feature has already picked up two major prizes: the Best Screenplay award in Venice as well as People's Choice Award in Toronto, the festival's top prize.
The actors masterfully balance humor with despair throughout the film. In what has been called her best role since Fargo, Frances McDormand plays a grieving mother who decides to take matters into her own hands after local police have failed to track down the man who brutally raped and killed her daughter. She rents three giant billboards calling out the local police chief, played by Woody Harrelson, demanding to know why there's been no activity to track down her daughter's killer. Sam Rockwell plays the town's bumbling cop, and Peter Dinklage and Caleb Landry Jones also pop up as memorable locals.
Known for his biting dialogue, McDonagh does not disappoint here. Three Billboards garnered multiple rounds of applause for particularly sharp monologues while it played for audiences in Venice in Toronto. We spoke with McDonagh about how he crafted the film, and why this has been his best experience yet as a filmmaker.
What was the starting point for writing this story?
About 20 years ago I was on a bus and I saw something similar to what the billboards said. I saw it flash by in like two seconds almost as if in a dream. I don't know where I was, somewhere in the Southern states. It was calling out the cops, saying something similar to, 'Why aren't you doing anything about this crime?' And I thought what kind of pain is this coming from? What kind of person would do that? And once I decided that it was a mother, and an older mother, things almost wrote themselves. She just popped up like a demon or something, and just started moving forward.
Ebbing, Missouri is a fictional place. How important was the setting for you?
It could have been outside Missouri, but it had to be one of the southern American states because I wanted that history of racism and that heaviness of the South. It was always going to be an American story and an American piece of cinema. Also the roads and the billboards, they're such an American staple.
I've traveled around America a lot in the last 15 years. I always start in New York. I've had plays there, so I've spent a lot of time there. I love getting in trains around America, and in the last few years have been doing some driving too, just looking at landscapes and seeing towns and talking to people. It's always cinematic to me. And I hope that's what we show. I hope it's not an outsiders' view of an American story, but that it feels American.
At what point did you know this story wasn't going to be a simple murder mystery?
I wasn't sure if we were going to solve it or not, but I think I knew that it didn't matter as much as the journey. But crime things that are solved, detective stories that are solved, you don't watch them twice. But because it's not really about that, because it's about something deeper or sadder or bigger, I think, I hope, we will be able to watch it again and it's a more interesting open-ended story, not to have it wrapped up in an easy solution.
You've said this film was much easier than the previous two — In Brudges and Seven Psychopaths. What was stressful before?
The studio interference, or not knowing about certain things, [like] how to shoot a scene, how to shoot a day's work. So now I don't worry about that so much, or I prepare what I have to prepare properly. Like in the old days there would be 100 costume ideas, and I realized I don't really give a fuck about costumes anyway, so blue one, pink one, you do it. So yeah, not to stress about the irrelevant things is a good one.
I always was a control freak, but that's good, you have to be if it's going to be your film. But there are wars you need to be prepared to fight, even with good people, to not get your own way but to find solutions. So you keep a clear mind for those wars or those fights and not stress about things that don't really matter.
How did you choose the soundtrack for the film?
I always have a list, a playlist on the iPod while making the movie, of maybe 30 songs that could never all amount to being in there. Some you determine will be in there. Some just suit the mood of a scene. You never know what you will be able to afford, or what they will allow you to use. We were able to use six or seven of the songs that I really wanted, like this Townes Van Zandt song, "Buckskin Stallion Blues." He's one of the best lyricists and musicians ever in America. He did a lot of country stuff, but it's more than that, quite poetic.
Which writers have influenced you?
Harold Pinter I think is probably the biggest influence, theatrically. Funny enough, I think people see him as very stern and scary and dark, but I think he's hilarious, his early plays especially. They are scary characters, but I'm bursting out laughing most of the time. David Mamet, his early plays are very funny, as violent or macho as they can be, they are hilarious. Even stuff like Taxi Driver, I'm always laughing at that. Mean Streets is hilarious. But I guess I always see the humor in these things; maybe we all do. Sam and I are always watching Taxi Driver and laughing our asses off.