Back to selection
"The Movie Industry Doesn't Have Any Etiquette, Just Fear": Director Nathan Silver on Thirst Street and Making Eight Features in Eight Years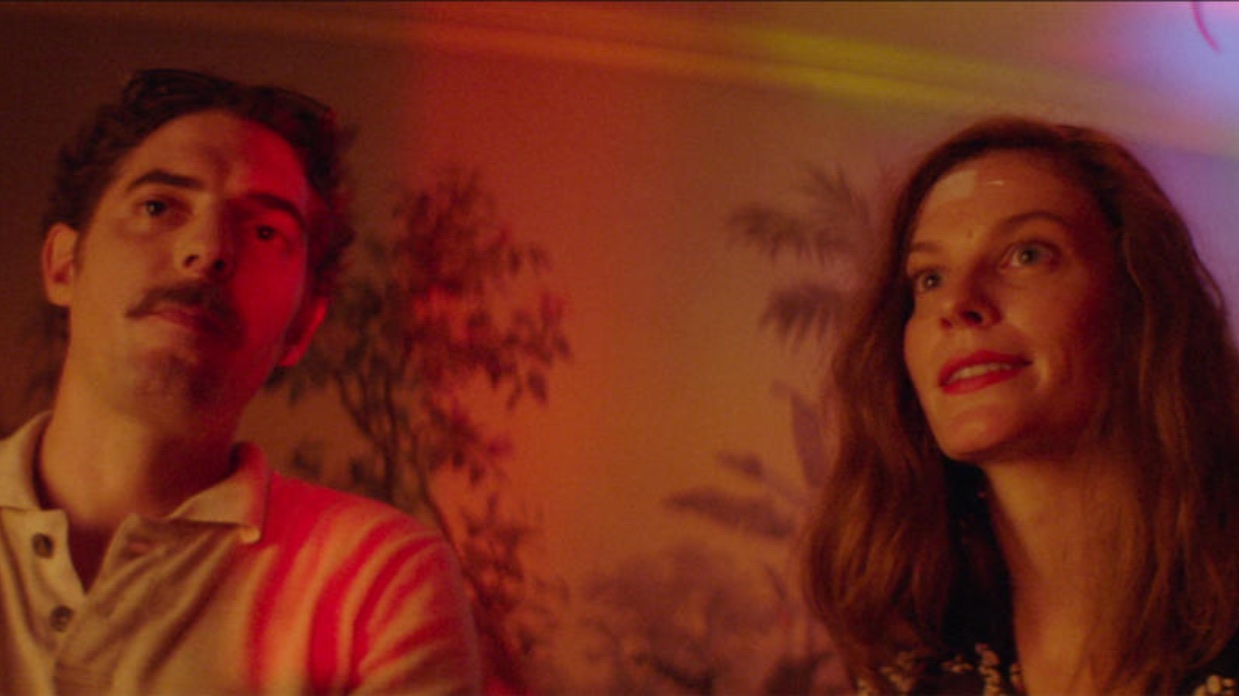 Thirst Street
Nathan Silver has made eight films in eight years. That doesn't include other shorts he's written or executive produced. For anyone not in the business of film, that might seem standard. For anyone who is, it's wildly impressive, especially taking into consideration the inclusion of pre-production time, when a script is written, money is raised and all the frustrating puzzle pieces of building a team have to fall into place.
Silver's latest film, Thirst Street, centers on Gina (Lindsay Burdge), an American flight attendant who becomes entwined in a toxic obsession. After landing in Paris, she falls for Jerome (Damien Bonnard), a local bartender, and their hookup leads to delusion and rejection. It's a fascinating portrait of human connection — or lack thereof. About his penchant for films about fear and love, Silver simply says, "I'm interested in why people put up with each other."
Thirst Street premiered at Tribeca Film Festival this spring, Venice earlier this month, and it hit theaters last week through Samuel Goldwyn Films. It's his most genre-centric picture yet, with DP Sean Price Williams crafting a look echoing '70s European erotic thrillers, and arch narration from Anjelica Huston.
Filmmaker sat down with Silver to talk about the movie but also how he's managed to be so prolific. The writer/director offered up some wise words on sustainability, his process, and throwing the idea of "waiting" out the window while also being patient.
Filmmaker: Did you go to film school? I'm curious about your background given the copious nature of your career so far.
Silver: I wasn't really into films when I was growing up, although I guess I was obsessed with Stand By Me when I was a little kid. I was more into poetry and playwriting as a teenager, so I went to NYU for playwriting. I was obsessed with Richard Foreman and the Ontological-Hysteric Theater, so I ended up interning there, and every day he would tell me I should make movies. It's right by where Kim's [Video] was, so I'd just go there afterwards and rent all the movies he suggested, like Pasolini, Fassbinder — all these people. I watched everything I could get my hands on from all these great filmmakers. Then, I switched over to screenwriting for my last year in the writing program. I didn't do any films while I was in school, but as soon as I got out of school I made a bunch of short films. They weren't really going anywhere or getting into festivals, so I enrolled in this program in Paris, this directing program, and right before I left for that I made a short film, submitted it to a bunch of festivals and found out it got into Slamdance while I was over in Paris. The program in Paris was terrible, it was a disaster, so I dropped out. One of the other students there, Ben Bostick, he and I got along really well, and we decided we would write a script that I would bring with me to Park City. That became my first feature, and we ended up raising a bunch of money for that somehow.
Filmmaker: What was that film, and what happened to it?
Silver: It was called The Blind. It played two festivals and then died. It was a very stressful shoot, and I was 25. I was working with a large crew, we shot on 35mm and I stuck very rigidly to the script. I came from this writing background and felt I had to do justice to the screenplay. After that, I had a slight nervous breakdown because of the stress of the shoot: it was a real mindfuck. I liked improvisation and went back to those initial ideas, what I wanted to do in theatre, and brought it over to film, and that's how Exit Elena came about. I shot Exit Elena as an experiment. It was all people I was very close with — my girlfriend at the time, my mother, our neighbor. I shot it in my parent's house, and my best friend was behind the camera. [And now] it's just this weird thing that whenever I finish a project, to stave off the depression and rejection at every step, I dive into another project
Filmmaker: I think it's interesting that your background is in theater because the medium is so much more ephemeral. I was a playwriting and directing major in college too, and I liked that the moment a play opens, you're already doing a table read for your next project. Do you feel like that background and experience influenced your pace as a filmmaker?
Silver: Yes! I think I'm also just a caffeinated personality. I could never hold a day job. I tried many times, but I always quit or got fired. The schedules drove me insane. I couldn't keep to a normal routine, so I think film prevents that regular routine.
Filmmaker: What is your writing process like?
Silver: Well, I always write with other people. All of my films have been written with the actors or the editor. Writing Thirst Street, Chris [Mason Wells, the co-writer] and I would just meet at each other's apartments every weekend. It was odd, because it was a 25-page treatment, and that was our shooting script. We had to cut certain things because they would explode the budget, and that would leave a gaping hole, so we kept rewriting and rewriting. When we went to Rotterdam with Actor Martinez, and I think that at point we had it locked and we were going to shoot that summer, we just didn't know how. But somehow we did.
Filmmaker: Is film also your source of income?
Silver: My source of income is basically teaching gigs that I pick up along the way. It's mostly through those, and then small fees through each movie that I shoot. Projects will come along — like, I'm going to do a documentary on Hal Hartley for Criterion — so that gets me a bit of money. It's a pain in the ass, and you make no money and spend I don't know how many hours. It's probably 0.001 pennies every hour. That's why it's insanity to want to make movies. It's not like you want to make them — you're a maniac and you make them.
Filmmaker: You have been inspired by all of these international filmmakers working in the '70s. Did you deliberately set out to make stuff in the film landscape that you weren't seeing? You seem to occupy your own corner, in a way.
Silver: Well, I don't know if it's films I wasn't seeing so much, but I wanted to make films that had a sense of discomfort that reality always presented to me, a sense of anxiety. It's also the fact that life is a joke and it has to be laughed at. I hate humorless movies. They should be abolished. That has nothing to do with life. I guess Fassbinder pushed me over the edge when I was 20 and also Douglas Sirk and Nicholas Ray around the same time.
Filmmaker: Why do you write about anxiety and fear throughout your work? What do you think you're working through by doing that?
Silver: Well, I'm interested in why people put up with each other, why we deal with each other and why we love each other at the end. A few projects delve deeper into that. I want to explore that niche. I think it started with Thirst Street, but I guess it's in all the movies. It's the need for a home, even though you can't stand the people around you. People need each other, but why?
Filmmaker: What I liked about Thirst Street, and I really admire Sean Price Williams' hand in this, is that it's the most genre film I've seen you do. I can see your evolution as a filmmaker with every movie. You didn't make two films and then do a massive budget action movie. Was that a choice?
Silver: I feel like I've been making these movies, and I guess industry people know of me supposedly, but it's not like they're breaking down the door to bring me to Hollywood. I feel like I've worked through all the improvised stuff I had in my system. I'm ready to return to scripts and making larger work. I feel like I need to get these movies made and figure out how to make movies. Now I feel much more comfortable with that, I'm more patient, and willing to get recognizable names attached.
Filmmaker: I think if anything, you've been more patient than most people, and with yourself, in the process. I think a lot of filmmakers jump right into things.
Silver: I've always thought confidence was kind of bullshit. You can always see through it, it's always hiding something. I know that I have a lot of failings as a director, and I learn with every movie another failure I have. That's not a problem. And you can lead in your own way. You don't have to be a dictator.
Filmmaker: So, with Thirst Street having Anjelica Huston involved, and even someone like Williams, you have to have a certain level of confidence as a director. How did you get both of them on board especially when you were working with a treatment and there wasn't a solid script?
Silver: With Sean, I've known him for 12 years. I didn't know what our working relationship would be like, but it ended up a beautiful thing. If a shot wasn't working, we'd get frustrated, it would be completely justified, and we'd figure out a way of doing it. I'm glad we started working together at this point in my career (or whatever the hell this is) because I feel like if I'd started with him earlier on I'd be intimidated by him because he has this knowledge of film — he has seen more movies than any human I know! But at this point we get along really well.
And then with Anjelica Huston, she really liked the movie when she saw it. We had French narration with the rough cut, and she told me she wanted to do it because her voice was perfect for it. She only does projects where she knows she adds something to it. That's such a lovely way of looking at acting work. She was great and did it under a half hour. Three takes of each line and she got it. What's really lovely is that we were doing Lindsay's ADR at the same place, so they crossed paths and Anjelica had nice words for Lindsay. She thought Lindsay doesn't play a crazy woman, but a damaged woman, and said that's so hard to pull off and do justice to. That's what impressed her about the movie and that's why she wanted to be a part of it.
Filmmaker: How did it feel to screen at Venice?
Silver: That was a real coup. That was fantastic. It's like these little things. You walk around feeling like a fucking failure, you feel bad buying a glass of wine because you feel like you're already dead, whatever. But it's these little things like, "This thing is good, so at least today I want to live another day." That sense. It was crazy being there. Now what next?
Filmmaker: I think that's a healthy way of looking at it, and that's maybe why you're able to continue to make work. It doesn't sound like you think you've reached a pinnacle, that you can take a break and go on vacation.

Silver: There's no vacation. I've realized that. When I actually landed in Venice, on the water taxi to the hotel, I realized that I haven't been on break in years. I went swimming in the ocean for the first time, I think, in 10 years.
Filmmaker: What would be your advice to other people trying to make work as consistently as you are?
Silver: Make do with what you have around you. Don't sit around and wait. Set down lines and then reconfigure the movie according to how much money you're able to raise at a given time.
Filmmaker: It also seems like you're pretty good at asking people for things that you need.
Silver: The movie industry doesn't have any etiquette, just fear. I guess you have to have blinders on. I have failed multiple times. I made a bunch of shorts that went nowhere. It's not letting that deter you from moving on to the next project.

Filmmaker: I really do appreciate you talking vulnerably and honestly. A lot of people don't want to destroy the image of them in an interview, but I don't think you're about that.
Silver: Well, I have no image to destroy, so it's good.